Posted in
My Garden
on July 5th, 2008 by MadDog
Most people would probably encounter no difficulty identifying this object: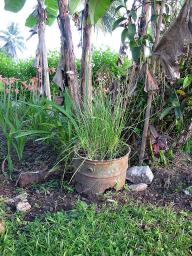 Right. It's an old paint bucket filled with chives.
But, HAH! It's also bucket of interesting information. I learned some new things about chives this morning.
For instance, I did not know that chive flowers have a very nice aroma. I sniffed them to see if they smelled like anything at all – faintly expecting some chive-like pungency. Wrong! They have a somewhat faint but distinct fragrance. I'd say it's somewhere between rose and jasmine, with maybe a little frangipani mingling in. It would make an alluring perfume. Here are the flowers of the chive: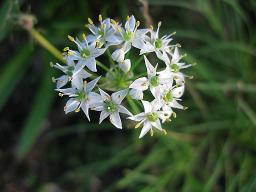 It's interesting that a seed pod has already formed in the centre of each flower. A few buds in the middle of the bunch have not yet opened. If you click on the photo to enlarge it, you will see that a tiny spider has spun its web across the bunch of flowers. I did not even see this until I began to work on the photo with Photoshop.
When the petals have all fallen away the seed pods dry and crack open. Here you can see the seeds inside: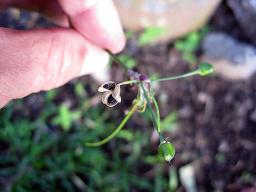 I found a seed pod that looked almost dry and opened it. Here you can see the opened pod and a single seed. Though it appears that each pod should have three seeds – according to the shape of the pods – most of them had only one or two: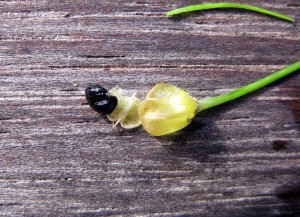 The final surprise came when I put my large nose down close to the pod. I was not expecting the obvious. It smelled strongly of . . . CHIVES!
The next time I go to my garden to cut a bunch of chives for my baked potato or my scrambled eggs, I'm going to have a new appreciation for the stinky little stalks.