Posted in
At Sea
,
Reef Cops!
,
Under the Sea
on February 23rd, 2009 by MadDog
There is an incredible amount of interest at the present time concerning the condition of tropical coral reefs. It's about time.
We're establishing contact with major eco-organisations to attempt to convince them that local divers can be a valuable resource. If you're studying the transportation system in a big city, who do you consult? Do you talk to the United Nations or the bus drivers? Some of these organisations are beginning to come around.
When situations such as this develop, one begins to wonder what can be done. One thing that we've considered is to set up a web site where anybody can report reef or management area abuses.
So, that is exactly what we are doing:  (click on the image to go directly to reefcops.org)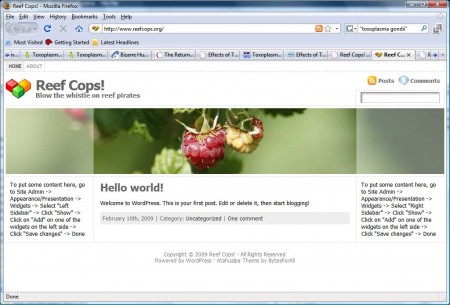 At the moment, it doesn't do anything. Nor does it look as if it has anything to do with coral reef abuse whistle-blowing. We only set it up this morning. Over the next few days and weeks it will be taking shape as I find time to work on it. If anybody out there is interested in how a WordPress site evolves as it is being built, it might be interesting to bookmark it and have a look once in a while.
We'll be getting information out as soon as possible to everyone we can think of as soon as the site is ready. We want to make Madang a centre of activity for reporting abuses and dispensing rough justice to the reef pirates. Madang is, after all, the centre of the tropical coral reef universe.
Stay tuned. We'll be shaming the bad guys soon.
Tags:
Reef Cops!