Posted in
Madang Happenings
,
Rotarians
on September 10th, 2007 by MadDog
This FROM:  Val Jerram (via MadDog)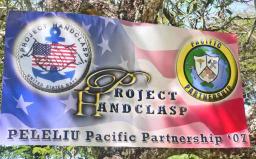 The Rotary Club of Madang was recently the recipient of many gifts from far away places.  The gifts were transported to Madang on the USS Peleliu, an American Amphibious Assault Ship.
This from Val Jerram, a member of the Rotary Club of Madang:
A ten day visit in port from the USS Peleliu – 'Project Handclasp – Peleliu Pacific Partnership 2007' has caused a flurry of activity in the Madang province.  Two landing craft have come into port everyday as well as numerous helicopter flights to provide goods and services, in town, way out in remote villages and on board ship.

The Rotary storage area was bulging at the seams after taking delivery of over 20 pallets of goods.  This required numerous trucks, fork lifts and a team of strong men to unload and place in the limited storage space available. Rotary members were on hand to provide refreshments to all who worked on the transfer and storage of the goods.

The US Consular Officer, Leslie Livingood and Captain Ed Rhoades of the USS Peleliu, Rotary members and representatives of number of sections of the community who regularly benefit from Rotary distribution of goods and assistance were in attendance at the official hand over ceremony held under the frangipanni trees.

A treadle sewing machine was presented at the ceremony to a representative of the Save the Children in PNG to train some youth in the art of sewing.

The large boxes contained many useful items: tooth brushes, nappies, first aid items, clothes, books, computer paper & envelopes, crayons, and toys.

The Creative Self Help Centre, which is strongly supported by Rotary, are the distribution centre in Madang Province for treated mosquito nets. Thirty-five bales of treated mosquito nets were also added to the supply of goods for distribution.

Over the next few months these goods will be repacked into smaller boxes for distribution.
Here are crew members and contractors with a truck loaded with some of the goods waiting to be transported to the distribution centre.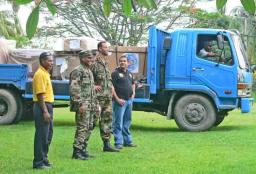 This photo shows Captain Rhoades, Leslie Livingood, Maureen Hill (Treasurer of the Rotary Club of Madang), and Hal Daniel (President of the Rotary Club of Madang).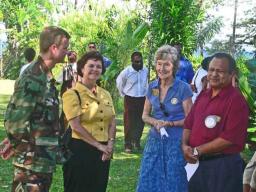 Here is Maureen Hill and a teacher from the Holy Cross Merio Primary School opening on of the boxes of books donated to the school.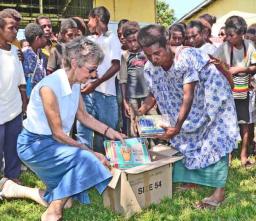 The final result is:  EXCITED CHILDREN!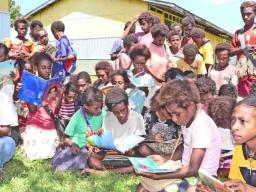 The ripple effect of the generosity of many caring people in other places far away will continue to into many other Madang communities.
Tags:
amphibious assault ship
,
captain ed rhoades
,
maureen hill
,
project handclasp
,
rotary club of madang
,
save the children
,
uss peleliu