Posted in
Invitations
,
Madang Happenings
,
Parties
,
PNG Culture
,
Things to do
,
Upcomming Events
on August 9th, 2008 by MadDog
It is a splendid treat in Madang to celebrate the anniversary of the founding of a colourful, beloved, and enduring social institution – The Madang Club.
Eunice and I have been privileged to be either members or moochers (mostly moochers, I admit) since we came to Madang in 1981.
James Sinclair, in his book Madang (DWU Press, 2006) briefly marks the birth of the iconic watering hole.
In late 1947, the first moves to establish a Madang Social Club were made. This evolved into the Madang Social and Recreation Club, the Madang Recreation Club, and finally the Madang Club, which exists to the present day.
Now we all have the opportunity to participate in this joyful celebration. Here is the invitation (click to enlarge).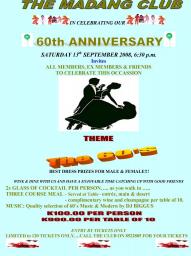 It sounds like a major party to me. Fancy dress prizes . . . hmmm . It seems a great photo-op.
One of the things that I have appreciated about The Madang Club over the years is that, when nearly everything else seems to be crumbling and rotting around us, The Madang Club has been constantly improving. If decay is getting you down, keep your eyes fixed on The Madang Club – you'll feel better.
This is not a recent phenomenon. Witness Sinclair's comment on the subject in a more recent epoch:
In 1970 tenders were called for the renovations, with a dining room, kitchen facilities and a new bar area, at a cost of $35.000. The manager at this time was Mervyn Livermore. Town and country membership now exceeded 300. The population of Madang town at this time was 15,751, expatriate and national.
I'm not in the record tending business – leave that to Guinness. However, I'd guess that if you were keeping track of Madang social life since the war, The Madang Club would probably hold records for beers downed, business done, lies told, friends comforted, sweethearts wooed, wages gambled away, fistfights erupting (notably fewer these days), depression relieved, fears calmed, tasteless jokes heartily laughed at . . .
All said, it's a perfect fit.
Cheers!