Posted in
Opinions
on April 19th, 2008 by MadDog
Yesterday, I referred to my service in the Army National Guard as 'draft dodging'. Now, it occurs to me that I need to make it clear that the circumstances in the world of today are entirely different. Joining the Guard or Reserves today is akin to booking a ticket on the Misery Express. Your seat is reserved – you're just waiting for the train to pull into the station.
My wife and I, both resolutely opposed to the war in Vietnam, had limited options to maintain that position. The alternative that many were selecting was to relocate to Canada or Sweden. This did not seem to us to be honourable. Another choice was to either enlist or wait for the draft to catch up to us. This was intolerable, since it would not only end up with me fighting a war which we loathed, but also presented the distinct possibility of leaving newly married Eunice as a widow. I can't fail to mention that I did not at all relish the concept of being shot at. So, when the opportunity fortuitously arose to join the Army National Guard, we jumped at it. I spent about nine years serving in that manner.
The history the National Guard pre-dates the establishment of the United States Army. At its very heart is the concept of the citizen soldier – the trained protector who is standing by to drop everything to defend his country. Guardsmen have fought in every war. However, during the Vietnam era, about the only way you'd end up trading lead with the enemy was if your entire unit was activated. Many Guard units were. Mine was not.
This is the shoulder patch of the 38th Infantry Division – "The Cyclone Division" My dad wore it fighting the Japanese in New Guinea. I wore it flying Hueys in the relative safety of the Midwest. My son wore it during his service in the Guard as an Officer in the Military Police.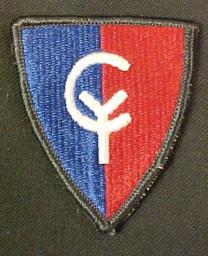 Here's my dad with his trusty Thompson in New Guinea.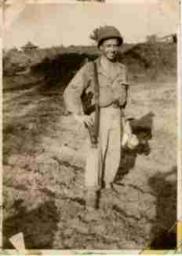 Three generations of Guardsmen. One was called to fight; two were not.
Today's circumstances are utterly different. The Guard and other reservists are carrying a huge burden of the fighting. I scorn the war in Iraq and can't think of a single argument in favor of it. It stank at its roots and its harvest, I believe, will stink for decades. That's just one man's opinion – though I have heard many other Americans articulate a similar attitude.
I sincerely apologize if my remarks in my post of yesterday seemed to denigrate the Army or Air Force National Guards or any of the reserve components of the US military. It was not my intention to do so.
I do 'support our troops'. I think my son expressed it well, when we discussed it several years ago. He said, "Of course I support our troops – I support bringing them safely home."
I'm certain that many, if not most, of the men and women who are called upon to serve in Iraq today most sincerely wish to be just about anywhere else. They are caught up in the machinations of nations, as was my brother in Vietnam. He never recovered his well being. Though four years younger, he has long ago died troubled and short of the potential he might have achieved.
My prayers are with those in peril. Though I despise the war, I cannot despise the souls engaged in the seemingly interminable combat.
Bring them home.

Tags:
38th infantry division
,
national guard
,
the cyclone division
,
thompson machinegun
,
united states army