Posted in
On Tthe Road
on April 8th, 2008 by MadDog
Yesterday we were at the garage at our house in Brownsburg going through all the stuff that's been stored there for years. We are hoping to sell the house before we return home to Madang. Among all the trash and treasure is our 1997 Harley Davidson 883 Sportster.
We put some fresh petrol in the tank, replaced the battery, pulled out the choke, flipped the ignition on and pushed the starter button. Hey! It started up with a throaty roar.
We were feeling pretty happy.  Here's a picture: (I think I look like a ghost. I've lost all my tan already.)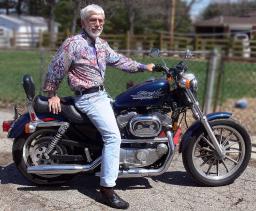 We'll be taking it to Illinois to crate it up for its long journey to Madang. More on that later.
Tags:
883 sportster
,
brownsburg
,
harley davidson indiana