Posted in
Mixed Nuts
,
Under the Sea
on February 26th, 2009 by MadDog
I've got it all for you today.
This morning, my garden was sizzling with warm morning sunshine. I felt like I was 60 again. Whoopee! I was standing on Faded Glory  looking back at the house. I quickly brought my camera up to my eye by instinct and caught this crow flying past. The blue sky, warm orange sunlight on the trunks of the coconut tree, and the ominous black bird make an interesting juxtaposition: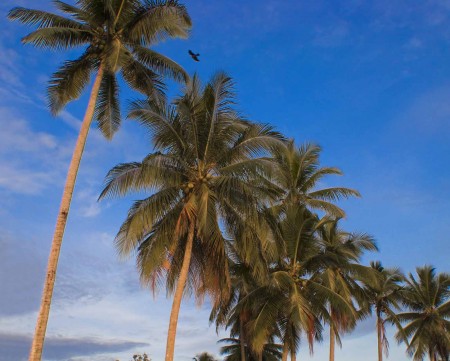 Then I heard an Air Niugini jet about to take off. The runway is close to our house. I snap-shot again, just barely having time to zoom. There is even a small school of fish jumping at the bottom of the frame on the right: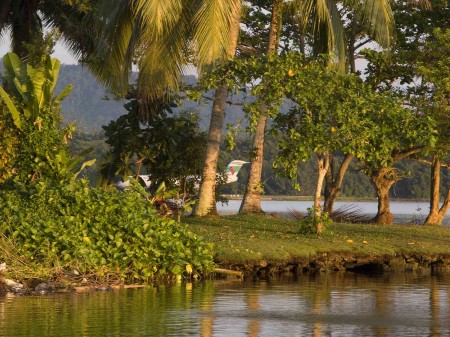 A click on the image to enlarge will give you a view of the logo on the tail.
Lastly, here is an unfortunately green movie clip that I got on our Wednesday dive on the Henry Leith.  It is two Three-spot Dascyllus (Dascyllus trimaculatus)  getting it on (Excuse the minor vulgarity. If I use the word – I'll spell it out – "esss – eee – exxx" in a post, I'll be knocked off of millions of computers.):They take turns circling, cleaning, depositing, fertilising, and chasing away potential egg stealers (including myself – they BITE!).
I just noticed while I was checking this post that, if you turn the sound up, you can hear over my breathing the sound that many of these small fishes make (Damselfishes of all kinds, including the Anemonefishes). It is a small, quick grunting sound. Turn your sound up and see if you can pick it up. They most commonly make this sound when they are perturbed. You can hear the sound most clearly starting at about 1:13 into the clip running to about 1:45. It comes back again at about 1:45 and you can hear it on and off until near the end of the clip.
Sorry for the horrible green cast. The water was very green and I haven't yet figured out how to change the tint of my video clips. If there's anybody out there with a suggestion how to do that, please leave a comment.
Tags:
air niugini
,
coconut tree
,
crow
,
Dascyllus trimaculatus
,
faded glory
,
henry leith
,
Three-spot Dascyllus