Posted in
On Tthe Road
on April 1st, 2008 by MadDog
I'm sitting here in front of the Apple Store in the Ala Moana shopping centre stealing their internet hot spot. We'll be leaving Honolulu in a few hours on our way to the land of freezing Yanks.
I have been admiring these beautiful bronzes in front of the Hilton for years. I thought you might like to have a look if you haven't been lucky so far.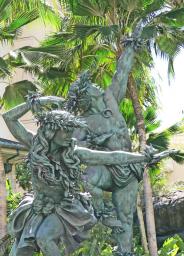 There are three of them, but I think this angle is the most photogenic. I have lots of other interesting images to show you when we get some place where I can work without attracting the Rent-A-Cop guys who, I am sure, are going to hassle me at any moment for sitting here on the pavement barefoot with a computer looking like someone really scary.
A True Patriot is going to report me as a potential terrorist as soon as he or she can recover from the panic attack. If you get an urgent message from me begging for bail money, please show pity to a harmless (ok, more or less harmless) old man.
Tags:
ala moana
,
bronze
,
bronzes
,
hilton
,
honolulu
,
statue
,
statues