Posted in
Mixed Nuts
on February 12th, 2009 by MadDog
I found this map in the 2 January issue of Science, the journal of the American Association for the Advancement of Science: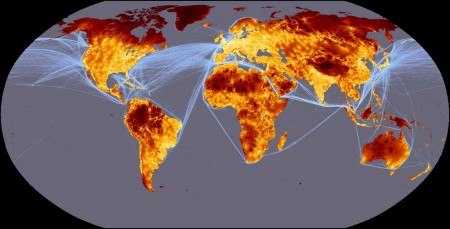 The map depicts the density of sea routes, but, more interestingly, it shows the travel time by sea or land, in days from a location to the nearest city with a population of 50,000 or more. The scale starts with light yellow in hours, growing darker up to 36 and then changes to days, with dark brown being ten days.
It's important to note that is doesn't show air travel. The map would be pretty much all the same colour, since few places are farther than a couple of hours from a city of 50,000.
Look at the difference in colour between the island of New Guinea and Madagascar. Either Madagascar has more big cities or it has a much better road transportation system – probably both. I'm too lazy today to check it out.
I don't seem to be brimming over with opinion this morning, so I won't draw any harebrained conclusions from the map. I can hear the sigh of relief from readers all over the world.
If you 'd like to see the source of the data and read some interesting stuff about the subject go here. You'll find a larger, more detailed version of the map, downloadable software to make your own maps, and a cool poster that you can download.
Tags:
aaas
,
American Association for the Advancement of Science
,
european commission
,
European Communities
,
global map of accessibility
,
png
,
science
,
travel time