Posted in
Under the Sea
on March 14th, 2010 by MadDog
Sunday dawned clear and bright. Just what I needed to lift my spirits when I realised that my sinus infection (oh, I'm sure you want to hear about that) has come back with a vengeance. I may possibly have insulted it during my very pleasant dive yesterday at Magic Passage. Actually, I'm not telling the truth. The part that is not true is that this is actually Monday's sunrise: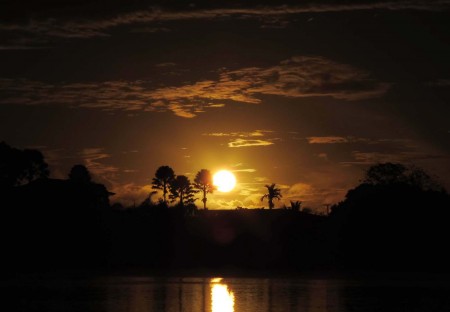 Could be Egypt, eh?
Conditions at Magic Passage couldn't have been much better. There was a manageable current flowing in from Astrolabe Bay, making the water nice and clear. I usually get into the water first, to get out of everyone's way and check to make sure that I've anchored where I think I anchored. I got this shot from about seven metres below Faded Glory and Sanguma, which we had parked alongside each other: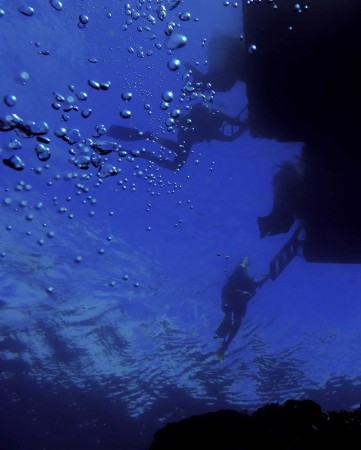 Funny thing – coincidence strikes. The Beatles song
Come Together
is playing with a heavy bass bias here in the IT Dungeon as I write. (In case you're wondering, I was thinking of the boats coming together over the reef.)
He roller-coaster he got early warning
He got muddy water he one mojo filter
He say "One and one and one is three"
Got to be good-looking 'cause he's so hard to see
Come together right now over me
I think that it is one song that nearly every person of my age who was brought up in The Western World (whatever that is) can probably sing along with without mumbling too many of the words. It always seemed like nonsense to me – nonsense ambiguous enough to mean anything you like. I give you the examples of Lewis Carroll's Jabberwocky or James Taylors' American Pie. Still, the pitiless call of reason leads me to conclude that the song must be about the members of the band. Four musicians, four verses, lots of obscure references – it's not Rocket Science. If you've nothing better to do and you want to enrich your mind with some spaced-out references from the 60's you might check here and here if you're feeling clueless. The first link seems plausible. The second feels more like stoner-speak.
Errr . . . drifting away there. Back to the dive. One of the first things that I encountered was this lovely little anemone which I am embarrassed to say that I can't identify accompanied by two juvenile Clark's Anemonefish (Apmphiprion clarkii):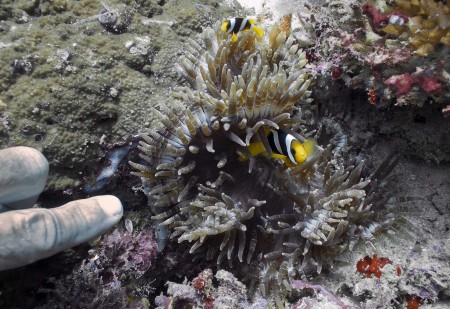 My finger is for scale, not for food. However, while snorkeling at The Eel Garden later I was demonstrating how the larger cousins of these youngsters would play with your fingers and occasionally nip at them. One of the larger specimens of A. clarkii bit viciously three times. Each time it would grab a bit of my skin in its jaws and shake its body furiously before letting go. Since I was out of breath anyway and needed to surface, I decided to end the demonstration.
This morning I felt a distracting itch on my hand and discovered a bite mark left by the little terror: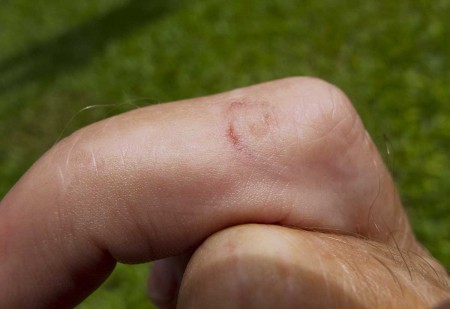 Don't let anybody tell you that Nemo is not dangerous.
In the clear incoming water, the beautiful Anthea were glowing like neon lights: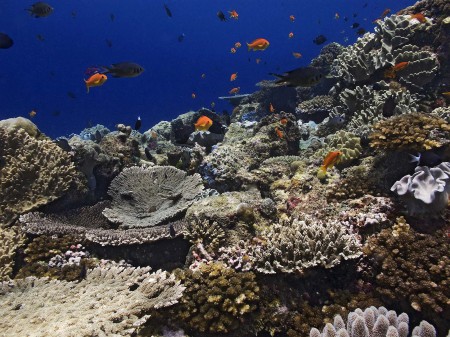 We were blessed by a bit of sunlight on Saturday, the first we've seen in some weeks. The weather here has been dismal, at least by Paradise standards.
Richard Jones led the little expedition, though he was possibly a little miffed when I was uncooperative and lazy at the beginning of the dive. He got even later by mugging me: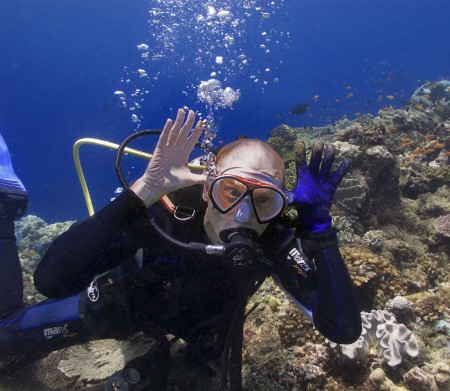 However, I shall have the last laugh. He complained a few days ago about me getting his "bald head" into the picture – his words, not mine. I would call him "partially bald". My response is, "How could I miss it?"
Later on, a band of Cassells showed up in Felmara. This array of fishing lures caught my eye: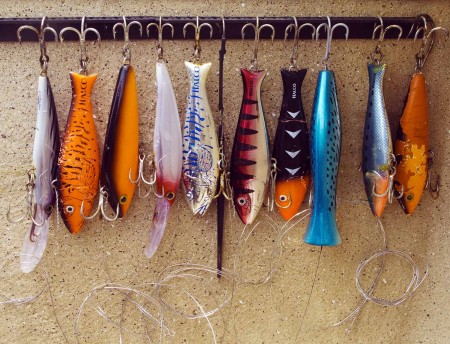 The Cassell Floating Fishing Party motored off after a while and left us to enjoy the lowering sun.
Just another Saturday in Paradise.
Tags:
Amphiprion clarkii
,
clark's anemonefish
,
eel garden
,
felmara
,
magic passage
,
richard jones