Posted in
Mixed Nuts
,
Photography Tricks
on April 29th, 2010 by MadDog
Today is my day to try to catch up. I'm behind in some paying work as well as still behind here on Madang – Ples Bilong Mi. Today is the first day in a week on which I'll be posting the same day as the post date. Not that it makes much difference to anyone but me. I hate getting behind in my work, because I am fundamentally extremely lazy. It's all too easy for me to start thinking that I just don't have enough time, so there are some things to which I'll never attend. Then I have to be honest with myself and think of how many hours a week I spend staring at TV. I've come to think of this as a complete waste of time. Frankly, if I really want down time, I'd rather read. TV is the lazy person's amusement. It requires absolutely no effort and little imagination. I simply don't want to spend my life that way any more.
So, with the sermon out of the way, let's have a look at this morning's sunrise: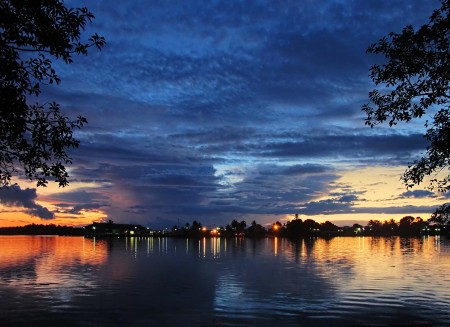 Not bad, but not great, either. Maybe I'm getting a little to demanding. After you've seen a few thousand here, it's easy to get picky.
As the title suggests, we're having aerial shots today courtesy of Sir Peter Barter with whom I hurled through the atmosphere for almost three hours on Tuesday. His Robertson R-11 is a beautiful little machine. I can only imagine what a dream it is to fly. Here is a lovely shot of my home town, Madang: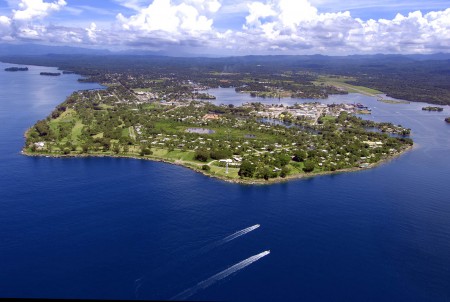 As you can see, the bulk of the town is on a peninsula. To the left (east) is Astrolabe Bay and to the right is Madang Harbour.
Here is another shot looking north. You can see part of Madang Town and the North Coast: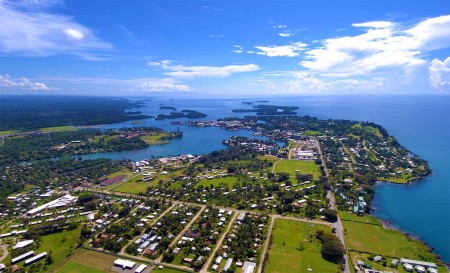 The chain of islands stretching to the horizon is where we do most of our diving.
This a very nice angle from which to view the entire Madang Coast: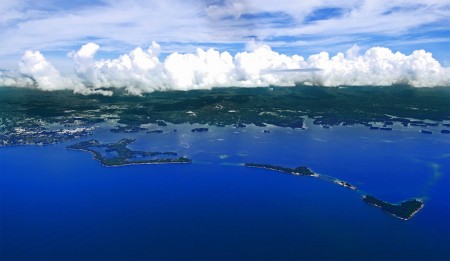 Madang is on the left. The large island is Kranket, followed by Leper Island, Little Pig Island and Pig Island. These are all local contemporary names, except for Kranket Island, which is traditional. The others have different names on the nautical charts.
This image covers pretty much the same area, except that you are looking east out over Astrolabe Bay: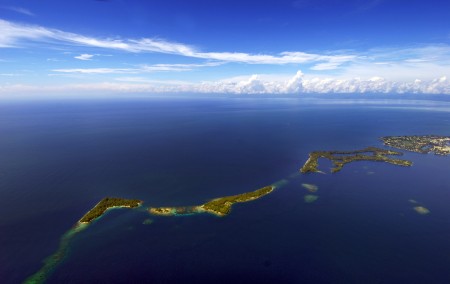 The fuzzy blue area under the clouds to the right is the mighty Finisterre Mountains.
I got some very nice shots of some of our favourite dive sites. This is Magic Passage in the centre and the southern tip of Leper Island on the right: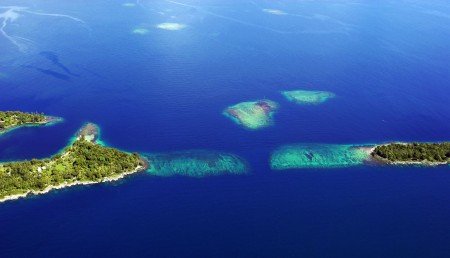 Kranket Island is on the left. This is easily the best aerial view that I've seen of Magic Passage.
This shot shows an easy month's worth of daily dives. At the far left is Little Pig Island with The Eel Garden to its right. The large mass is Pig Island with superb diving all around the ocean side. At the bottom is Barracuda Point: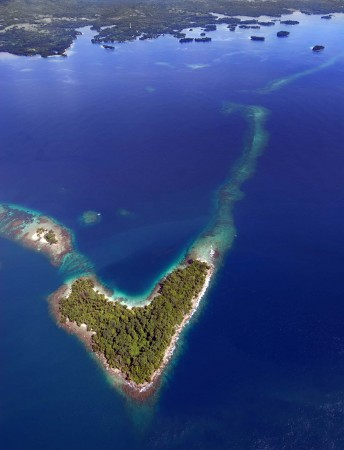 Up the right side clear to the edge of the image is all wonderful diving. The gap in the barrier reef near the top is
Rasch Passage,
an excellent dive.
That's my back yard from the air.
Tags:
astrolabe bay
,
barracuda point
,
eel garden
,
magic passage
,
pig island
,
rasch passage