Posted in
Under the Sea
on January 18th, 2009 by MadDog
Yesterday, for our regular Saturday dive, we motored out to Magic Passage, just ten minutes from my house. It always amazes me that I'm so fortunate to live in a place where I can so easily get to some of the best reefs on the planet.
The day provided plenty of familiar sights and a couple of surprises.
When I first saw this spadefish at about thirty metres, I thought he was an old friend. Then I noticed the black spots on his belly. This made me notice that his shape and the colour of his fins were less familiar. When I checked in my fish book at home, sure enough, he's not the common variety that we see most often.
We usually lump them all into the generic term "batfish." However, this guy is more special. He's a Batavia Spadefish (Palatax batavianus):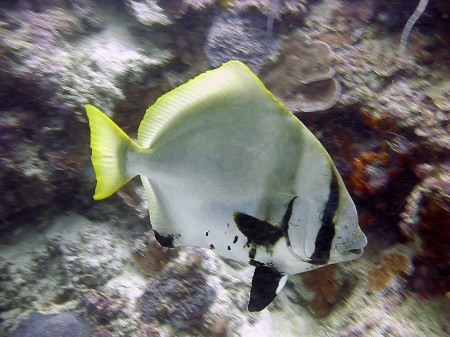 And he is a rather handsome fish.
The next two shots practically make me giggle, because I'm so pleased with them.
First, I'm happy because this is the first time that I've ever seen this particular nudibranch. It's an Ardeadoris egretta: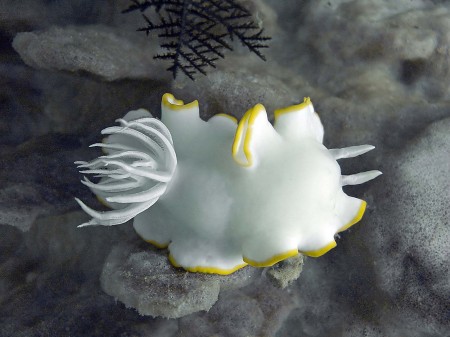 Sorry about the Latin taxonomic name – most nudibranchs have no common name, because they are so seldom seen and many are very recently discovered or described. This species was undescribed until 1984.
This nudibranch is apparently common around Heron Island in Australia – thus its species name egretta  – Egret.
The photo above is more from the top. Here's a side view: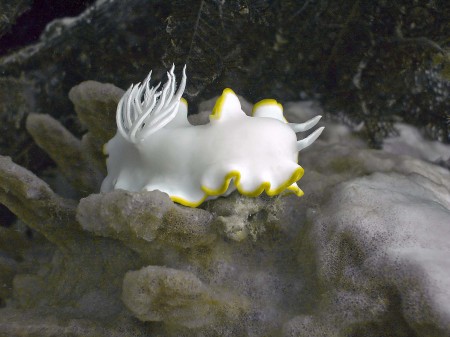 It is about as long as your finger – quite large as nudibranchs go. I also have to say that it is a spectacular vision underwater. These shots were taken at about thirty-five metres with available light (no flash). I'm more and more amazed by the quality of images that I get from my Canon G9 in its factory underwater housing. It has some limitations, but the price is hard to argue with.
A more familiar character is the Map Puffer (Arothron mappa):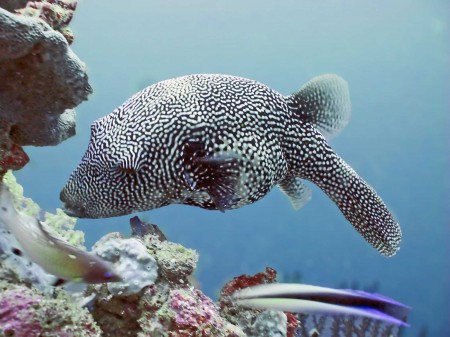 There are always a few of these lumbering around Magic Passage. This fellow was at a cleaning station getting his parasites removed by the blurry cleanerfish that you can see in the foreground.
Finally, let's play "Find the Fish." The Tassled Scorpionfish (Scorpaenopsis oxycephala)   is very common in our area, but that's not the perception that you get from looking for them: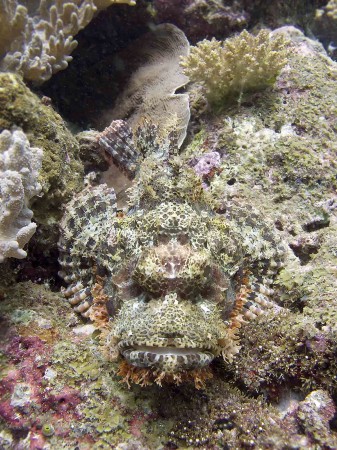 I can remember many occasions when one of us spotted a well-camouflaged specimen and tried to show it to dive buddies. It's sometimes very difficult to see even when someone is pointing a finger at it only a few centimetres away. When we got back on the boat on Saturday morning, Amanda was saying to me that she stared at the spot that I was photographing for several seconds before she saw the scorpionfish.
By the way, the eyes are not where you think they are from looking at the photo above. See if you can find them (click to enlarge).  I'll do another post of this guy from another angle so you can see what I mean.
Sometimes I wish I could blend into the background like that.
Tags:
ardeadoris egretta
,
arothron mappa
,
batavia spadefish
,
magic passage
,
map puffer
,
nudibranch
,
palatax batavianus
,
scorpaenopsis oxycephala
,
tassled Scorpionfish