Posted in
Humor
,
On Tthe Road
on June 30th, 2010 by MadDog
After twelve days at the hotel where Eunie has been staying, eating every meal consisting of pretty much the same stir-frys and curries every day, she was ready for a gastronomic break. I told her yesterday, when I came back from the Nadi Temple, that there was a MacDonald's somewhere back in the direction of town. So, at about noon, we started the long walk in the quest of the undisputed king of junk food.
It turned out to be a bit farther than I remembered, possibly a couple of miles. Eunie never slowed down or looked back. The call of the Big Mac was shrieking raucously in her ears: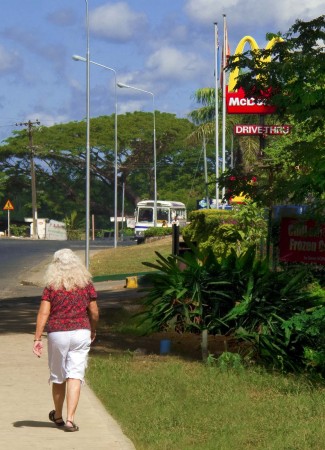 When in North America we never eat so foolishly. Our idea of junk food in Indianapolis is to go to Arnie's Bar and Restaurant and get a single order, which we share, of gigantic mushroom caps filled with a nice Italian tomato sauce and topped with Romano cheese. In Canada we call big, steaming bowls of onion soup junk food. Hmmm . . . stringy cheese . . .
If you're wondering how MacDonald's manifests its image of looming obesity in Fiji, wonder no more: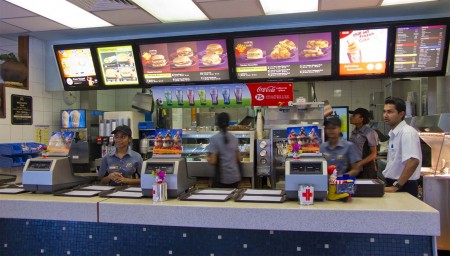 Right, it looks just like the one three blocks from your house.
And, as for the offensive object itself: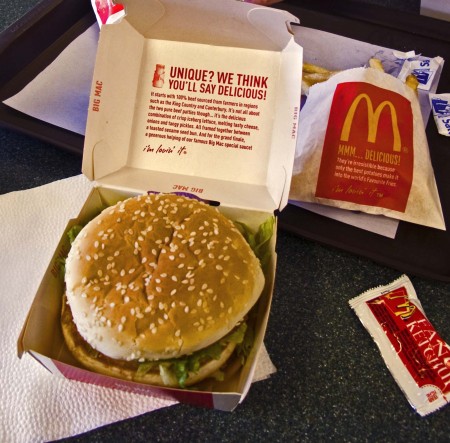 Yes, it is just as disgusting and offensively tasteless as anywhere on the face of Mother Earth.
I have to admit that Eunie and I have a sort of death pact between us. Everywhere we go in the world, and that list is ramping up quite nicely, we seek out a MacDonalds and force ourselves to eat a Big Mac. Eunie actually claims to like one once in a while. I can hardly choke it down.
It's a little taste of home.
Ni Sa Moce, Fiji – Vinaka.  (Goodbye, Fiji – Thanks.)
It's been nice.
Tags:
big mac
,
fiji
,
macdonalds
,
nadi