Posted in
Humor
,
PNG Culture
,
Under the Sea
on October 28th, 2009 by MadDog
Today's video clip is a bit of PNG Culture. Since images shout, while words simply whine, I'll take you directly to The Essential PNG Barbie Preparation Technique:

The process is conceptually simple. One wants to remove any noxious substances from the barbie without destroying the delicate balance of organochemistry that provides the characteristic flavours.
One must first use a sturdy spatula, of a type that I have only seen in Australia and PNG, to de-crudify the barbie. Incidentally, these heavy spatulas double as a venerable weapon. De-crudifying consists of selectively scraping from the barbie bird poo, leaves, toasted geckos, the occasional huge beetle and any other items not deemed to be contributory to the proper seasoning. The scraping may take a while. It usually requires a couple of assistants to . . . er . . . assist the decision process. Fights have been known to break out.
Next, having first assured that there is a roaring fire, one must use copious amounts of water (sea water, if you're lucky enough to be close to the beach) to wash off most of the unwanted substances loosened by the scraping. A thorough washing is in order, along with further scraping to further refine the qualities of the cooking surface. This process involves much steam and hot water often erupting in unanticipated ways. Accidental scaldings are displayed as badges of honour.
Finally, and this is the critical stage, more water is applied while simultaneously brooming it off the barbie with a huge broomy sort of tool made of the spines of coconut leaves. The brooms themselves have a story worth a post. They take a long time to make and seem unnecessarily spindly and ineffective to a foreigner. However, just try to get your cleaning lady to use a fancy factory made broom. She will not touch it. It is an affront to her skill and makes a mockery of her trade. The coconut pangel broom is clearly superior in her mind.
So, having cleaned the barbie, what shall we eat? Well, I can guarantee you it won't be any of these: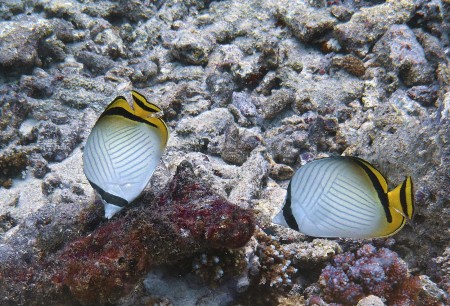 That's the Vagabond Butterflyfish (Chaetodon vagabundus). Don't ask me why it's called a vagabond. Sounds a little overly poetic to me.
Let's have yet another look at an old friend the Spinecheek Anemonefish (Premnas biaculeatus):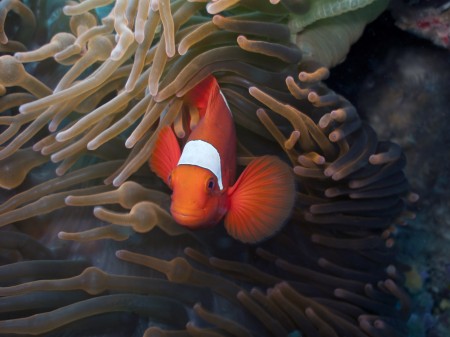 I seem to be embarking on a new career to get the perfect specimen shot of this critter. I'm not going to stop until we can see its scales, which are very fine. Close, but no turkey.
Here's another one that is a little less common, the Orange Anemonefish (Amphiprion sandaracinos):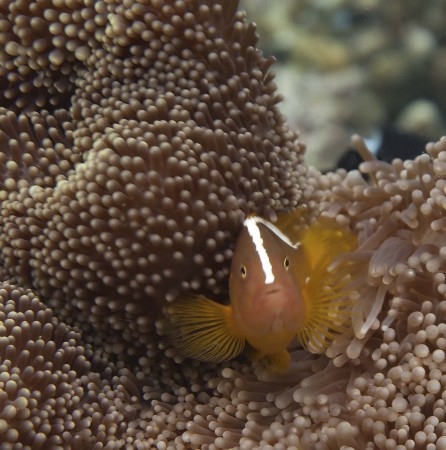 I'd say more about the Orange Anemonefish, but I'd have to make it up. No, wait. I do know that it favours a certain species of anemone called Merten's Carpet Sea Anemone (Stichodactyla mertensii) which is what you see in the image above.
Finally, here is a teaser for a post to come in a few days. Our dear old friend (not that old) Trevor Hattersly is about to succumb to marital bliss with his beautiful bride-to-be Karen Simmons. Tuesday night we had a little stag party (no girls popping out of cakes) at the Madang Club. I was suckered into a game of pool the rules of which were so arcane that I hadn't figured them out until I'd lost all of my pocket money – about K50, to be exact.
Here's Trevor lining up for a shot: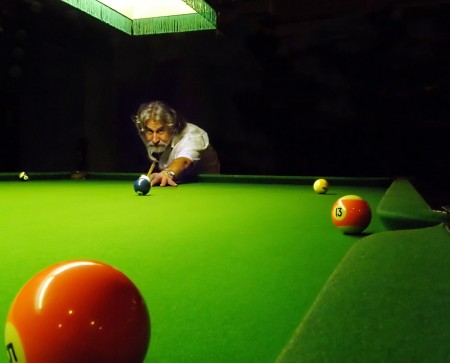 I know what he's thinking. "I'm going to take all of Messersmith's money!"
Tags:
amphiprion sandaracinos
,
barbie
,
bbq
,
billiards
,
blueblood
,
chaetodon vagabundus
,
orange anemonefish
,
png style
,
pool
,
Premnas biaculeatus
,
spinecheek anemonefish
,
trevor hattersley
,
vagabond butterflyfish