Posted in
Under the Sea
on August 30th, 2009 by MadDog
It was a beautiful morning on Saturday with calm seas, something that we've not seen lately. This, along with an incoming tide, gave us a chance to dive Magic Passage, which we have not visited for some time.
As soon as we reached the bottom at about 25 metres, we saw a Black-Blotched Stingray (Taeniura meyeni):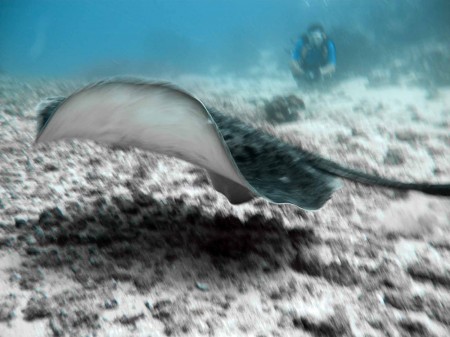 It's been a while since I saw one of these. I was so surprised, since I did not see it immediately (it was behind me), that I had time only for a couple of quick shots before it zipped away. The shot is very poor because of motion blur, but interesting nonetheless.
As we worked our way down toward the mouth of the passage I ran across this beautiful starfish about the size of a dinner plate: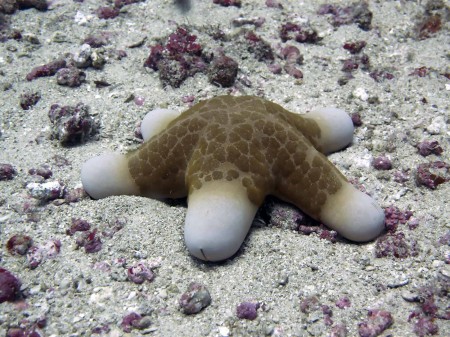 This is probably the most common species of starfish around Madang.
Here is a nice shot of Amanda Watson and Pascal Michon moving down the south wall of the passage: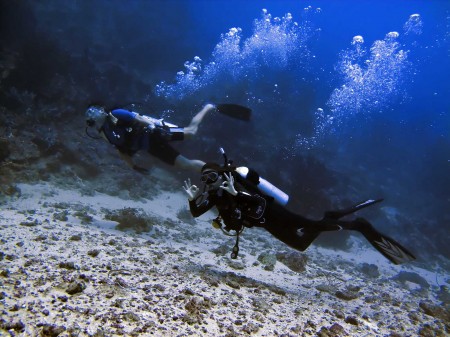 A small school of barracuda were pointing into the current. One lonely Midnight Snapper was hiding among them: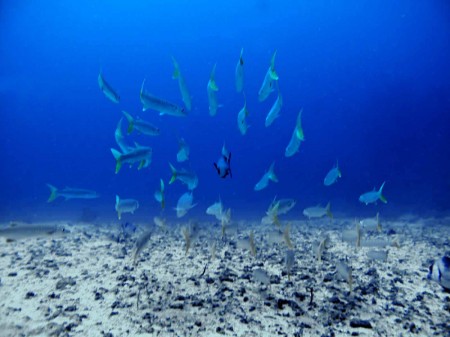 As soon as I got up close enough behind them to be an annoyance, they wheeled around to avoid me and gave me the opportunity for this very nice shot: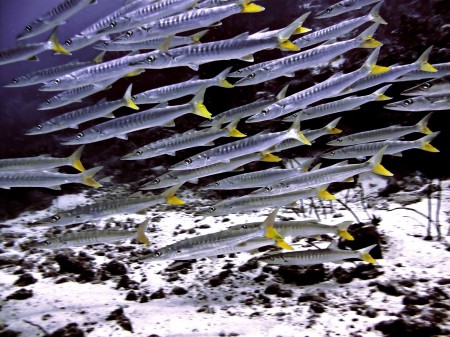 Down closer to the mouth of the passage a large mob of eels were waving in the current snapping up goodies floating past: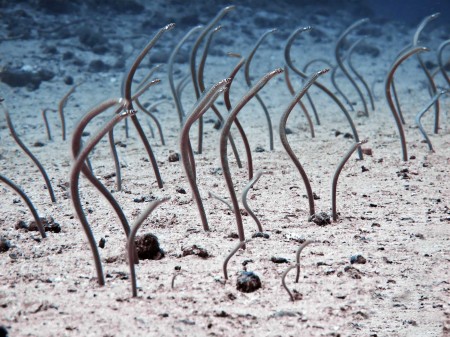 This is the best eel shot that I've yet managed. They are usually quick to pull back down in their holes as soon as you approach. I don't know why they let me come so close to them on this occasion.
If you've followed our dives before, you already know that the sub-adult Silver Sweetlips is my favourite fish: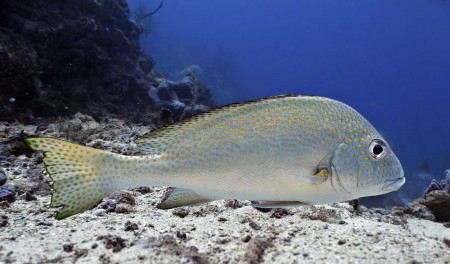 That is not just because it is a very pretty critter. It is a photographer's dream fish. They are so calm and placid and unafraid.
They remind me of my human friends. The tropics will do that to you.
Tags:
amanda watson
,
Black-Blotched Stingray
,
eel
,
Pascal Michon
,
Silver Sweetlips
,
starfish
,
Taeniura meyeni