Posted in
Guest Shots
on September 19th, 2010 by MadDog
I need to persuade my head to give me a break from my own difficulties for an hour or so. Let's have some beautiful images from our guest shooter, Alison Raynor. Alison lives in Toogoolawah in Queensland, Australia. She has been a guest shooter here before. She is getting right into sunrises and has sent me some very nice ones. I'll devote most of this post to her images and fill in at the end with an update on my currently miserable life.
This is not the prettiest of the lot, but it has four items of interest, namely four black cockatoos. You may have to click to enlarge to see them: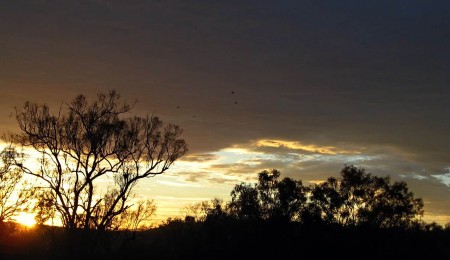 Along with the photo, Alison included this amusing comment.
The old farmers here have a  saying that, when there are an uneven number of black cockatoos overhead that means that there will be rain.  Well, it's an interesting theory which can be listed alongside the one that says that if you see the long neck turtles walking uphill it is also a sign of BIG rain, not to mention the swarming of the flying ants (termites) that are said to mean HUGE rain, possibly floods (if the swarm is big enough).   The thing is, that the later two are both quite accurate and make sense if one chooses to analise the natural reasoning behind what initially seems to be a crazy "old cockies tail".

I did not count the total number of cockatoos this morning, as I was too busy with the camera, but soon found out that the stunning light and colour show that was capturing  my attention in the east was actually an  insidious diversion for what was  sneaking up and preparing to thrash me from behind. A big thunderous black cloud full of flatulence and cold water. Mmmmmm?
Here is another more colourful shot: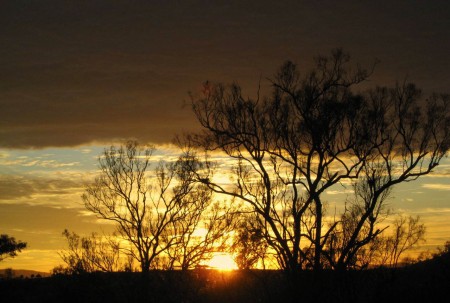 And one even more so: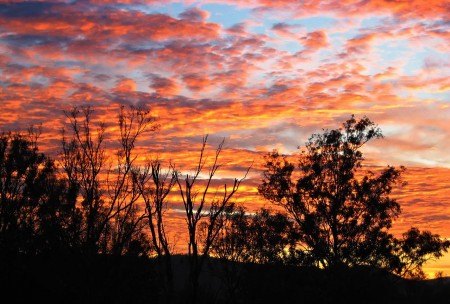 The best of the bunch, I'd say.
In the cloud here I see some curious banding which I can't explain: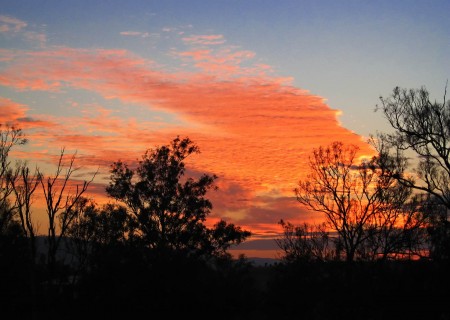 Is it an omen? No, wait. I don't believe in omens. I'd go really crazy if I did.
This isn't a sunrise, but it's my favourite of these images: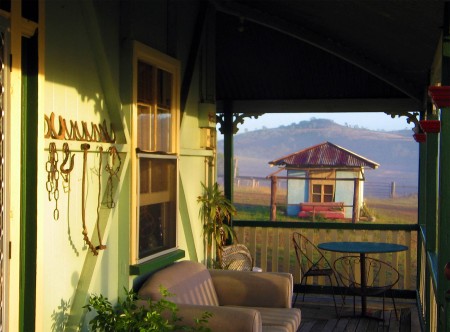 Alison's veranda looks like a peaceful place to me. I'd like to spend some time there – in a peaceful place.
Thank you, Alison for a little time off.
~ ~ ~ ~ ~ ~ ~ ~ ~ ~ ~
The ruckus in my head continues – intensifies. When it rains it pours. I won't bore you with the growing list of Things I Never Thought Of. Let's just say that every day seems to bring some new, terrifying fact to light. The renter in the house in Brownsburg has chosen this fine time to move out, leaving me with a house that's empty, earning no income and not in good shape. Oh, did I mention that I have joined the immense club of those owing more on their house than it's worth and having no money to pay the payments? Yes, that's me – a joiner.
Does grief magnify one's problems? I suppose it could. I don't know. This is my first experience with bone-rattling grief – the kind of grief that makes you feel weak and shaky all the time and won't let you sleep.
By the way, I've stopped asking what else can go wrong.
The possible answers terrify me.
Tags:
alison raynor
,
black cockatoo
,
mt beppo
,
sunrise