Posted in
Dangerous
,
Mixed Nuts
on February 28th, 2010 by MadDog
Birthdays are terrific excuses for a party up at Blueblood. In fact, we need no excuse at all. Since there are now facilities for sleeping over, Eunie and I went up on Saturday afternoon for a small party to celebrate Karen Simmons birthday. Since I am still sick as a dog and didn't feel much like partying hard, I fooled around with my Canon G11 camera to see how far I could stretch it. It proved to be fairly flexible.
For instance, here's a passable shot taken of the party makers around the picnic table by candle light only: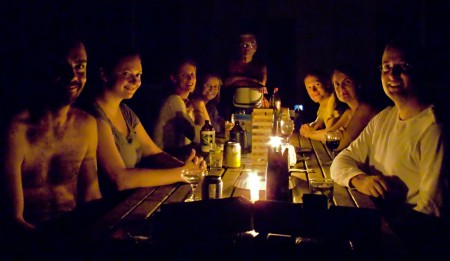 I think that I shot this at ISO 1600 and it took a 1/4 second exposure. I had to give the "hold still" warning, but the shot did turn out nicely. I should mention that I had the camera mounted on a tripod, as with all of the rest of these shots. I like the shot. It has just the right mood and the lighting is very realistic. Not bad for a camera that sells for a little over US$400.
This shot might fool you, at first. It looks like a poor-quality image from a cell phone. However, if you consider that it was exposed only by the light of a full moon shining through clouds, it takes on a whole new aspect: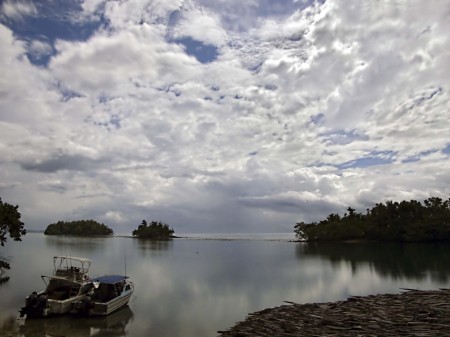 I shot it from the balcony overhanging the first floor (second floor for Yanks – the ground floor is called the ground floor by Australians – the next one up is the first floor). Believe it or not, this image was taken at ISO 80 for fifteen seconds. Therefore, it had practically no noise and was more or less perfect as it came from the camera. The long exposure accounts for the glassy water.
Here's another one take from the beach level: You can clearly see Kar Kar Island in the distance: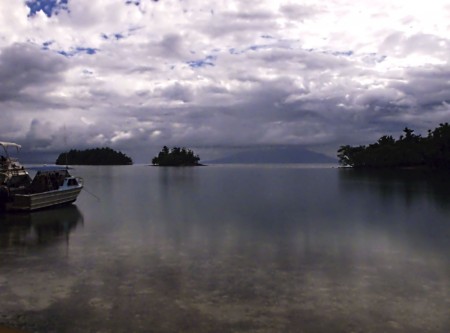 Since the giant earthquake in Chile was on everybody's mind and we had no idea when or if a giant tsunami would engulf us, the party had a bit of a fatalistic flavour to it. "Wonder when it will get here?" "How big do you reckon it might be?" were popular topics of conversation.
Here is a similar shot taken after we lit the bonfire. You can see the firelight illuminating the sterns of Lying Dog and Sanguma, which were, here at about midnight, already beached by the low tide: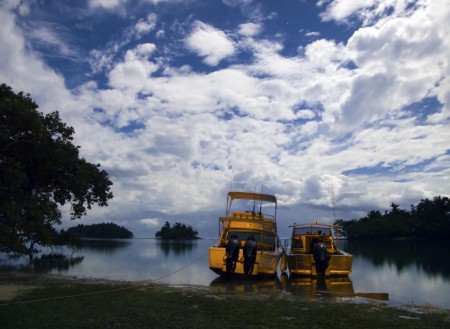 I noted a crazy thing which I had never even considered as I was shooting these long exposures. The night sky is
not
black as it appears to our eyes. It is just as blue as it is in the day time, but it is very, very dark, so our eyes can't see it. Below a certain light level, everything is just shades of grey to our eyes, even though colour still remains in the scene. It's because our colour light receptors drop out of the data stream once the light level is low enough. They just don't respond.
This shot is amusing, but I reckoned that I could do better: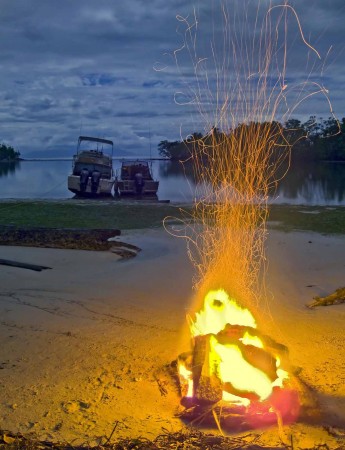 Though the sparks are interesting (I had Rich Jones poking the fire to make more), the flames were badly overexposed and I lost all the detail.
This one turned out much better: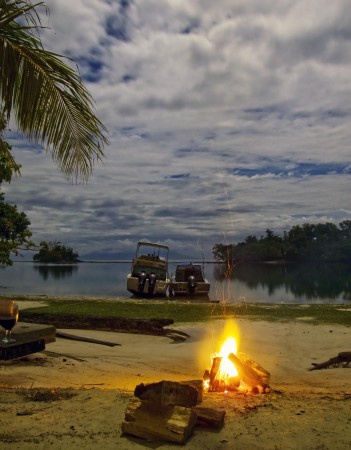 Moving away from the fire improved the shot. It's a long exposure, so the flames are blurry, but the image is much more pleasing;
I couldn't end this without showing you this lovely shot of Jenn Miller taken only by moonlight and the flames of the dwindling bonfire: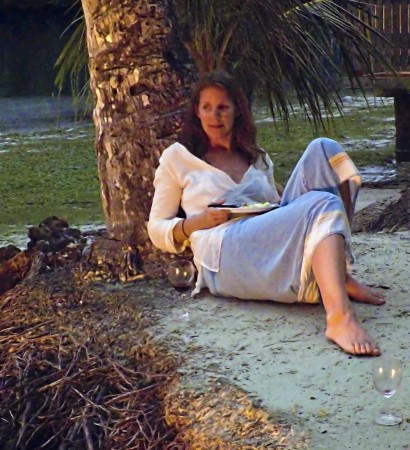 It's not perfect, because it's very difficult to hold perfectly still for four seconds, but it clicks for me. I'm very happy with it.
The tsunami never arrived. This is just as well, as we had no plans to go anywhere.
Tags:
blueblood
,
karen simmons
,
tsunami