Posted in
Mixed Nuts
,
Under the Sea
on December 18th, 2009 by MadDog
So, if you come to visit us in Madang for Christmas, what can you expect? Well, first you have to land your Fokker F-100 at the airport (hopefully) in Madang. Just because production ended for the F-100 in 1997 doesn't mean that it's not a good aeroplane. It's just a little long in the tooth. I was recently allowed to land an F-100 at Madang. Here is a photo that I took through the windscreen as I guided us in on the final approach (never liked the sound of that, but that's what they call it):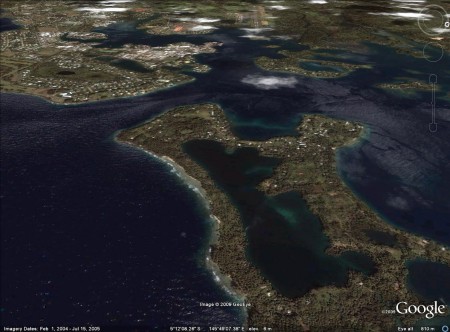 Okay, okay, I lie. I wasn't flying the plane. In fact, there was no plane. It's an image from Google Earth. Anyway, if you did land in Madang, this is exactly what it would look like. The big blob of land with the lake in the middle is Kranket Island. At the top, to the left of the runway is an orange patch. This is the wood chipping mill. Our house is just to the right of it.
Sticking with aeroplanes for a bit, here is a shot of 50 calibre machine gun cartridges laying, after sixty-six years, in the salty water of Tab Anchorage near Wongat Island in The Green Dragon, an American B-25 bomber shot down in 1943: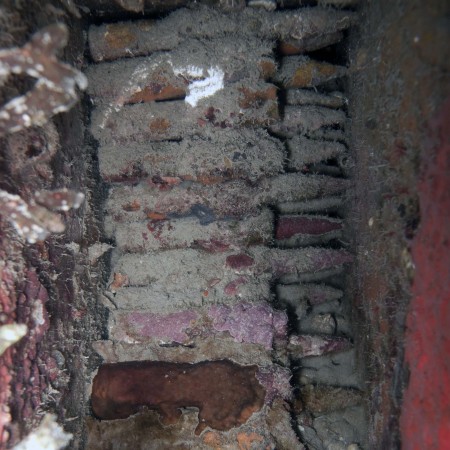 When I first started diving The Green Dragon many years ago, there were many more cartridges in the ammo boxes. Sadly some divers can't resist taking a souvenir. Every time somebody takes "just one" it hastens the day when there will be none left to see.
Now I'll show you (don't ask me why) a Barrel Sponge (Xestospongia testudinaria):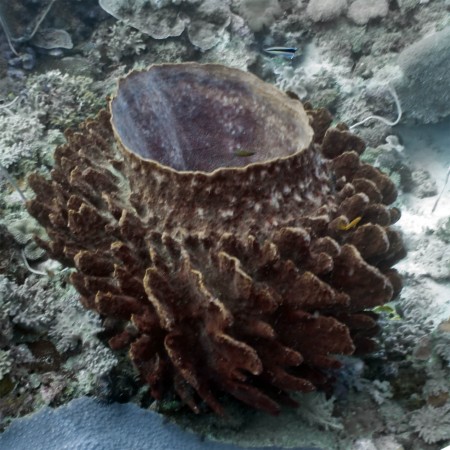 Just because I can, that's why. I find that "because I can" is often sufficient reason for doing something. Much of my life is delivered up to "just because I can" moments. Several of them have nearly killed me. Needless to say my aim is to not die in bed with my boots off. My bucket list is getting shorter. I'll cram as much of it in as I possibly can, I assure you. I'm a lemon squeezer and I like walking close to the edge.
Now this is a sweet shot. I could give you a handful of technical reasons why it is pleasing. It's a geek thing, never mind: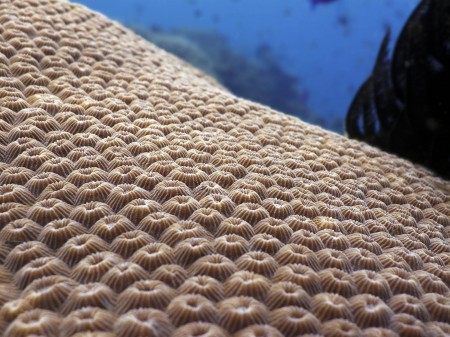 It is what it is. And, it is Coral (Diploastrea heliopora). But that, of course, is not what makes it interesting. My students out there:  State at least three compositional features that make it an "interesting" image. Turn you papers in before the bell.
A few days ago I briefly introduced you to a Tomato Anemonefish [female] (Amphiprion frenatus):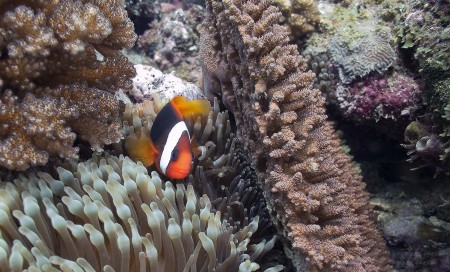 Let's get up-close and personal. This little tomato is one of my favourites. Only the females are so pretty. They are very frisky. The slight shutter lag on the Canon G10 (maybe a third of a second) makes it very frustrating to shoot little scooters like this baby. You have to try to figure out where the fish is going to be a fraction of a second later and hope that you catch what you want. I took about twenty shots of this fish and got five that are reasonably good. Here are the rest of them in a little gallery:

Unbeknownst to you, I went to the bush yesterday. If I made it back, I'll see you tomorrow. It's DIVE DAY!! I'm going to fetch some more Christmas Tree Worms for you.
Tags:
amphiprion frenatus
,
b-25
,
barrel sponge
,
bomber bullets
,
coral
,
diploastrea heliopora
,
google earth
,
the green dragon
,
tomato anemonefish
,
Xestospongia testudinaria