Posted in
Mixed Nuts
,
On Tthe Road
on September 6th, 2010 by MadDog
I can say truthfully that my wife of forty-six years is the most remarkable human that I have ever known. Certainly, my profound love for her biases me. However, when I examine the evidence objectively, I come to the same conclusion.
I have not the time now nor the emotional energy to catalog here all of her merits and accomplishments. Those of you fortunate enough to know her do not need this.
However, I do now want to say that her most remarkable characteristic is her infinite capacity for love. Eunie is so bursting with love that it floods out and saturates all those who come to know her. Her love is unconditional, utterly free of judgement and accompanied by wisdom that allows her to gently guide those who have lost the path and advise those in need of correction without inflicting hurt.
It is only fitting now that some minuscule portion of that love comes back to her. This is a very difficult post for me to write, because my agony is acute. Nevertheless, I can get through it because I am so full of wonder at her composure in this, the twilight of her life. Eunie is a woman of strong faith. She does not fear death.  Yet, she still speaks of getting back to the job which God gave her thirty years ago. I know that I am going to have even more difficult posts to compose in the future, but I shall see if I can get through this one and take the others one at a time.
I cannot view this image without weeping. Eunie is speaking to her daughter-in-law, Tamara, and our granddaughters Pippa and Audrey Rose in Hamilton, Ontario while our son, Hans holds the phone for her. You can see the joy in her expression: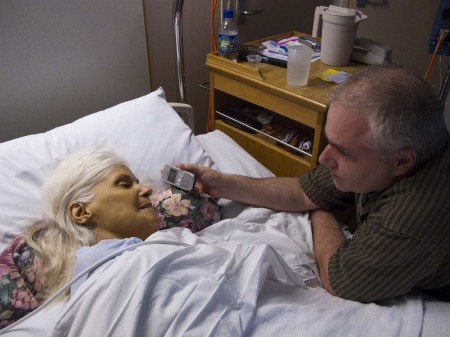 I am so grateful that Hans was able to come for this time. I have needed much support to keep me vertical and functioning.
Eunie loves mystery novels. Here Hans reads to her to give her distraction and comfort: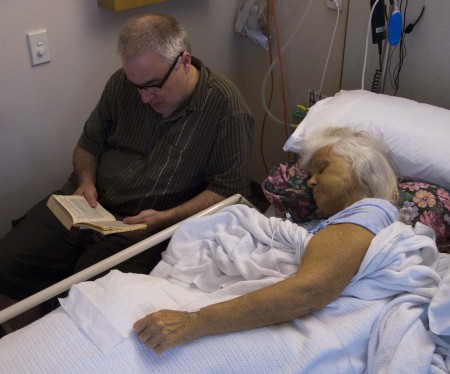 Hans also reads many of Eunie's favourite parts of the Bible. It seems strange to speak of blessings at a time such as this, but one of the many that have benefited Eunie is that she is in no pain and is receiving no pain medication. She is very weak and sleeps or drowses much of the time, but her suffering is confined to the discomfort of medical treatments.
Here we see our friends Rich Jones and Carol Dover expressing their love for Eunie: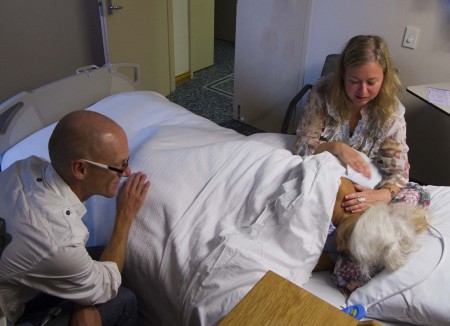 Rich suddenly put his life on hold for a while and flew from Madang to Brisbane to be with Eunie as a sort of ambassador of love from all those who would want to be with her now to comfort her. Carol flew from Vanuatu for the weekend to give her warmth and comfort to Eunie. I wasn't able to slow Val Jerram down long enough to get a picture of her with Eunie; she was in and out taking care of business. She has been doing so every day since we arrived at her home in Gympie. How many friends such as her do you have?
Eunie feels comforted when  I can get a chance to lie with her for a while. This post is not about me, but it's fitting to record this image of two people who have been joined in every way – become as one: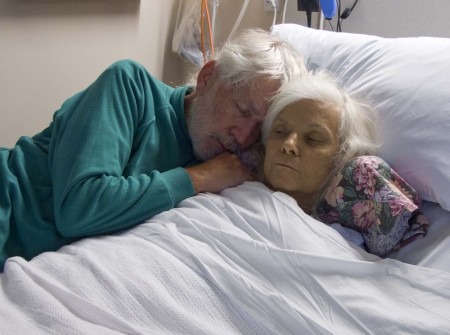 Since we first fell in love our song has been Our Love is Here to Stay.

I've mentioned many others who have expressed their love for Eunie over the last few weeks in very tangible ways. If you want a lesson in love, read back a way.
Tags:
brisbane
,
Carol Dover
,
rich jones
,
val jerram