Posted in
Under the Sea
on February 2nd, 2009 by MadDog
A couple of weeks ago we had some new Spanish visitors. One young lady, Nuria DeFrancisco, was a keen diver. We did a dive on Saturday and she seemed to enjoy it. Then she started talking about the B-25 Bomber – The Green Dragon – at Wongat Island. She seemed to be very interested – not a usual thing for chicks!
They were flying out on Monday, so I said if she really wanted to do the bomber, we could go out at nine on Sunday morning. That would give her sufficient time to lose the nitrogen built up in her blood before she flew out on Monday.
Here's a photo of Nuria sitting in the cockpit of The Green Dragon: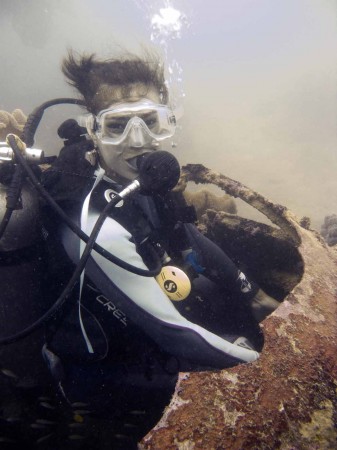 Here she poses in front of the vertical stabilizer: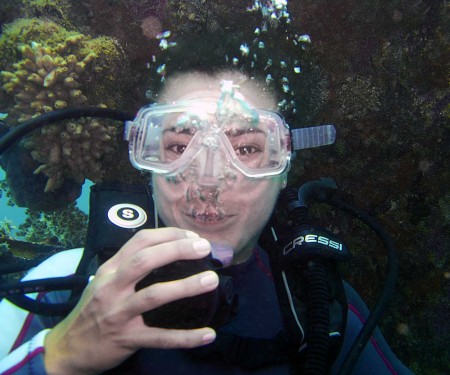 The visibility, never the best at this location, was dismal. Fortunately, everything you need to see is up-close. This is a very cute shot of Nuria riding the dorsal twin 50 calibre Browning M2 machineguns: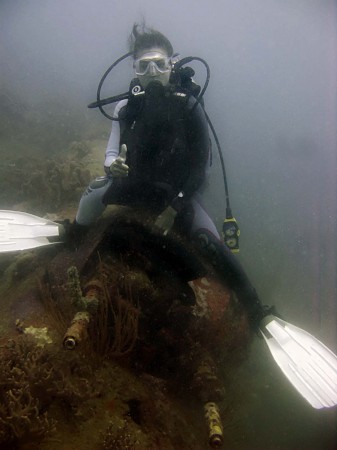 What is amusing about all this is that on the way back I learned why she has such an interest in aircraft. She is a pilot for a Spanish airline! She flies an Airbus A320. I didn't have a clue. This is a first for me, and a first for Faded Glory.
I did get a couple of other nice shots on the dive. Here's a photo of a tiny Black Saddled Toby (Canthigaster valentini)  with Nuria in the background: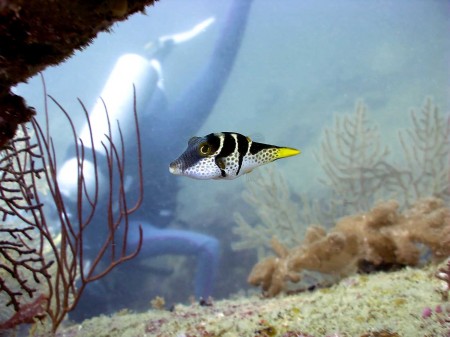 There are always Ribbon Eels (Rhinomuraena quaesita)  under the wing of the The Green Dragon. This time it was a juvemile: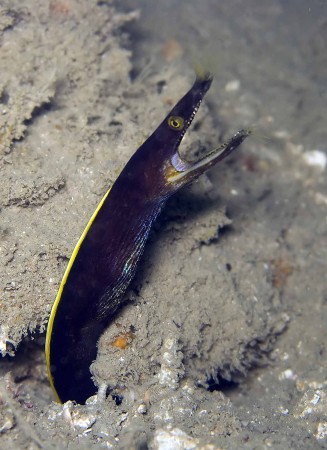 I have shown an image of an adult Ribbon Eel here.
We're always happy to have visitors in Madang. It's an out-of-the-way place and it's expensive to get here. So, we always get a kick from new faces.
Tags:
airbus a320
,
black saddled toby
,
browning m2 machinegun
,
canthigaster valentini
,
nuria defrancisco
,
rhinomuraena quaesita
,
ribbon eel
,
the green dragon
,
wongat island