Posted in
Humor
on March 6th, 2009 by MadDog
Our boss, Kyle Harris, (Director of PBG-PNG) runs a blog here along with his wife, Kathy. It has a nice mixture of posts; have a look at it. They are just getting started on the blog, so they could use some hits.
Yesterday I noticed a post that struck me as very funny – It's a Bug's Life. I'm passing it along to you for your entertainment. As a teaser, I'll offer you an image from the story: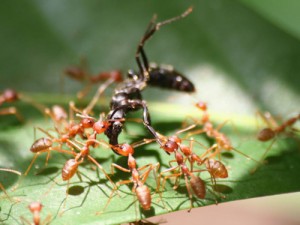 Old-timers in PNG will espedially appreciate the way Kyle describes how things usually get done (or don't) here. It reminds me of the tale of
The Tractor and the Canoes
.
Tags:
bugs