Posted in
Under the Sea
on September 26th, 2010 by MadDog
On Saturday I went out on Richard Jones' and Pascal Michon's boat Sanguma for our regular weekly dive. We motored up to Pig Island to The Eel Garden, one of the few places where the sea was calm enough to be comfortable. The water was full of particulate matter. That spells trouble for photography, unless you can get very close to the subject. Therefore, all of my images from the dive are shot from a distance of a few inches. Today I want to show you a series of images of the Spotted Shrimpgoby (Amblyeleotris guttata) and the commensal shrimp (Alpheus ochrostriatus) that lives with it.
The shrimp goby and the goby shrimp share the same burrow. The burrow is maintained by the shrimp. In return, the goby keeps guard and may provide a source of food. Approached too closely, both will dart back into the burrow.
Here we see the shrimp goby standing guard at the side of the little ditch that is always present running from the burrow to the sand dump. You can also see the goby shrimp pushing a load of sand up out of the burrow: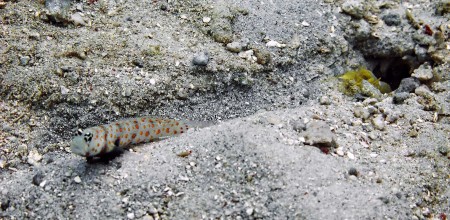 The goby shrimp shoves the sand along with its head and claws, reminding one of a tiny bulldozer: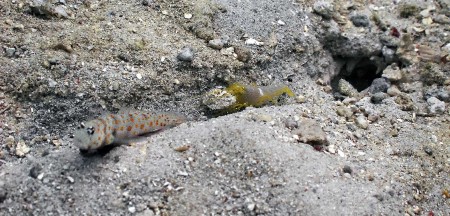 When the shrimp reaches the sand dump it pushes the sand up into a little pile at the end of the ditch. If the pile gets too big, it will move off to the side at the end of the ditch and start another pile: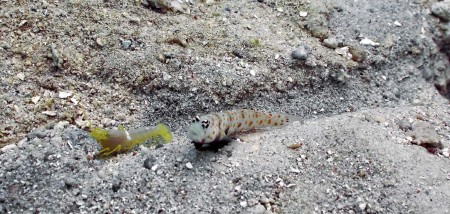 Here we can see the shrimp after it has pushed the sand onto the pile and is getting ready to go backwards down the ditch and back into the tunnel for another load: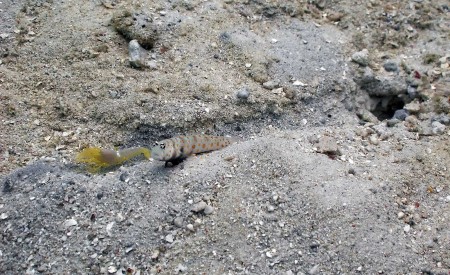 The process goes on indefinitely. Its work is never finished.
I enjoyed the dive this week more than last, the first since returning from Australia alone. I was far too unsettled that day. I should not have been diving at all. Faded Glory is finally back where she belongs. When Rich Jones and I put in a new mooring buoy last week, somebody stole it the first night. So much for our security staff. They are too busy sleeping at night to walk around.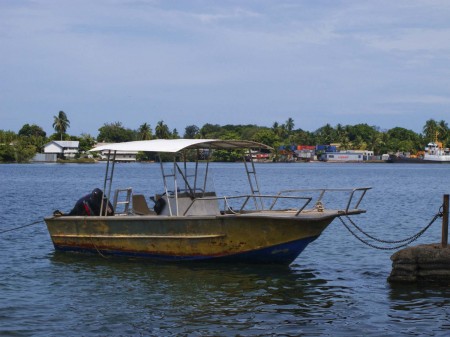 The work load has not diminished noticeably. Trevor Hattersley did help me get a handle on part of it. We will have to have more sessions as I progress until, eventually, I have a handle on my personal finances and the insurance claims are settled. I am looking at these things as challenges, not problems. However, they are big challenges. I haven't had time to grieve properly or get lonely. All that will come later.
Tags:
amblyeleotris guttata
,
bulldozer
,
faded glory
,
spotted shrimpgoby