Posted in
Mixed Nuts
,
Under the Sea
on October 28th, 2010 by MadDog
I'm still wrapping my mind around the idea of getting back to the roots of Madang – Ples Bilong Mi. We are up to nearly one thousand posts. That seems impossible to me. If the average post runs 1,000 words* then, if that guess is close to reality, that works out to be about 1,000,000 words of pure drivel which I have produced in a little over three years. The average length of a novel is 60,000 – 100,000 words. In sheer volume, I've produced roughly 12.5 novels during that period of time. Just think what I could have accomplished if I had put my mind to it.
I would have joined the sweaty masses who have written "The Next Great Novel" which absolutely nobody wants read, much less publish. In fact, I would have produced a dozen of them. How fortunate it is that I did not waste my time pursuing such a ridiculous dream. I would love to write fiction. The problem with writing is that a great many people do it rather well.
It is the same with acting. All of my life I have had dreams of being an actor. I've been in many amateur productions. A few scatterbrains even said that I might posses a smidgeon of talent. And therein lies the rub. A gozillion people can act or write reasonably well, well enough that one can stand to watch them play roles or read with some amusement what they write. However, even those with prodigious talents find success elusive. It requires intricate and complicated connections, fortuitous circumstances, and great magnificent piles of good luck to get a break.
Faithful reader ZydecoDoug commented yesterday that my Green Coral Imperfection shot "belongs on a magazine cover". Well, I wholeheartedly agree. The problem is how to attract the attention of those holding the purse strings.
Hey, I'm beginning to bore myself. Let's get on with Miscellanea.
A rather strange definition might be in order. I ripped this from some site at Princeton University:
S: (adj) assorted, miscellaneous, mixed, motley, sundry (consisting of a haphazard assortment of different kinds) "an arrangement of assorted spring flowers"; "assorted sizes"; "miscellaneous accessories"; "a mixed program of baroque and contemporary music"; "a motley crew"; "sundry sciences commonly known as social"- I.A.Richards
S: (adj) many-sided, multifaceted, miscellaneous, multifarious (having many aspects) "a many-sided subject"; "a multifaceted undertaking"; "multifarious interests"; "the multifarious noise of a great city"; "a miscellaneous crowd"
So, now that we know what it means . . .
I have gotten more and more interested in shooting faces recently. I'm found here and there attempting to get candid shots. It's very annoying. I caught George up at Blueblood a couple of weeks ago: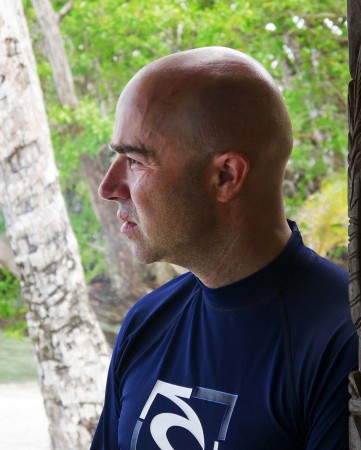 I was really going for the lighting here. George has a rather dramatic face. The light here seemed about right to me. When you can't control anything, you take what you can get and make the best of it. I'd like to do more shooting under controlled conditions, but then you lose the spontaneity and you're into poses. The little bit of carved post at the far right is a nice touch. I now wish that I'd left more of it in the shot. After a few days you can always pick out the things which you did wrong with an image. It never fails.
Here is a cute little Calcinus minutus, more commonly known as the  Hermit Crab: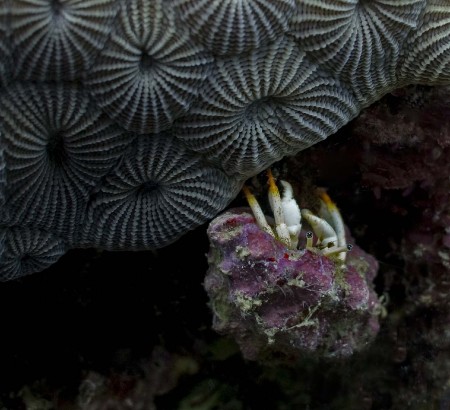 I tried flash in this shot and it ruined it. The light was very dim, but kind to me, nevertheless. The image has a soft, pleasant appeal. Though I wasn't intentionally composing (that's difficult when dealing with nature), I ended up with a couple of very important rules being satisfied. One is The Rule of Thirds and the other is Angled Lines. Also, the regularity of the radiating lines in the coral contrasts nicely with the more or less randomness of the patterns in the Hermit Crab.
Here is a shot that I like because it looks as if it is an expensive aquarium in a high-class hotel lobby: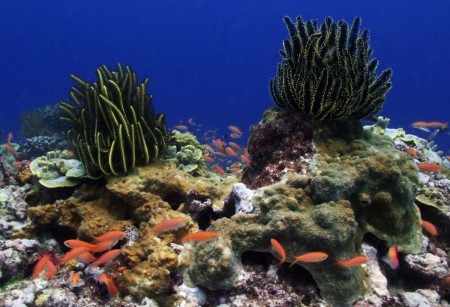 There's not much to say about it otherwise. It's just a pretty picture of a swarm of Anthea and a couple of Feather Stars.
Here's something a little more to the point. It's a fairly large sponge, about a half-metre across. I am far to lazy to look up the species: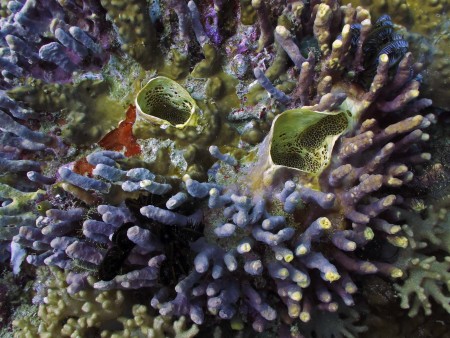 Sponges generally take in water at the bottom, from which they extract food and oxygen, and "exhale" it through the top from an opening called an osculum. Here you can see two of those openings.
They are much more interesting when you get a close look: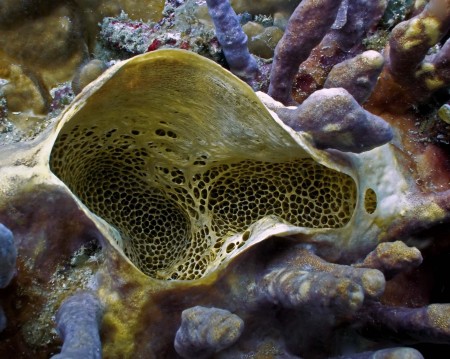 Here you can see the intricate, uh, . . . sponginess of the inside of the beastie. Well, it is a sponge. What else might we expect.
I'll finish up with another face. This mug belongs to my good friend Trevor Hattersley. It's a familiar expression for Trev. I call it, Who, me?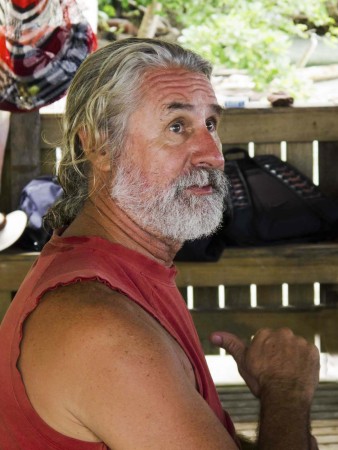 Trev looks a lot different these days, compared to a couple of years ago. He let his hair and beard grow. I've known him for a long time. I gotta say that this is the first time since I met him that I think that his appearance matches his demeanour.
He's a natural-born pirate.
* I note now that this post runs 883 words, so my guess may be a little high.
Tags:
anthea
,
Calcinus minutus
,
Feather Star
,
hermit crab
,
sponge
,
trevor hattersley