Posted in
Guest Shots
on November 25th, 2009 by MadDog
I so much enjoy featuring the images of friends who share my passion for photography. Our long-time friend Val Jerram is a perfect example. Val is a world traveller of the first order. She's been everywhere, man! She recently sent me some images from her last visit to India. I'm happy to present them to you here. Val shoots with a high-end point-and-shoot camera; she's had a variety of them. These are great examples of what can be done with them by someone who reads the manual and has a good pair of eyes for composition and the moment.
Here's a nice example. This image of a man playing the Sitar seems, at first, not particularly special. It's nice, but . . . Okay, now look again. Look at the expression on the face of the old man in the background. Knowing Val, I don't think this was an accidentally excellent shot. Here's what Val had to say:
This gent Dr A. J. Tha serenaded us and played his sitar, along with a drummer at sunset as the fellow in the background paddled the boat down the Ganges river at sunset and we set our lighted candles to float on the water. There was a hive of activity because they were celebrating the religious festival of Diwale (The Indian equivalent of Christmas).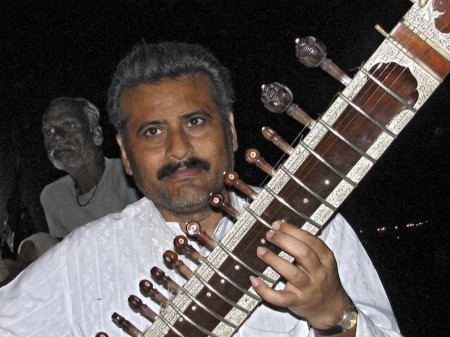 Sounds better coming from Val, eh? Here's another beautiful image preceeded by Val's comment:
The picture of the man was taken in a remote village when we went for a walk after breakfast. We had stayed in the local fort which which was being restored and used as a hotel. It was in the province of Rajasthan.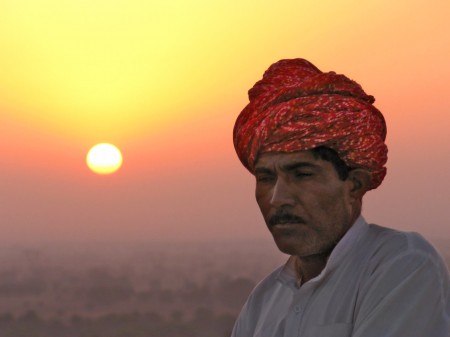 Exquisite!
And, just to show that she's not immune the the 'tourist shot' here's one of the Taj Mahal: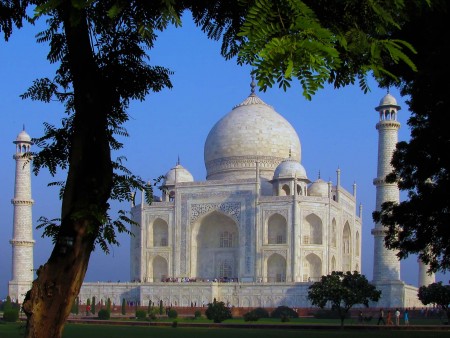 Hey, wait a minute! That's not your average tourist snapshot. That's a well-thought-out, beautifully composed photograph worthy of exhibition.
Here's one that Val described as, "A family out for a ride on the outskirts of town."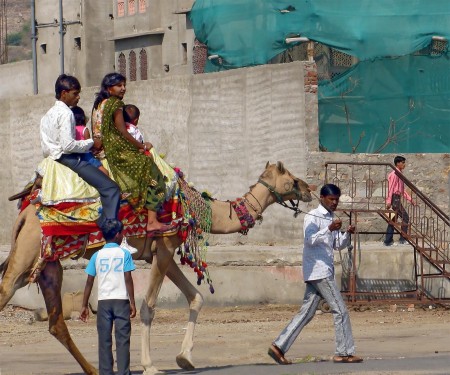 Nice use of the Rule of Thirds, angular elements and interesting cropping to capture the sense of motion.
This one is my favourite. Eat your heart out, National Geographic! Here's what Val had to say:
On our ride on camels into the desert we had to take a break for some of our camel drivers to put their prayer mats down and face Mecca.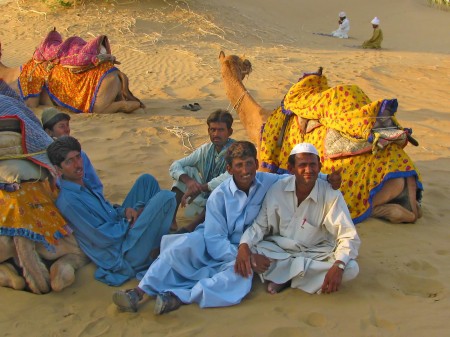 Okay, but she didn't walk over and take a shot of the guys praying, no not Val. That would be far too obvious. They are way up in the corner. Once you start to listen to the image, hearing what it's about, you can't stop looking at the fellows praying. It's a setup job. She's tricked you. All that beautiful colour and the smiling faces are red herrings.
And here is the talented lady herself:
It can get cool in the desert overnight. On the ride out those long sleeves protected me from the hot sun. The obligatory money pouch is strung around my neck.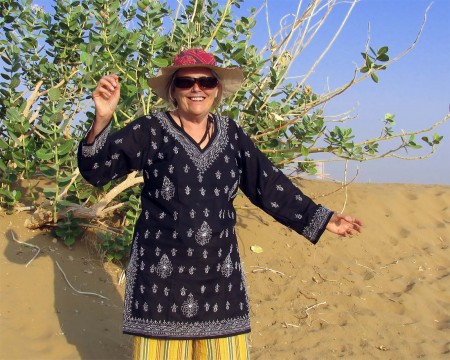 She keeps saying that she's going to take root for a while.
I don't believe a word of it.
Tags:
camel
,
camel drivers
,
india
,
mecca
,
sitar
,
sunset
,
val jerram