Posted in
On Tthe Road
on April 7th, 2011 by MadDog
I've had an interesting few days. I went a couple of weeks ago to get a physical check-up. A few months ago I was wishing to find something which would kill me as quickly and painlessly as possible. Now I am more hopeful. It would be nice to find that nothing serious was amiss. Well, it seems there are a couple of numbers out of whack, but I'll not go into that until I have more information. It's probably nothing serious, but I can't get it checked out now. I'm just too busy. If the second round of tests come back with a frown, I may have to take some more time at the end of my holiday to stop in Australia to get myself checked out thoroughly and go in for repairs if necessary. The cards keep coming, whether one is ready for them or not. Best to keep playing with as cool a head as one can manage.
I did get my wrinkled old skin examined expertly. I was amazed that it cost me only $35. Decades of careless sun exposure have forced me to have tiny bits and pieces frozen off here and there.  Some pesky spots on my head turned out to be nothing. Good news. One little place on my hand had to suffer the liquid nitrogen treatment. It's a fascinating thing to watch, but don't be in a hurry for it. Be careful with the sun, kiddies. It wants to kill you.
I'm a fanatic about getting my flu shots every year. We have some terrible flus floating around here. I know that these yearly vaccine concoctions probably will not protect me from those, but it makes me feel better when I get jabbed. I'm very fond of placebos. I wish I could get them by the dozen. So I asked my doctor to script me for the flu vaccine for 2011 and also the Pneumovax pneumonia vaccine, which I have not received for a few years. You're supposed to get it twice in your life, five years apart. I've gotten sort of used to being alive now, after a spell of intense ambivalence, so I would rather not get struck down by something as mundane as the flu or pneumonia. If I'm going to go, I want to do it with a bit of panache.
In line with my extreme frugality, I decided to save another $50 trip to the doctor's office by injecting myself. It's really no big deal. When I was in "the military" we were always having to practice injecting. I don't know why they wanted us to be so proficient. Maybe it was training for a future life on the streets. Anyway, it's kind of interesting to give yourself a shot. In fact, it stings a lot less when you do it yourself. The flu shot turned out to be no problem at all, as it came neatly packed in a throw away syringe: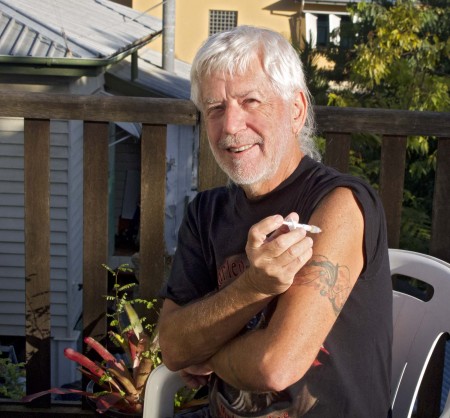 As you can see, this image is part of my continuing plan to amuse and enlighten. I may or may not succeed.
Alas, I discovered my plan to cheat the medical industry out of fifty bucks was foiled, as my Pneumovax came in a vial. I was tempted to use the syringe for the flu shot over again, but I was afraid Val would catch me. I can't imagine that she would have approved: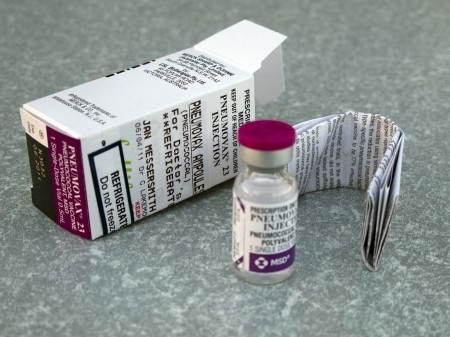 Nice try. Now I have had to make yet another appointment and fork over another five ten-spots just to get some person in a white suit stick a needle in me. You just can't win at this game.
By the way, the cane toads came back to the frog pond the next day with reinforcements. Val squirted disinfectant on them to try to kill the pesky beasts. They're nice and clean now and no worse for the experience. I was funny to watch them blowing soap bubbles: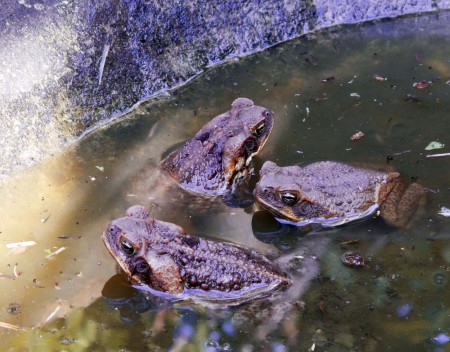 I was tempted to go and get one of Val's golf clubs and practice my wedgie or whatever it is golfers do. I despise golf. No, wait. That's too strong. I find golf puzzling. Okay, now I've offended all of the two or three golfers out there who may read this. I'm sorry. Sometimes I just blurt things out. It's not my fault. I'm impulsive that way. Blame my mother or my father or some other ancestor. I got some truly bad genes. I'm amazed that I've stayed out of jail so long. Hey, it's never too late!
Rummaging around for something else to throw at you today, I ran across this shot of the beautiful red mushrooms which we found near the beach at Teewah a while back: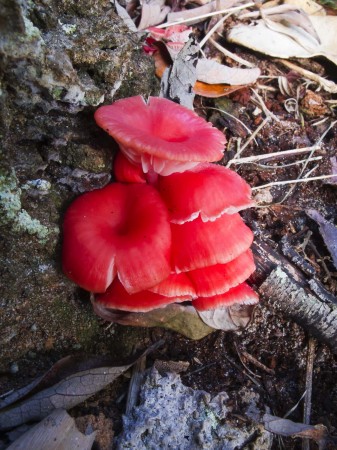 I reckoned that these would be easy to identify, but no luck. Anybody want to have a go?
Okay, I'm randomising again. Perhaps I should focus a little.
On the way to Teewah, the sky was flamboyant. It was all herringbone and ripples. As I understand it, this is a sign of an extremely unstable upper atmosphere. Something got up its nose. Anyway, as the trees whizzed past with the relatively stationary clouds in the distance, I was mesmerised. It doesn't take a lot to mesmerise me. I'm hyper-sensitive to mesmerisation. Now I can't stop saying the word. See what I mean.
So, to make a long story a little shorter, I started thinking about how to capture the effect most cleverly. It turned out to be simple, okay, relatively simple. Here's an example: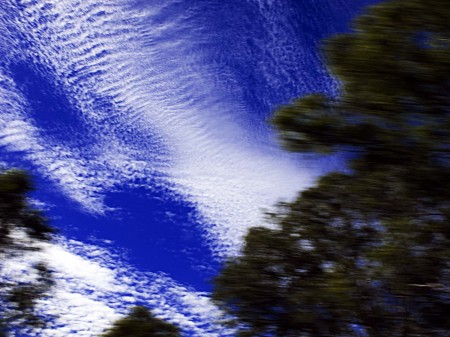 My first efforts were not all that flash.
So, here's how a photographer thinks:  First, I know I want a relatively slow shutter speed so that the trees in the foreground will be motion blurred. Here's some nice motion blur, better than the first one: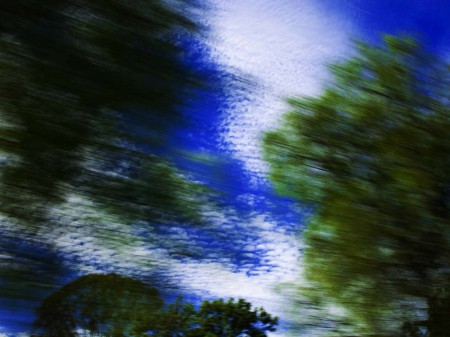 Next, I have to remember to hold the camera pretty still, as moving the camera with the slow shutter speed will cause the clouds themselves to blur from "camera shake". The image stabilisation gizmo in the camera can only do so much.
Also, I gotta make sure the camera can focus, since it's going to get pretty confused by all the whizzing. That's pretty simple. I just have to set it on manual focus and push it to infinity. Bob's your uncle.
Except, and there's always an except, with the slow shutter speed, there was way too much light. My G11 won't stop down more than ƒ8, and that wasn't enough. Fortunately, it has a nifty built-in neutral density filter which can be turned on with a couple of stabs of the finger. Once I got that set, the rest was easy. I could get it down to a nice, slow shutter speed: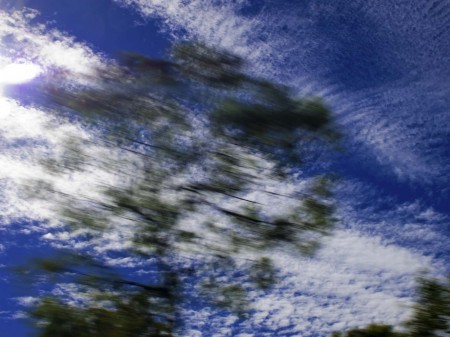 The perfect sky and the perfect tree.
Tags:
cane toad
,
canon g11
,
flu shot
,
g11
,
injection
,
motion blur
,
mushroom
,
pneumovax
,
sky
,
teewah