Posted in
Arizona Images
on December 2nd, 2011 by MadDog
Since I have been on an extended R&R leave since mid-March, I have made some observations. I'll take advantage of my pile of miscellaneous Arizona images to waste your valuable time with my folksy anecdotes and unsolicited opinions. I'll begin with the notion that while one is recovering from a trauma is probably the worst opportunity for getting some rest. While I was moving, gypsy-like, from place to place grieving  for the loss of Eunie and wondering with alarm what the future might bring I was not feeling rested. It's no small wonder that life seemed so utterly intense and constantly disturbing. Recreation consisted of anything which would distract me for a while from my distress. Only time and change of circumstance broke this pattern of misery.
So, when is a good time to kick back? Well, I'm as healed as I'll ever be and grief has subsided to the level of an incipient toothache. I am once again married to a woman I love dearly and who is the best kind of friend one can have. I have a home again. I'm not broke, but still viciously frugal, a good combination for these times. I'm still on R&R until I start my new job in January. So, I reckon that I should be relaxing and recreating, eh? That would probably be so were it not for one thing. My wife is "retired". What I want to know is how can there still be so much stuff to do, none of it is trivial, it seems? The primary necessary activity appears to be something called "shopping." I confess that I do not get it.
When I need something I tend to go directly to the place where I can buy it. I go inside. I find what I want. I make a bee line to the nearest checkout station and make my purchase, being careful to keep my vision averted from the thousands of oh-so-tempting impulse items lurking in every spot where one's eyes might fall. This thrifty and, I dare say, wise technique bears no resemblance to the ways of a "shopper."
I'm learning that a shopper must properly "scan" the store, possibly making multiple rounds of every aisle, taking in the "scope" of the offerings, noting "newness" (sometimes "freshness") and "cool." Shoppers operate on a plane of awareness that is incomprehensible to me. I expend a good deal of psychic fuel avoiding being enticed by things which may arouse my desire to purchase them. Looking at things which tug at my consumer heartstrings makes me slightly nauseous, as if I'm experience the onset of buyer's remorse before I even hand over the cash.
I am particularly annoyed by stores which sell exclusively to women, but provide not so much as a chair accompanied by a rack of magazines (NOT ladies' magazines) for a man to sit comfortably while the spouse enjoys a leisurely couple of hours examining every item for tastiness. This is foolishness on the part of the store managers. I would be far less likely to distract Grace from her ecstasy if I were not tagging along behind her rolling my eyes every fifteen seconds. I will give it to her that she seldom spends much. It appears that shopping is mostly for entertainment.
Okay, enough of that.
Arizona has more than its share of strange little restaurants. In Black Canyon City there is an odd restaurant called Kid Chilleen's. The sign outside proclaims the quality of its BBQ: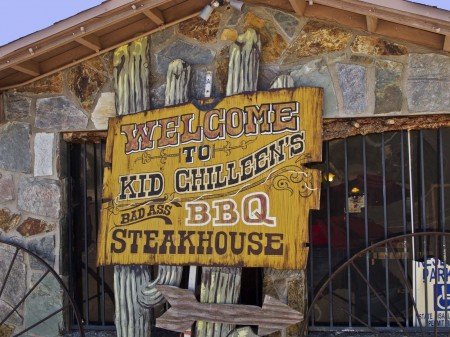 Kid Chilleen's Steakhouse is family owned and operated by the whole Chilleen Family, including Daughter Aleah, Son Scott and daughter Cheyenne. Many of the recipes used were handed down from Jeannine Chilleen, Scott's Grandmother. The clever use of the family name's similarity to that of the character Kid Shelleen played by Lee Marvin in the 1965 movie Cat Ballo.
Inside you are greeted by a wall painting which depicts one  iconic scene from the movie: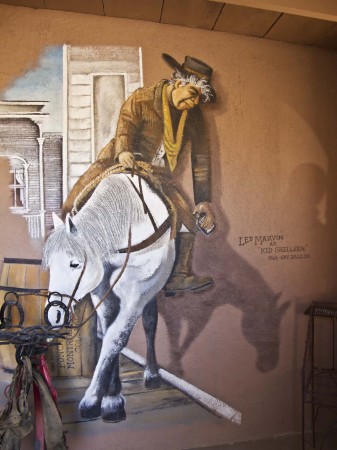 Among the many quaint western themed items are several Cougar skins: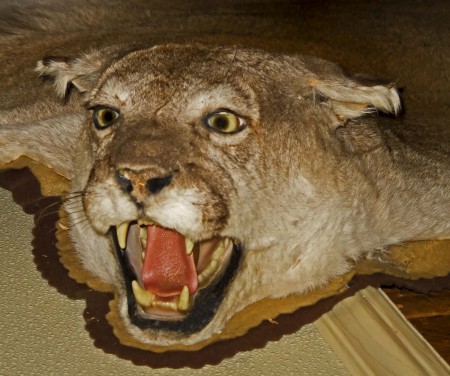 I felt sorry for the cougars.
Next to the restaurant is the saddest little motel I've ever seen. I assume that it's not a joke:

I didn't inquire about a room.
I shot multiple frames at the same exposure settings to get this panoramic view from the Haunted Hamburger Restaurant in Jerome, Arizona:

The work in progress was boring me, so I used some High Dynamic Range techniques to turn it into funky art. The Haunted Hamburger has, of course, a story. You can read about it here. The food is better than the story.
I began to play with the image of grace which I got on the day of our first snow.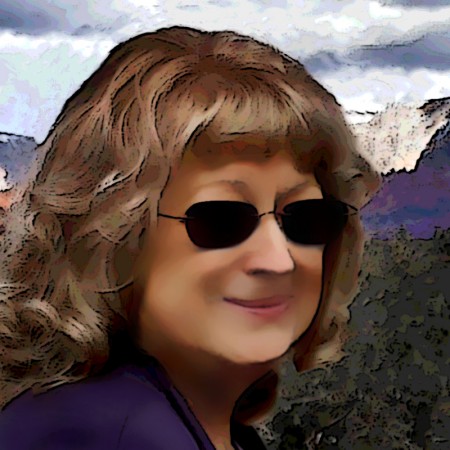 I've been fooling around with cartoon techniques for a few years. I haven't found any automated process which satisfies me. Someday I hope I'll stumble on just the right combination of filters. The process I used here worked nicely for this shot.
Nearly done now.
I got this shot at afternoon twilight from near the "vortex" at the Sedona Airport: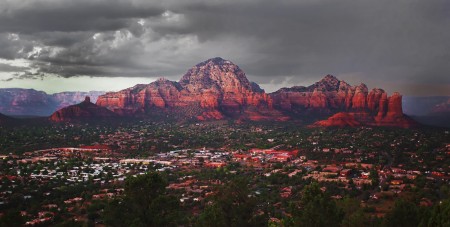 Too bad I can't show you the full resolution image. You can see the individual lights in Sedona.
This is my Zebra herd: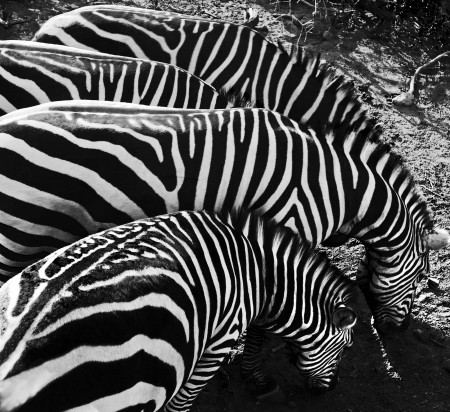 I'm hoping they'll be fruitful and multiply.
And this, kiddies, is Mistletoe (Phoradendron flavescens):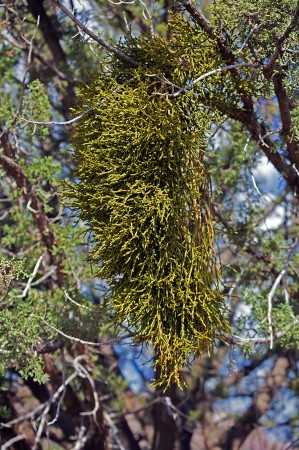 I always thought that mistletoe was an exotic plant dragged out from some mystical place for Christmas decoration. It seems that it more like a weed.
If all goes as planned I'll begin a four day trek back to Madang tomorrow morning. I'll be there for six weeks to sell Faded Glory and all of the rest of my possessions there. There will be some great bargains for Madang residents. I have some very sad things to do in Madang, but I can always think of my goal – to get back to Grace and Sedona, my new wife and my new home. Visiting Eunie's grave and saying goodbye to many friends will be difficult, but moving on is as necessary as breathing for me.
Tags:
arizona
,
black canyon city
,
cat ballou
,
cougar
,
grace
,
haunted hamburger
,
jerome
,
kid chilleen's
,
lee marvin
,
mistletoe
,
phoradendron flavescens
,
sedona
,
zebra