Posted in
Mixed Nuts
on February 19th, 2009 by MadDog
Our main server crashed horribly last Friday. Tsk, tsk, what a shame. Don't pity me. It's been sitting in the corner feeling neglected for a long time. It's been subjected to countless installs and uninstalls of programs. It started out life as Windows 2000, got upgraded to W2000 Server, then Windows 2003 Server all without so much as a whimper. Now its boot disk is showing symptoms of severe senility. A CHKDSK took an entire night. I didn't expect to see it on line this morning, but there it is – bravely carrying on carrying on.
I'm demoting it to herding the telephones and serving the printers for a few more days while I put the finishing touches on a pair of back-to-back Windows 2008 servers. Then I'm going to retire it and give it an honourable burial without even dismembering it. Long faithful service deserves honour. I wish our financial backers had the same attitude. But, that's another story.
All that technical junk bores me these days. It's just a drudge. I'm going to forget about it for a few minutes and enjoy showing you some images.
This morning we had some new Bird of Paradise blooms next to our orchid draped Flame Tree. Aren't they pretty: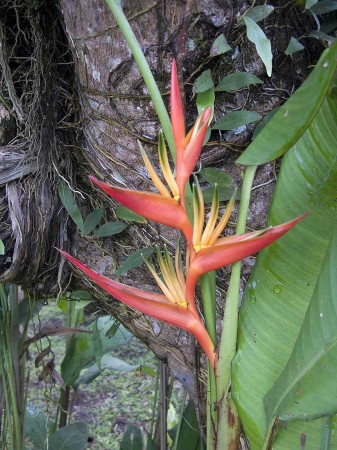 As I looked up to see if there were any
orchid
flowers, I noticed some interesting
lichens
growing on the tree: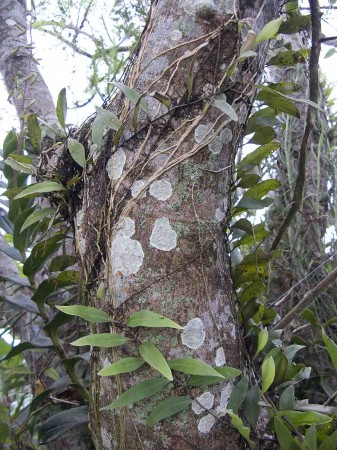 You can also see the snaky tendrils of the orchids attempting to strangle the tree. I don't know if they could be properly called roots. They don't go clear to the ground. Most orchids are
epiphytes
– they grow attached to another plant, but do not gain nourishment from it directly.
On the way to the office the Finisterre Mountains were calling to my camera. I stopped for a minute to get this seven-frame panorama shot:

It looks about as moody as I feel today. I have more
Finisterre Mountain
panoramas
here
and
here
.
These clouds will also pass.
Tags:
bird of paradise
,
chkdsk
,
epiphyte
,
epiphytes
,
finisterre mountains
,
flame tree
,
lichen
,
lichens
,
orchid
,
orchids