Posted in
Under the Sea
on January 30th, 2010 by MadDog
I won't waste your precious time today with a lot of blabber. My own semi-precious "time for myself" is withering as my workload increases while my pay simultaneously shrinks. However, I did have a bit of fun today. I did my first dive with my new Canon G11 in its cozy factory housing.I still have a lot to learn about squeezing this new lemon, but first results have me feeling dreamy and wishing I had time for a mid-week dive.
The current at Magic Passage was raging and I had two divers with me with whom I had no experience, so I didn't get much chance to shoot. I did get enough frames to tell me that I like what I'm seeing from the G11.
Here is a pretty ordinary shot of a Silver Sweetlips subadult (Diagramma pictum). You've seen these many times here before, and much better images. However, this was a snap shot which I did not even expect to save. With a few minutes work, the G11 image came out acceptable: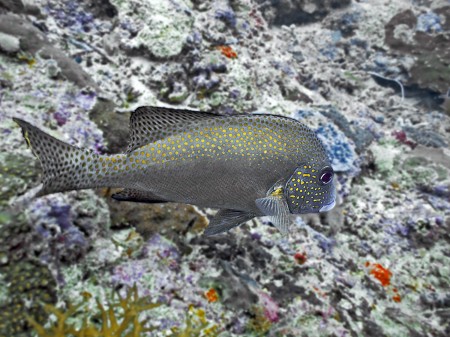 Here is a mob of what I think are Lunartail Snappers (Lutjanus lunulatus) finning vigorously against the current. Again, as a snap shot, I'm very happy. The G11 seems to save more images from doom because of its increased dynamic range (the range of colours and shades that it can record accurately under varying conditions) and its lower noise level: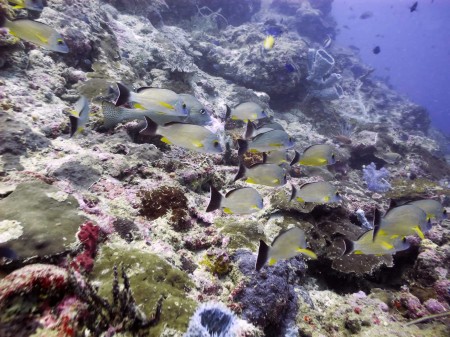 Again, I didn't expect for this image to be usable.
Here's a sweet shot of a Circular Spadefish  or Batfish (Platax orbicularis) that really illustrates how the two extra stops of dynamic range allow me to save a nearly impossible image: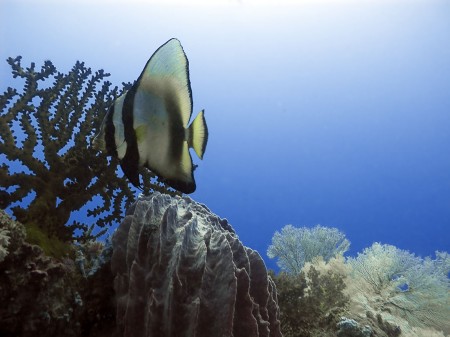 Where I would have had muddy dark areas and blown out highlights (such as the top of the frame), now I have decent detail in the very dark areas and smooth gradations with colour detail left in the very bright areas – just what I was hoping for.
I never pass up a chance to photograph the ridiculous Blue Starfish (Linckia laevigata):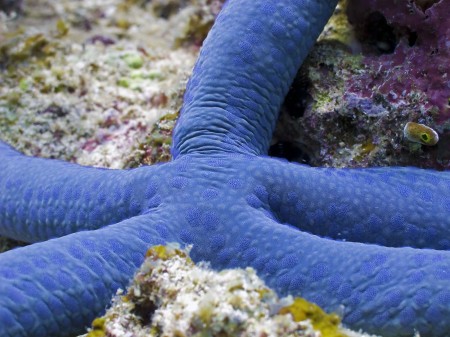 When God was a little kid, he left some of his toys scattered around the planet. This is one of them.
Here is a close up shot of this very special toy: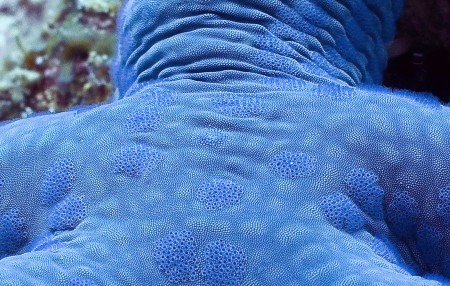 The detail is amazing. I've lost no ability to capture fine details by dropping from 15 to 10 megapixels. I think a lot of the extra megapixels were wasted because they were too small to gather enough light to put together a decent image. The pixel race is over.
Here is a reader favourite and mine also, the lowly Hermit Crab (Dardanus sp.):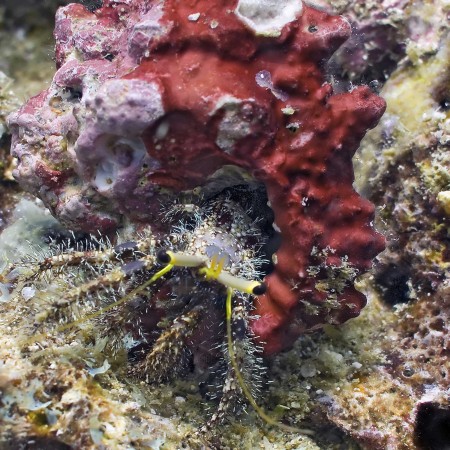 This little fellow will soon be receiving a notice from the Neighborhood Association for painting his house such an outrageous colour.
Back tomorrow with more wholesome G11 goodness.
Tags:
batfish
,
blue starfish
,
circular spadefish
,
dardanus
,
Diagramma pictum
,
hermit crab
,
linckia laevigata
,
lunartail snapper
,
lutjanus lunulatus
,
platax orbicularis
,
Silver Sweetlips