Posted in
Mixed Nuts
,
Under the Sea
on December 15th, 2009 by MadDog
A few days ago in front of our house the sky was sombre and troubled. The lighting was terrible, but I gave it a go anyway. It took nine frames from left to right stitched together in Photoshop to make this rather strange panorama:

It does capture the sweep of the sky nicely, but it gives a completely distorted idea of what is in front of our house. If you can imagine looking back over your left shoulder as you stand facing the opposite side of the harbour (in the middle of the image) you would see the coconut trees on the left side of the image. Then, as you turn your head slowly to the right you will have to look hard over your right shoulder to see the coconut trees on the right. The image covers about 200°.
How hard can it be to take a picture of a cloud? Well, as it turns out, it's not so easy, if you want to capture all of the airy nuances: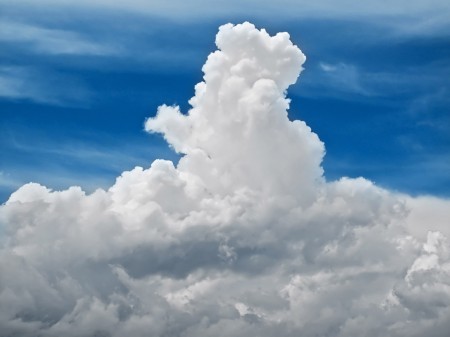 This nice towering cumulus cloud (Cumulus congestus) was shooting up like a rocket when I snapped it. The trick is to expose for the brightest spot on the cloud. If you set your camera's metering system (built-in light meter) to 'spot metering' you can put the brightest place in the cloud in the center of the frame and your camera will set that as 'white'. Then you will either need to press the shutter button part-way down to lock in the exposure or use an "Automatic Exposure Lock" button, if your camrea has one. I also used a polarising filter in front of the lens to darken the sky. I think that the polariser also helps to bring out some of the shady details in the cloud.
Here is a shot of the beautiful reef colours at the South end of Leper Island: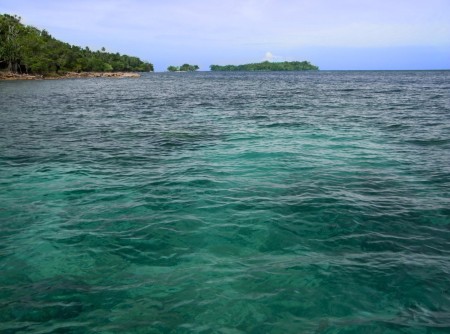 I guess that I'm lucky, because green is my favourite colour. There are about a million shades of green here. Green is everywhere!
We've been keeping a close eye on Kar Kar Island since it was mistakenly reported that it erupted violently. It looks pretty peaceful in this shot: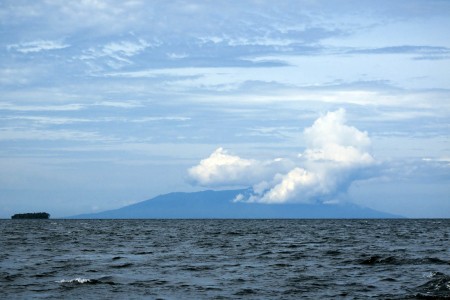 Earlier this year we did see steam and brownish smoke coming from two vents which appeared to be on the side of the crater.
So much for above. How about below?
While diving The Green Dragon B-25 bomber a few days ago, there was a small school of Humpnose Bigeye Bream (Monotaxis grandoculis) swimming around under the port wing. I usually don't pay much attention to them as they are rather a plain fish. Suddenly I noticed this individual who, apparently, had recently barely escaped with his life from a predator: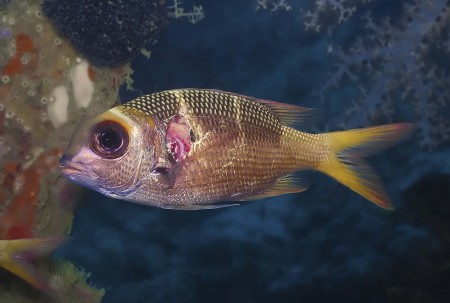 That's a fairly nasty wound. It appears to have happened recently, but already it seems to be healing inwards from the edges. This reminds me of the wound that our dog, Sheba, had on her foreleg.
Sometimes I come across something that is so unusual that it leaves me scratching my head. This is called an encrusting sponge. There are many kinds; this one is a species of Haliclona: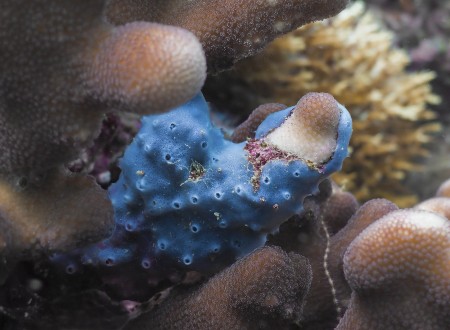 There are, strangely enough, very few invertebrates in the ocean which are truly blue. Aside from the beautiful blue starfish, this is the brightest blue invertebrate that I can think of.
Finally, here is another head-scratcher. When I looked at this image I was stopped for a moment figuring out what I was looking at: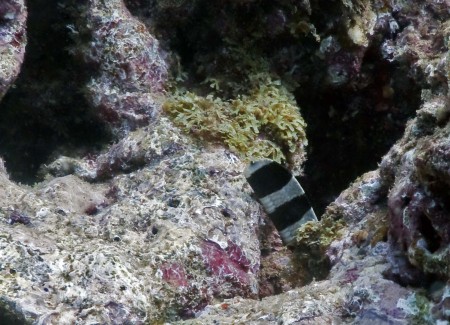 Glancing at the frames on either side of it, I suddenly realised that it is the tail of the Banded Sea Krait (Laticauda colubrina) which I showed to you a couple of days ago. Given that this snake is at least 1.5 metres long, this gives you an idea of how deeply they go hunting in the crevices of the reef. You can clearly see the flattened paddle-like tail from which the genus takes its name.
Tags:
banded sea krait
,
cloud
,
cumulus congestus
,
haliclona
,
humpnose bigeye bream
,
kar kar island
,
laticauda colubrina
,
leper island
,
monotaxis grandoculis
,
pig island
,
sponge