Posted in
Mixed Nuts
,
Photography Tricks
on August 11th, 2010 by MadDog
Sometimes being one of the few serious photographers in town can be beneficial in unusual ways. Let's back up a few days before we came to Cairns to take care of Eunie's health problem. I got a call from Heli Niugini management and my friend Monty Armstrong asking if I could go out for a ride to take some promotional shots for them. I didn't even have to think about it. It's a no-brainer. A free helicopter ride over Paradise? What kind of an idiot would turn that down?
While I was waiting for them to prepare the two Bell Jet Rangers which would be required for the mission, I caught some of the technical guys installing a new transmission in a Huey. Nothing gets off the ground without these fellows' careful scrutiny: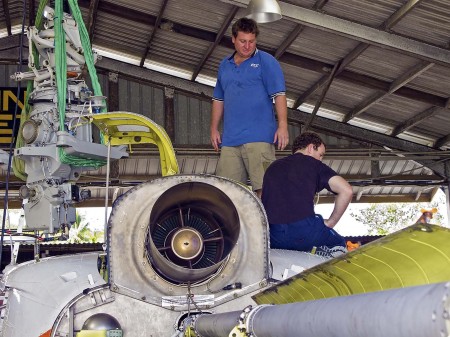 You're looking right down the business end of the engine where that big round pipe is.
While cruising around, I got this great shot of our house: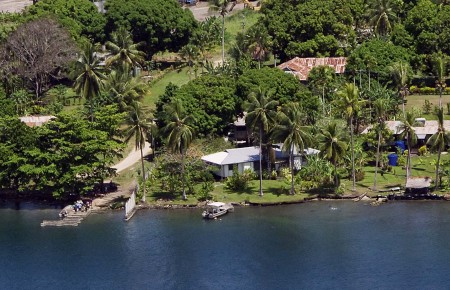 That's Faded Glory there at the dock.
Here is a very nice shot of Coronation Drive, the golf course and the island chain reaching up the coast. We do nearly all of our dives in the area covered by this shot: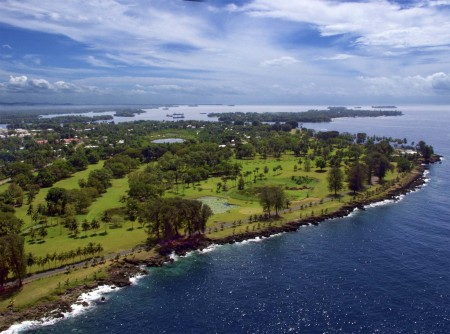 You can barely see the Coastwatchers Monumtent at the distant end of the golf course just where Dallman Passage starts.
In case you can't see it in the shot above, here is a pretty close-up of it: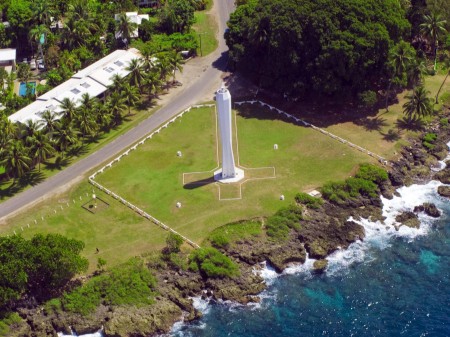 To the left is the Coastwatcher Hotel, known by locals as "Coasties", of course.
I was happy with a free ride for taking the photos, but the particular view needed – The Money Shot – was of a Heli Niugini machine placed just so in the frame with a nice tropical paradise scene in the background. This proved to be the one: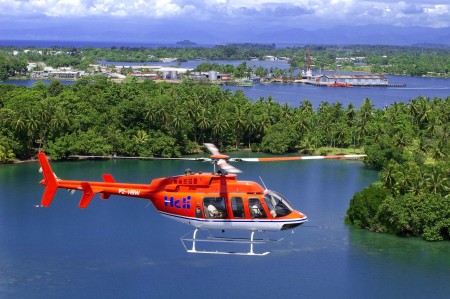 It's going on a two metre long billboard along with promotional text and the company logo.
I was happy to provide this service in exchange for the rare opportunity to get some great shots of my own, which I will be showing over the next week or so.
Naturally, the uncertainty concerning the cause underlying Eunie's illness has us in a delicate psychological condition. Personally, if given free reign and no responsibility, I'd hide under the covers and sleep. This is not going to do any good for either of us.
So, for the first time since I started Madang – Ples Bilong Mi, it is therapy for me. I hope it doesn't get too weird.
Tags:
coastwatcher's monument
,
coronation drive
,
golf course
,
heli niugini
,
our house