Posted in
At Sea
on January 19th, 2009 by MadDog
Those who have not lived in Madang within the last decade will not see much significance in this photo of two small ships berthed side-by-side: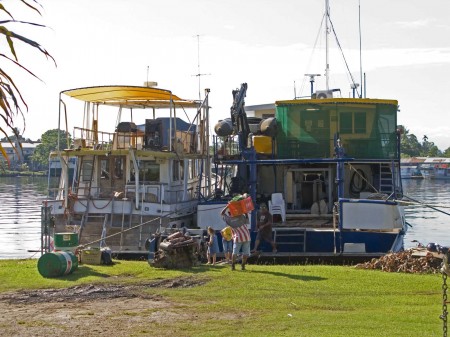 The ships are M. V. Moonlighting on the left and Miss Rankin on the right. (For landlubbers: M. V. stands for "Motor Vessel".) Many Madang residents, and many foreign visitors, especially divers, spent thousands of happy hours aboard and underneath these ships.
Sadly, many factors have prevented the original plans for these vessels to come to fruition. Therefore we recently had the sad duty to bid farewell to Moonlighting and Miss Rankin, and, more recently, the Madang branch of the Collins family.
Over the next few weeks, I'll be presenting some of the adventures and sights that I experienced on my passage on Miss Rankin from Madang to Port Moresby.
This one is a bit of a heartbreaker for me. Miss Rankin tows Moonlighting out of Dalman Passage with the Coastwatchers' Monument visible at the far left: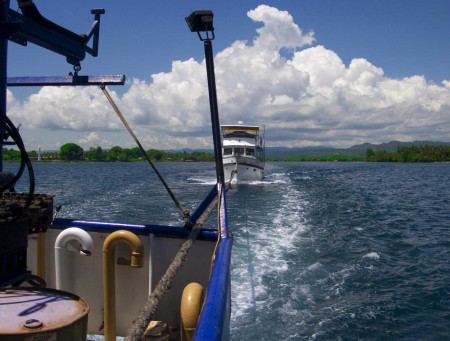 The end of an era.
I'll take a break from maudlin sentimentality by showing you this photo of Miss Rankin's bow wave: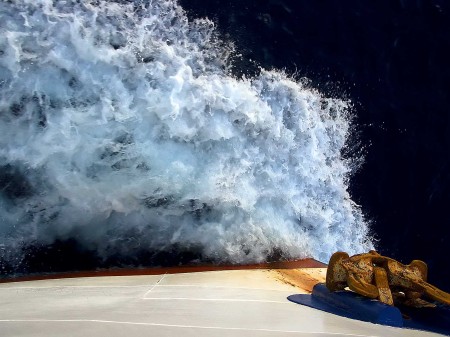 It was late afternoon. The sun was very low in the sky. The side of the hull was still illuminated, but the water appears dead black. You can see the anchor at the lower right.
Back to nostalgia, here's a bit of Miss Rankin showing at the right, Moonlighting being towed, and – ah, serendipity – the moon just above the horizon: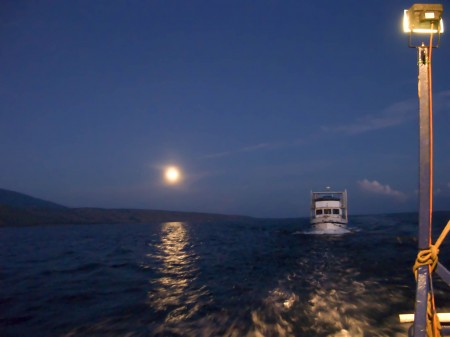 We stopped for a half-day at Samarai. I won't say a lot more about the place now, since I'm going to do a post on it later. However, I want you to see this most unusual monument. It's in memory of a colonial-period Governor named Christopher Robinson. I'll reserve judgement on the fellow, since I seldom speak ill of the dead. However, an inscription on his monument is brutally revealing. Click to enlarge so that you can read the plaques: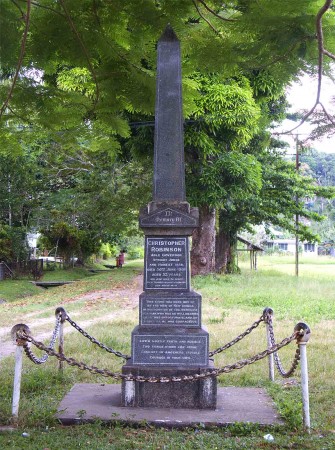 In case you have trouble reading the part that I'm alluding to, I'll quote it: "His aim was to make New Guinea a good country for white men." Note that it doesn't say "mankind" or even "man", but "WHITE MEN". That's painfully specific. (Pity the poor women. Apararently, nobody cared how good a place it was for women, even WHITE WOMEN!) 
If you would like to read a something about Christopher Robinson, have a look here at a book review written by the excellent PNG blogger and journalist Malum Nalu.
Just so we don't get all twisted and bitter about a hideous racist in our past, let's enjoy this splendid sunset: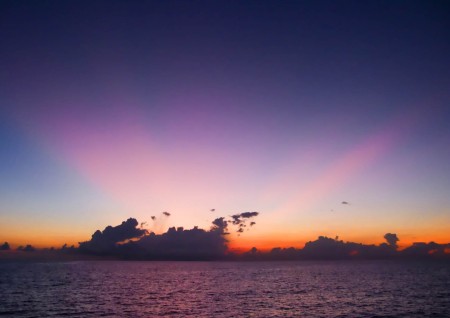 As Mary Poppins said, "A little bit of sugar makes the medicine go down."
Tags:
christopher robinson
,
collins
,
m. v. moonlighting
,
miss rankin
,
moonlighting
,
samarai