Posted in
On Tthe Road
on May 12th, 2011 by MadDog
For a variety of reasons I've not written anything for a few days. That is not good for me, as it is so very easy to get out of the habit. I've been feeling that strange disconnect from reality which overwhelms me when I've been living out of my back-pack for too long, moving from place to place as necessity dictates. Here I am in Chicago, or nearly so, the grim finger of the Sears tower barely piercing the smoggy horizon. I just finished a pleasant conversation with a dear friend and adviser. As I ran out of words I excused myself by saying that I needed to sit down to write. Sensing my mood, she told me to "write something beautiful."
Is that possible when darker thoughts prevail and the heart rests low and quiet, hardly venturing to whisper through the noise of confusion? I don't know. We shall see.
You will note that I've visited the farmlands. I've seldom needed to imagine so much while searching for images. This part of the world can seem a visual wasteland. As I seek inspiration my eyes must listen very carefully for the tiny voices calling from unexpected places. My job is to try to make the mundane exceptional. I spot a corroding gas grill sitting beside a farm outbuilding. A few incongruous strands of straw hang limply from under the lid. When I see what is there I first laugh and then feel a little choke at the back of my throat as my mind frets over the absurdity: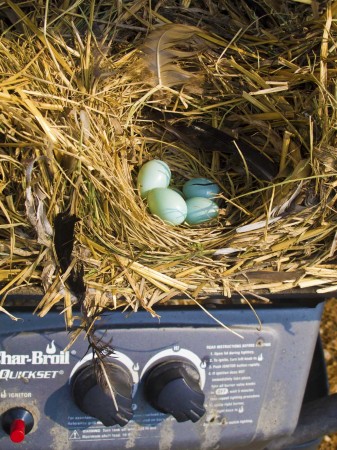 Birds are not alone among the creatures which build nests in hazardous places. We are only aware of the hazards we can see and understand. We can see the future not at all.
Yet nature itself, which seems designed to kill us, provides that which we require, along with a little work on our part, to nurture us. Though this fallen world appears to favor weeds, the creator gave us wits enough to push them back a little so that we can squeeze out of the land what fills our bellies – most of us, that is: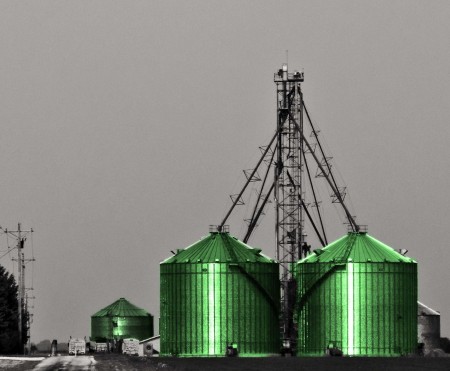 Flood and drought, pestilence and disease, frost and storm all thwart our efforts, but somehow the farmer stays ahead. It amazes me how easily I forget those who feed me. It is good to get out on the land every few years to remind myself that those who are called to work the land bless us all by their efforts. The farmer leads a risky life, dealing constantly with forces beyond his control. He is an artist of the soil.
The soil itself can be beautiful, especially as it lends itself to be the canvas of the farmer. Here the corn-planting machine has tread, leaving its linear footprint on the land: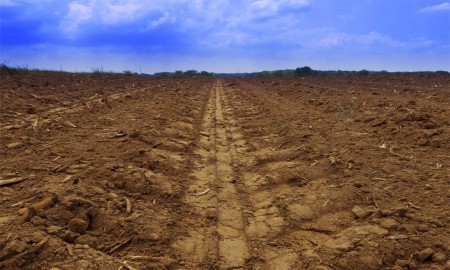 It awaits the first rain to fade it. The soil will warm and the days grow longer. The green shoots will rise cobra-like and grow astonishingly tall in a few brief weeks. Some say that the corn can be heard to grow. Maybe this is true. Does the farmer see his planted field as I do? Does he hear the same voice? Maybe he sees the same thorny path to an unknown horizon. Though we see it that way for entirely different reasons. He asks, "Will my crop be bountiful?" I ask, simply, "What lies ahead?"
John, husband of my niece, Pat, operates a grain storage facility. His job is to see that the farmers' products are safely stored until it is time for them to be sold to those in need. This seems to require a lot of shifting of grain from one giant bin to another, for reasons which I do not completely understand. Here corn spills from one huge cylinder into a pit from whence it will be elevated to a dizzy height and spilled into another: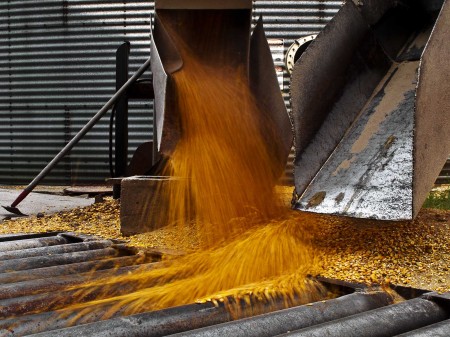 As I look at this image I cannot but note that all of the grains of corn, regardless of the wildness of their individually random paths, end up in the same place – the pit. The metaphor is inescapable. Ashes to ashes, dust to dust. But what a ride! I admire the kernels which bounce crazily – the outliers – the mavericks. They too will end up in the pit, but they do not go easily nor without squeezing every last bit of value from the trip.
I do not like to believe that destiny rules us. In the broad sense we cannot escape the notion. Certain things will happen no matter how we wriggle to avoid them. Still, in between birth and death, we like to think that we have some choices. Exactly how much choice we have is debatable. I can never make up my mind about this. My beliefs require that I accept that my creator is involved in my life in substantial ways. Sometimes I am very happy about this and other times I am resentful, even angry. This seems to be the nature of the relationship, if you accept that there is one at all. So, in a sense, I do have a destiny: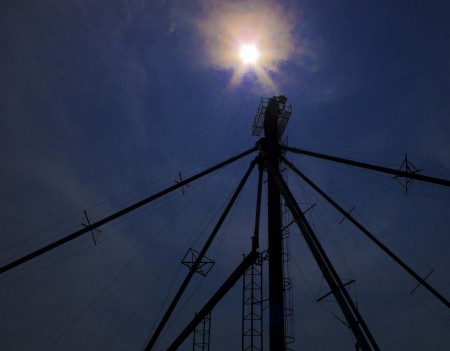 As I saw the angled lines of the machinery intersecting at the apex under the high, hazy sun, the image shouted at me. At first I shuffled around to fix the orb directly above the point at which the seemingly random paths joined. And then I realised that this was not the message. I will not intersect perfectly with my destiny. This is the skill of saints, to yield willingly and unerringly to the direction of the Divine GPS. I tend to ramble about.
To get there, the intersection where all paths which lead to the destination finally meet, I must follow one of the prescribed paths. I might have chosen any of these paths and arrived safely. Wolves lurk in the parched bushland between the paths and other paths lead to unknown dangers as they depart from the course to the apex.
And what is it, exactly, which lies where all safe paths meet? Heaven? What is that? We don't have a lot of information to work with, eh? I can never decide whether I'll really like it or not. There seems not a lot to do there. Perhaps I'm too attached to this world, to this life. It's all shiny and sleek. It has a lot of bits and pieces with many knobs to twist and buttons to push. There is fun to be had, things to do, people to meet, plans to be made . . .
Plans to be made . . .
Tags:
chicago
,
corn
,
egg
,
elevator
,
farm
,
robin
,
sun