Posted in
Under the Sea
on March 21st, 2010 by MadDog
When crusty middle-aged reporters sat around in the smoke-filled newspaper office and sent out cub reporters like Jimmy Olsen in the days of Superman to cover stories that were not worth scraping shoe leather on the pavement, there was a phrase that comically described the frustration of a slow-news day. The headline would read: Man Bites Dog.
This feels like a slow-news day to me. Being Sunday, I was preparing myself for a day of relative rest. I counted on my new wireless Internet connection to allow me to sit in the comfort of my office/bedroom and annoy you. Sometime I feel like The Cheap Detective. If I had a proper desk, there would be a bottle of rot-gut whiskey in bottom drawer. A black fedora would sit rakishly on my head and I'd have a Smith & Wesson .38 Police Special tucked under my arm in a well-worn shoulder holster. The door would open and a gorgeous dame would saunter in on four inch stilettos wearing a fire-engine red dress. She'd give the the once-over and purr, "I need a man with steel in his backbone." I'd say, "Have a seat, beautiful." . . .
Well, see, that's what happens when your best plans run awry. Of course, PNG Power cut the power. Of course, the generator at the office failed to start automatically. Of course, that meant that I couldn't get on line and, of course, that meant that I had to drive into town to start the generator and fire up the network again. That's half of the day shot. There will be no nap. Having eliminated TELIKOM from my life, PNG Power is my new enemy. They are now collecting their money up-front with the new Isi Pe (That's Easy-Pay" in English) meters and they still can't get it in mind that one of the functions of a power supplier is to supply more-or-less continuous power. They should call those meters Easy-Rip-Off.
No wonder my mind is wandering.
On Saturday I had a boat load of friends, but I was the only diver. Never mind. I like solo dives. I can spend as long as I want fiddling with my camera to get The Perfect Shot without worrying that somebody else is urgently wanting to move on.
Okay, let's get to the crab. There's got to be a crab in here somewhere. I was diving off the beach at Wongat Island trying to get shots in the surging, sand-filled water. That means getting close to the subject. I was going for a shot of a scorpionfish and I had my hand loosely draped over a little knob of coral. Something tickled my thumb. Then something bit my thumb. Hard!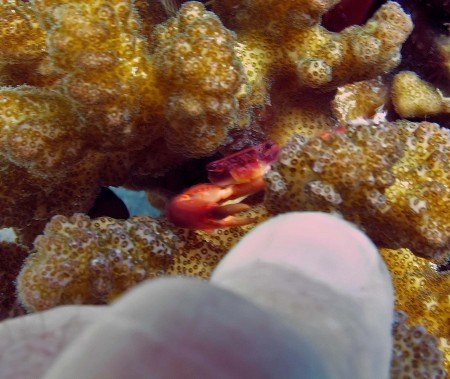 Look at the evil grin on the face of this little crab. "Nyyaaaa, think you're a big tough guy, eh?  I'll make you cry like a little girl!" You wouldn't think that that tiny little pincer could sting so much.
Here is the little bommie where the gritty little guy lives. You can see Faded Glory's anchor in the distance on the sloping sandy bottom: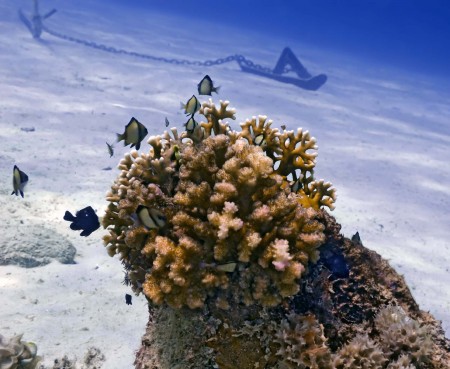 Stay clear if you value your skin.
At the south end of the beach there is a field strewn with Mushroom Coral, sometimes called Solitary Coral (Fungia fungites):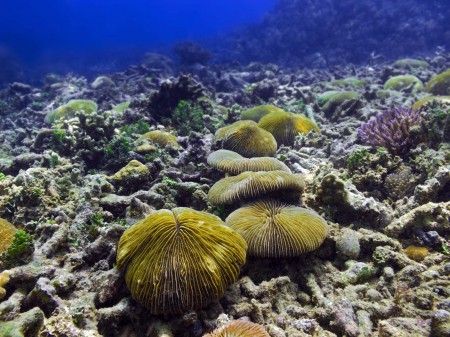 This was in only about eight metres of water.
At about the same depth I ran across this charming family scene: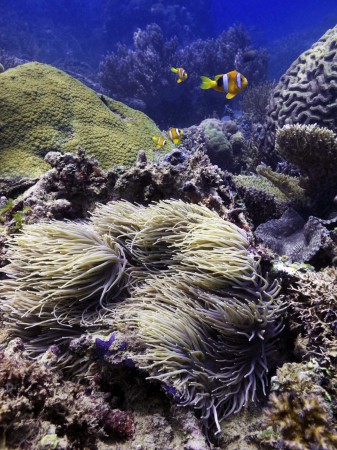 The big one is probably a male. I can guarantee that he was once a female. That's just the way it is with these anemonefish.
I also found Nemo hiding out in an anemone. (Amphiprion percula):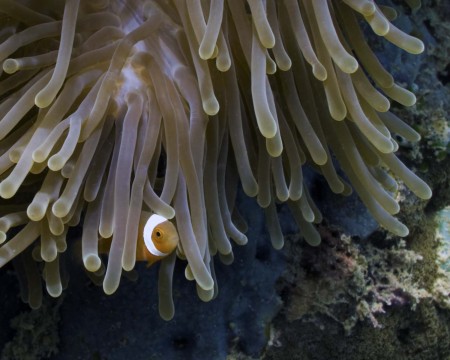 Okay, I can feel the nap coming on now. I gotta get through this.
So, I'll dazzle you with this Divericate Tree Coral (Dendronephthya roxasia):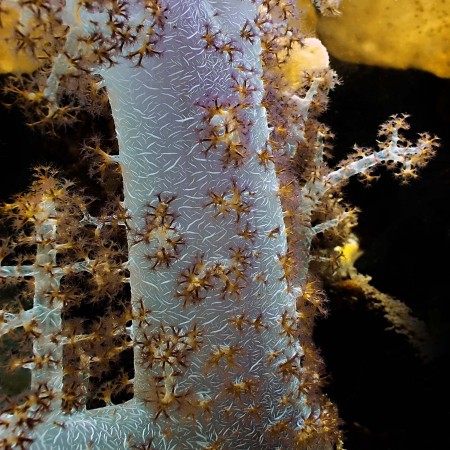 It's a cheap shot, I know.
Tags:
Amphiprion percula
,
anemone
,
anemonefish
,
crab
,
crab bites man
,
dendronephthya roxasia
,
divericate tree coral
,
fungia fungites
,
muchroom coral
,
solitary coral
,
wongat island