Posted in
Under the Sea
on August 1st, 2010 by MadDog
I'll be less chatty today, because I spent most of the day up at Blueblood. We are also dealing with a health problem which Eunie has been suffering through for a couple of months and a definitive diagnosis is probably not going to be available with the medical technology available here in Madang. It is very likely that Eunie will be leaving Madang in the next few days to go to Cairns where more sophisticated equipment is available and we can figure out what is causing her illness. Any treatment required for her problem will be available also in Cairns, so we're certain that it's the right move to get her out of here as quickly as possible. We've decided that I'd be pretty much in the way while that process is in progress, so I'm staying in Madang until we know what's what.
I need to distract myself and possibly you also. I'll show you a few more images which we got during our dive at The Eel Garden on Saturday. Here are a trio of Clark's Anemonefish (Amphiprion clarkii) with Ush cruising past in the background: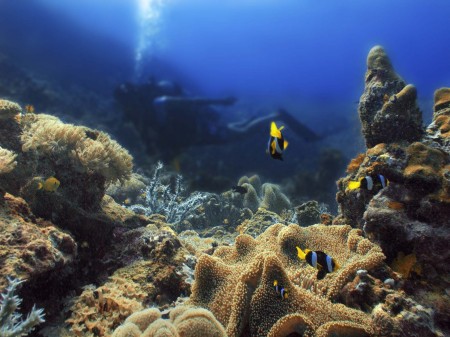 There was a lot of particulate matter in the water, so I had to blur the distant background to get rid of it. It turned out to be a pleasing effect.
You might be surprised to find a pencil on the bottom at twenty metres, but if you hear the story, it will make sense. Divers sometimes use pencils to write on plastic slates. This one was accidentally dropped, I suppose. Why didn't it float to the surface? It's wood, eh? Well, after several submersions at depth, they soak up so much saltwater that they don't float any more;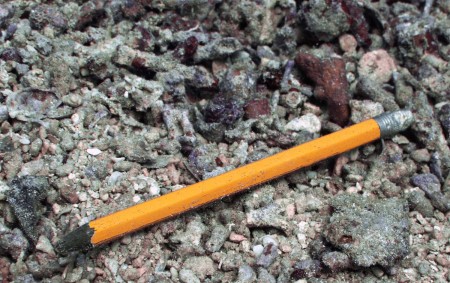 Here is a flock of Three-Spot Dascyllus (Dascyllus trimaculatus) drifting around their somewhat crowded anemone host: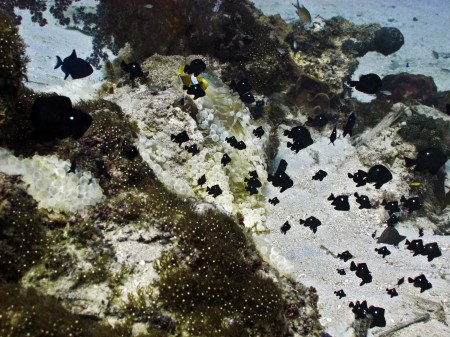 They appear to have only one spot at first glance. If you get close up you can see a paler spot. However, search as I may, I have never found the third spot. Obviously whoever named the fish was math-challenged.
This is just a nice little reef scene – not much to say about it: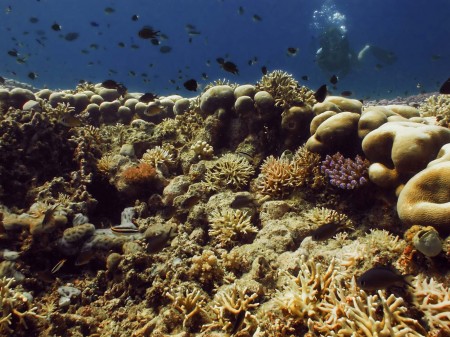 This is my most favoured shot of the day. I snapped it just as I was coming up at the end of the line to reboard Faded Glory: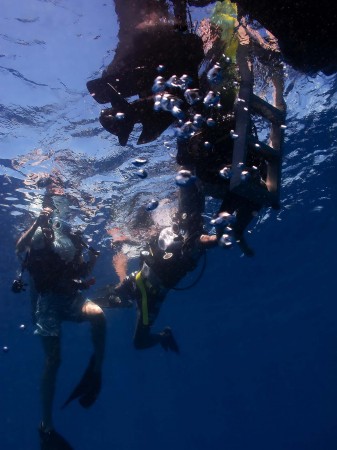 So, now you know what it looks like when you're watching your diver friends clambering back on the boat. The big bubbles which you see in the foreground are mine.
I hope to have more information by tomorrow evening concerning our plans for the near future.
Tags:
Amphiprion clarkii
,
clark's anemonefish
,
Dascyllus trimaculatus
,
eel garden
,
faded glory
,
pencil
,
pig island
,
three-spot sascyllus
,
ush