Posted in
Under the Sea
on July 4th, 2010 by MadDog
Weekdays come and go. My last work week consisted of exactly one day – Friday. Wouldn't it be nice if Friday was the only work day? You could go to work in the morning knowing that when you clock in you are beginning your week and when you clock out, it's the weekend again. Pay might be a problem, however. I'm working on a plan to live without money. If I get it worked out, I'll let you know.
And following my one-day work week came Glorious Dive Day! I had nobody going out on Faded Glory this week, so I skipped all of that boat loading and unloading and just went out with Richard Jones on Sanguma. I have to admit, I really like getting picked up at my front door. It's quite a treat compared to my usual Saturday routine.
The dive was quite nice. The Eel Garden was putting on a fine show. I got some very nice underwater shots. However, as it sometimes happens, my favourite shot of the day has nothing to do with fish. Ush is one of my favourite photographic subjects, at least when she is not too shy. I kept seeing wonderful reflections in her cheeky red sunglasses. A little coaxing got her into the mood to pose for me: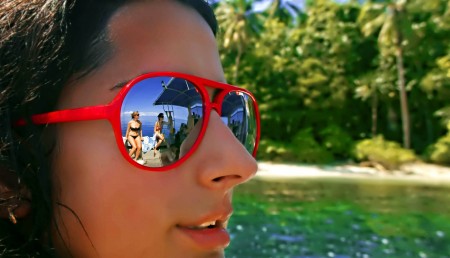 When I first saw the result on my computer screen I was not overjoyed. Though Ush gave me just what I wanted, my exposure skills were not up to snuff. It took me the better part of an hour to massage the image into what my original vision demanded. I wanted the sharpness of the sunglasses and the reflections, but I needed Ush's skin to be as soft and smooth as a baby's bottom. Well, it pretty much is in reality, but cameras are harsh to skin, as we all know. I'm happy with the finished product. It's the most fun I've gotten from a single image for quite a while.
Now this one . . . this one is a mistake. It was so bad that I nearly deleted it. However, I sometimes like to play the photographic savior and redeem otherwise worthless frames: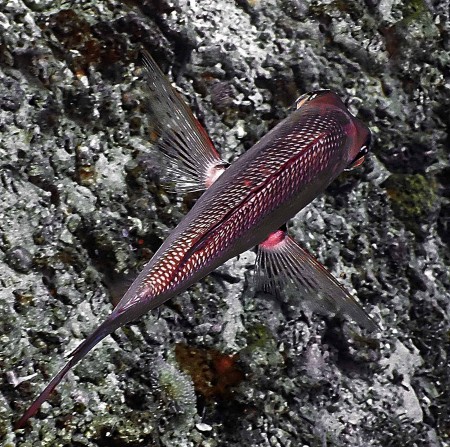 The Soldierfish was swimming away, it was too distant, and the light was all wrong. On top of that, I had my flash turned on, which threw off the colour balance. I know! I'll call it "Art'.
Richard Jones came over to me with a rock and seemed quite excited about it. It took me a moment to realise that on that rock was a nudibranch which I had never seen before. Of course, I took its picture. It's a Phyllidia ocellata: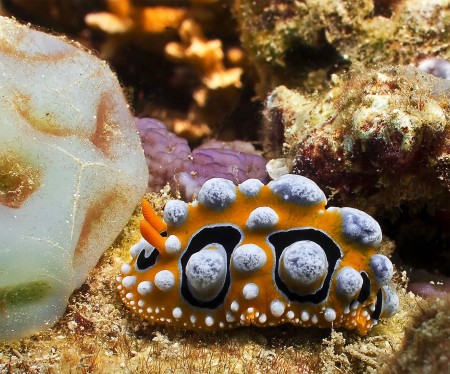 I have to say that it is probably the most humorously patterned nudibranch which I have seen. Some nudis are ethereal in their beauty. This one is wearing a clown suit.
I should know the name of this Planaria, more commonly called a flatworm. I got this shot standing on my head, because it was under a ledge. I've turned it right-side-up for you: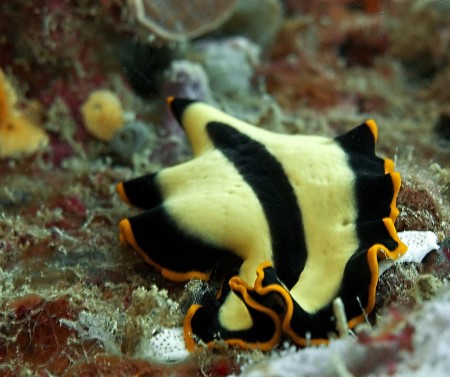 It's Sunday afternoon, and I'm not going to look it up. Somebody out there help me. It's very common here.
I'll finish up with a couple of "Deep Focus" reef scenes. As several readers have pointed out, there is nothing special about these high depth of field shots. It's just a matter of setting your camera right and having favourable shooting conditions: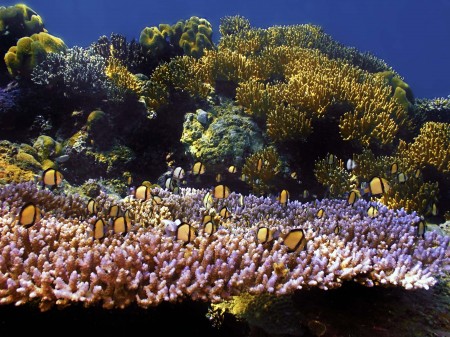 However, I have noted that few underwater photographers actually do it. It seems as if nearly everybody either shoots macro shots of little things or big, gaudy scenes shot with super-wide angle lenses and multiple flashes.
I don't see many shots such as these which use a cheap camera and a normal lens stopped down to achieve maximum depth of field: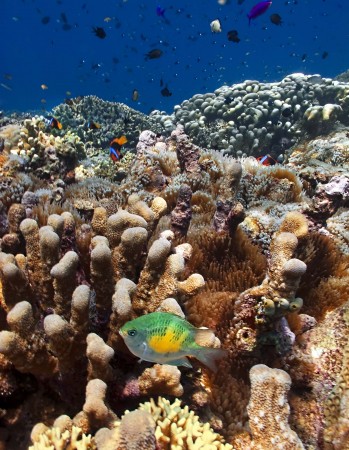 I find them pleasing, because when I seen them I can honestly say, "That's just the way it looked to me."
Someday, that is going to come in very handy for me.
Tags:
dascylus reticulatus
,
flatworm
,
nudibranch
,
phyllidia ocellata
,
planaria
,
reticulated dascylus
,
ush