Posted in
Humor
,
Under the Sea
on May 5th, 2010 by MadDog
Despite the horrific news below, this morning began with little fanfare.  It's a putrid day which brings no good. The sunrise was a little anemic, threatening rain. Eunie was perturbed by this, as it is Wednesday. One might ask why Wednesday morning rain distresses my platinum blonde goddess. See, she goes Monday, Wednesday and Friday to the pool of the Madang Resort Hotel with the gracious permission of no less than Sir Peter Barter and executes an hour-long routine of aquarobics which literally takes my breath away. I've tried doing it with her. It's not my game. So, it can rain any mornings except those three and it's no worries, mate.

This shocking alert* came to blight my glowing portal to the world only this morning:
PARIS — A Dumkophsat satellite that mysteriously stopped communicating with its ground controllers on 5 April remains dangerously out of control and has begun moving zombielike eastward along the geostationary arc, raising the threat of sudden death and dismemberment for other satellites in its path, Dumkophsat and other industry officials said.

In what industry officials said is an unprecedented and horrific event, Dumkophsat's Galaxy 15 satellite has decided to remain fully "on," with its C-band telecommunications payload still functioning even as it has impudently departed its assigned orbital slot of 133 degrees west longitude 36,000 kilometers over the equator.

The first satellite likely to face sudden death is the AMC-11 C-band satellite owned by SASSY of Luxembourg and stationed at 131 degrees west, just two degrees away from Galaxy 15's starting position.

Bobbi Bednick, chief executive of the SASSY World Skies division, which operates AMC-11, said Dumkophsat and SASSY have been meeting since 5 April 5 to coordinate how to minimize the Galaxy 15 impact on AMC-11's media terrified customers, one of which commented, "The very thought of depriving millions of homes of Everybody Loves Raymond is simply too much to bear."

In a 30 April interview, Bednick said that while it remains horribly unclear whether SASSY World Skies will be able to avoid a wholesale slaughter problem as  Galaxy 15 enters the AMC-11 orbital territory, the company has benefited from full disclosure on the part of Dumkophsat, SASSY's biggest competitor.

"The horror stories from them really have been very good," Bednick said. "We all realize that we could be in the same stupid position tomorrow. We are neighbors in space."

"Unfortunately for us, we were downhill from Galaxy 15 as it rolls toward the 105 degrees west libration point.", Bednick said. "We are in regular contact with all our customers of these satellites to keep them apprised of the situation."
I should hope so!
All that I was thinking of before was catfish, specifically Striped Catfish (Plotusus lineatus):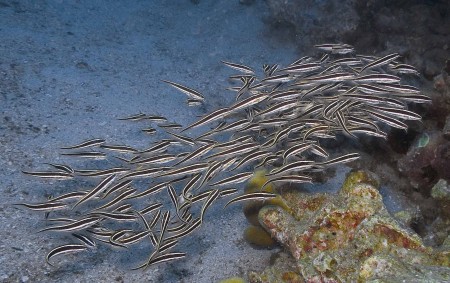 The news of a zombie satellite hovering over my head gave me pause. I've been so absorbed in my own present quagmire of mental mud that I've failed to note that there is still a very scary world out there.
Soon afterward I was shocked anew by this image captured by Rocket Scientists of the offensive orbiter: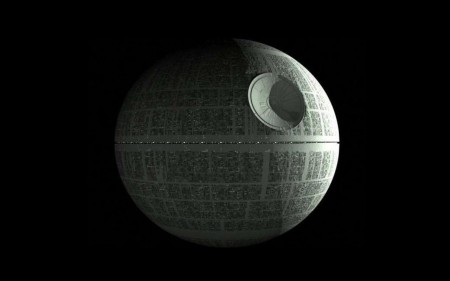 I soon went back to thinking about fish. The new calming image was of the always pleasant and inoffensive Spinecheek Anemonefish (Amphiprion biaculatus):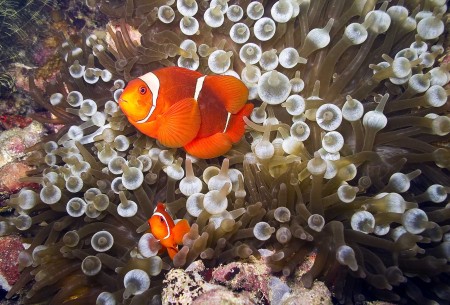 Ah, that's better. Surely the pesky aberrant orbiting obliterator will fry itself in our murky atmosphere before it can land on my house.
I continued to calm myself with more Spinecheeks: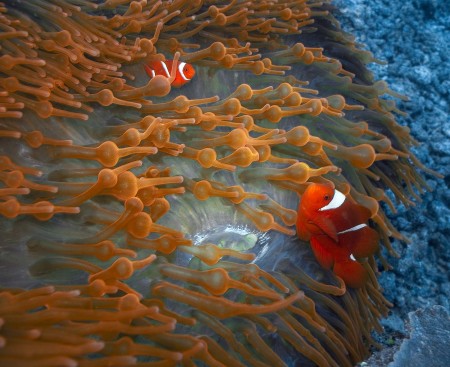 Yes, now everything is copacetic.
It has much the same effect as an aquarium. Mine is big enough to swim in.
* Lest I be taken out and shot for spreading world-wide panic, I should disclose the spoof. It's really Intelsat's Galaxy 15 which has lost its mind and now threatens its neighbors. It seems that computers are not so different from humans after all.
Tags:
amphiprion biaculatus
,
death star
,
plostus lineatus
,
spinecheek anemonefish
,
striped catfish
,
sunrise
,
zombie satellite