Posted in
Photography Tricks
on November 9th, 2008 by MadDog
Some of my favourite photos result from what I call Happy Accidents.
Serendipity plays a huge role in photography outside of the studio setting. I include in that category set shots where lighting and subject are controlled. For this post I'm talking instead about real-world photography.
How often does one get the chance for an image such as this from the window of an airplane: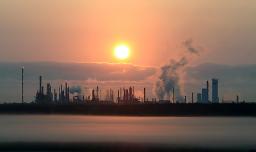 That accident happily happened to me just after dawn while leaving London. It required virtually no post-processing. A little cropping, tiny tweaking of the tint, and it was finished – a five minute job.
A friend was fooling around with my camera on the back of Kamai on the way to Bag Bag Island for some diving. Carol and I were at the stern chatting and watching the fading light. The duckboard light was on. I thought that clicking away was a waste of time. Now I'm glad that I took a look (finally, two years later) at the frames from that evening: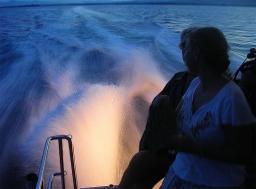 That one took a little more work, but it was worth every minute.
On the same voyage we were preceded for a while by a small pod of dolphins. We stopped the boat for a bit and they milled about the bow. I pointed the camera down and clicked. In a hundred years of scheming I could not have gotten a better shot. Another Happy Accident: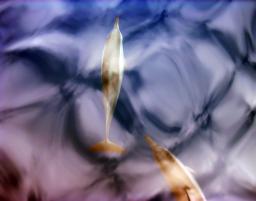 One might suspect that the shot above has been Photoshopped mercilessly. It's not true. Other than adjusting for tone balance and a little noise filtering and cropping, it is as it came from the camera.
Blurry images are usually discarded. This one was taken by Amanda on the same voyage: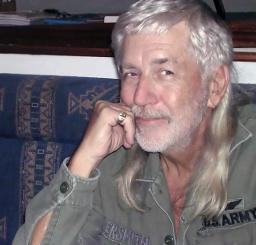 I hardly ever like photographs of myself, but this one gets to me on two levels. First it reminds me of how old I am without making me want to puke my guts out. Next, it reminds me that blur can be a friend. The fact that my face was slightly out of focus helped me smooth out some of the wrinkles.
The next shot is a little gruesome for my taste, but it's an example of a frame barely salvageable. In the harbour one day I noticed something floating nearby. As I neared the object, I could see that it was a doll's head. It put me off a bit, but I snapped anyway. Now I wish I had gotten closer. There are not enough pixels to make a clear image when enlarged: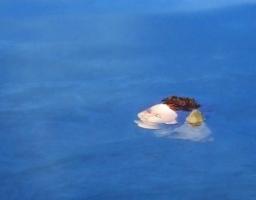 I cropped it following the 'rule of thirds' which I will soon write about. The negative space guides you to the subject. If I had only been closer so that I would have had more pixels to work with this shot could have been quite interesting.
As it is, it is a lesson about Happy Accidents and what one needs to do to take advantage of them.
Go for the gold!
Tags:
carol
,
doll
,
dolphins
,
heathrow
,
kamai
,
london
,
sunrise