Posted in
On Tthe Road
on June 23rd, 2011 by MadDog
Today is Eunie's birthday. She would have been sixty-seven. That is very young according to my way of thinking and today's standards. The significance of this day was upon our minds as we went about our tasks in Grace's office this morning. I was playing vintage Eagles songs on Eunie's old Toshiba laptop computer as I answered emails. Grace was cleaning out a too-full closet, surrounded by memorabilia and nearly forgotten works of art. Yesterday and this morning we had talked of making this a day to bring back sweet memories of a woman we both loved. It was to be a time of celebration.
I wanted to make this a singular day in the short, choppy history of this, my online diary. As I sat there listening to the words of Peaceful Easy Feeling Grace came to me with a small packet of greeting cards. She told me that she had been saving them until she saw Eunie again. She had sent them to Madang for Eunie's birthday last year, but they were, for reasons known only to God and the Papua New Guinea Royal Postal Service, returned to her noted as undeliverable. One card was marked with a sticky note, "For Eunie". Another was marked "For Arny to give to Eunie". I did not know that my day was about to be put on hold for a while.
Grace's message to Eunie was, "When we take time to dream we discover the many windows to our soul." The image on the card and the message were pure Grace: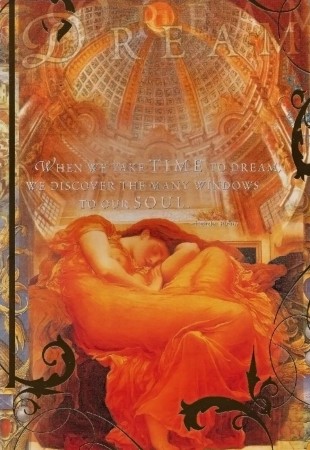 What started as a playmate relationship at the age of four grew into a friendship which was not defeated even by death. On the day after Eunie died Grace wrote on Eunie's Facebook wall nine messages. I saw them for the first time today. I am going to write them here, because it is fitting that a lifetime of friendship be acknowledged by witnesses:
I need to say this: It took me until just before she was married to realize she was "Beautiful". But, her incredible blue eyes could command the world. I guess I took her for granted as kids. We laughed, cried, used our imaginations and explored the truths of childhood and adolescence.

We have been woven together in Divine Sequence – in and out of experiences – loss & success, ecstasy & tragedy. She was never surprised at my worst, but knew my capacity for excellence.

She is a "woman's woman" – nurturing, observing, listening, shaping, kind and gentle – and strong, logical, intelligent, assertive and focused.

I have always admired her ability to set a course and empower those around her to move to the task ahead, Gentle and kind, but no nonsense, with genuine appreciation for help.

She sensed which things were good for this world and those things which are not. She had the courage to act accordingly in both behavior and speech.

I share, with many, the fact that my life was and is better for knowing Eunie. I do not believe our fabric is gone, there is still more weaving to do. Just her form.

But, I will soulfully miss that form. It is not easy NOT to hear that voice and laugh and direct council.

On this earth we have lived with "Seek yea the kingdom of God" and "Love one another" as absolutes. Not a bad way to live. Maybe the only joyful way.

Let all of us who appreciate and love Eunie join hands. We can encircle this earth and encase it with much needed love.
If there is such a thing as truly unconditional love, I believe that it existed between Grace and Eunie. Each of them experienced all of the good and bad which life offers. Each of them survived and was made stronger. Neither of them allowed their friendship to succumb to the handicap of separation. Through the years I heard of Grace so often that I sometimes felt that she was a next-door neighbor. When communication became slow Eunie would worry. "I have to call Grace. Something is wrong", she would say. I was privileged to experience a similar depth of friendship with Grace for the better part of my life. Shortly after meeting Eunie and falling in love with her I met Grace and understood why Eunie always spoke of her with affection.
Yesterday it was hotter than the hubs of Hades in Sedona. "It's a dry heat.", they say. Well, it is dry and HOT. I can't say that I'm bothered by it, having lived in Madang for so long. On most days I don't really notice it. On the way back from Cottonwood we stopped at the Javelina Leap Vineyard so that I could sample some Arizona wines. I got this lovely shot of Grace under the unusually quirky signage: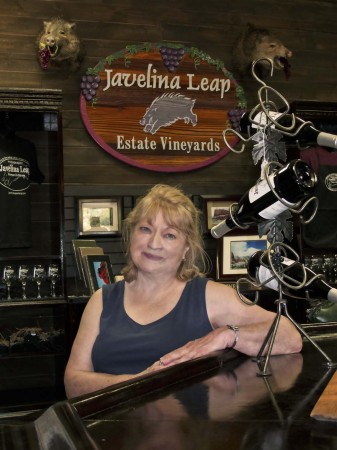 The wine was rather ordinary. The company was exceptional.
In case you're wondering what an Arizona vineyard might look like, here is a sample: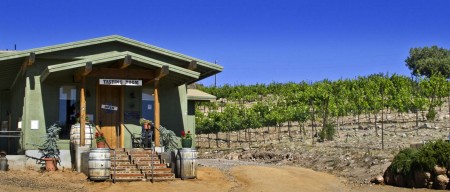 On the way back to Grace's house we had to contend with the pesky Sedona landscape. It's In Your Face all the time in Sedona: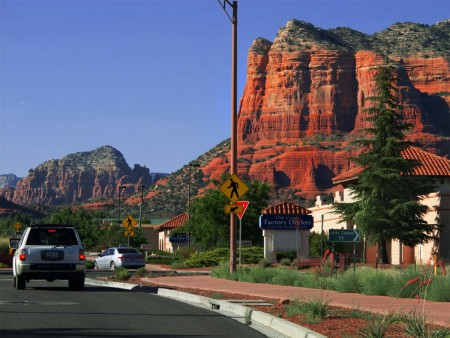 In the evening the sky lit up. Grace said that she saw an "h" up there for "heaven". I call it a stretch, but I give her an A for imagination: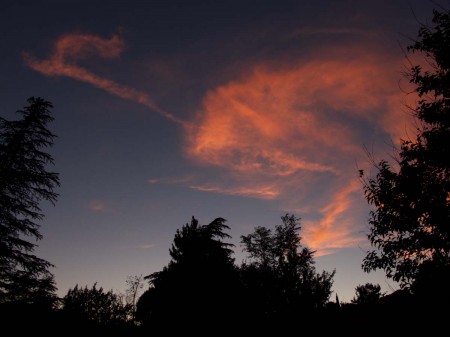 I mentioned another card in the packet. It was the one which interrupted my day. On the card marked "For Arny to give to Eunie" are these words:
You are the rhythm
In my music
You are the drumbeat
Of my heart
I came unglued. I had the healthiest cry since Eunie died.
Happy birthday, Eunie. Thank you, Grace, for a lifetime of friendship.
Tags:
eunice messersmith
,
eunie
,
friendship
,
grace
,
javelina leap
,
sedona
,
vineyard