Posted in
Mixed Nuts
,
Photography Tricks
on October 9th, 2010 by MadDog
There are so many things which I'd like to say. However, now I am falling just short of  finding the words to articulate these things. I never really believed that some thoughts were inexpressible. I'm learning much about life lately. It seems a bit late for a grammar school education about Getting Along in Life. Today's lesson is about being tongue-tied, mute, unable to find the expressions, analogies and idioms to translate the thoughts spinning in my head into English. I'm writing this on Friday, the eighth of October. If you've been following, you will recognise that day as being singularly significant. Not to put too fine a point on it, one month ago my wife went to claim her reward.
Yes, today is a bit of a hard day. I arose early and called in to the office after 08:00 to beg a day off. I have music and pictures to prepare for the memorial service tomorrow. Our office staff have been infinitely understanding and supportive. Lorraine Collins, a dear friend who lived in Madang for some time has flown in from Cairns to come to the service and stay a few days in the company of old friends. She came over to have lunch with me. Afterward, we watched a movie. I was glad for the company and the distraction.
It's a good thing that I did have company today. I would otherwise buried myself in work and not have had the chance to sit with a friend and quietly talk about what is happening to all of us. It is a shared experience. I can't imagine that it would be more intimate if I were were with my blood family. So, speaking of things left to do today, I'll get on with tomorrow's post. Yes, I'm writing this on Friday. I'll schedule the post to go out tomorrow. I do not know what tomorrow will bring to me.
I took a couple of hours of otherwise wasted time last night to do something other than attempting to sleep. It seemed mindless, but more emotionally useful to look through images from past posts and turn them into fake art. Sometimes it is better to do something completely useless. It gives one the feeling of wasting time usefully. And so, since I can't transfer my feelings to the computer screen, I'll give you fake art instead.
Here is Honey the aged mare from Honey, Beast and Other New Friends: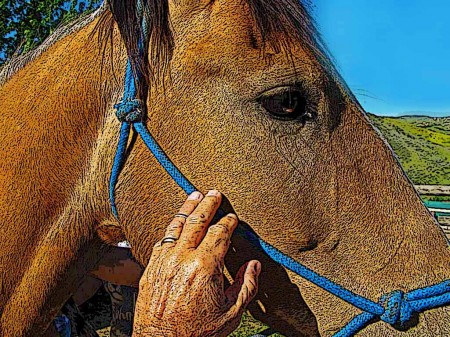 Honey and I got along well. This may have been because, in horse years, she is my age. We understood each other. Most of these images will require you to click to enlarge to see the effect of the Photoshop filters which I used to create the fake art images. This one had a light treatment with Poster Edges, just enough to punch up the edges a little and give it some texture.
I finished all of my chatter at the beginning, so I'll simply show you the rest of the images with my brief comments about how I made them.
This is a shot of a diver's bubbles with a glass block effect applied: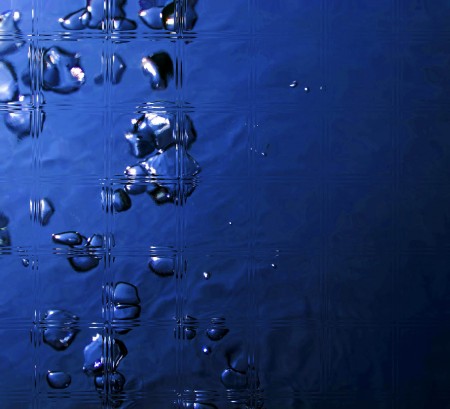 It is more interesting if you enlarge it.
When we were in Fiji earlier this year I got this image of Bougainvillia overhanging the hotel pool. It's a delicious mix of colours made all the more yummy but the Watercolour filter: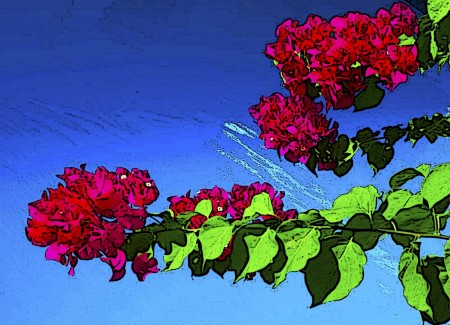 Reducing the number of colour values in the image by increasing the posterisation effect in the filter creates some interesting patterns in the water.
Still in Fiji, here is an image from The Nadi Temple – A Feast for the Eyes: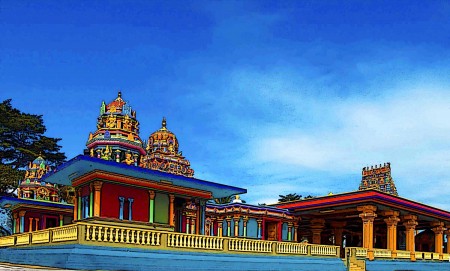 This is a more severe flogging of the image with the Poster Edges filter. It is very posterised, using only a few colours from the millions available. The edges are extremely accentuated. This gives a nice poster effect.
Here are some orchids from my garden. I wanted a mild distortion effect, in this case the Watercolour filter, and I also wanted to bring the flowers dramatically forward in the image: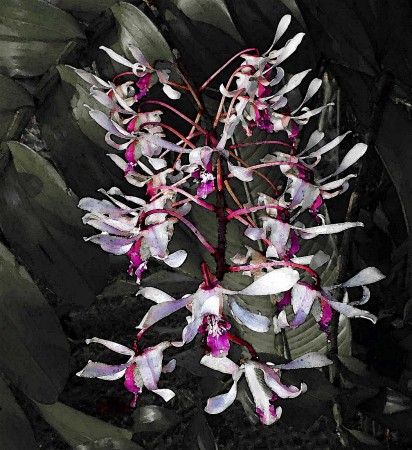 The Watercolour filter worked a treat. Bringing the flowers forward proved to be far simpler than I had thought it would be. All I had to do was reduce the saturation of the green tones in the background, reducing them to near monochrome. This piece turned out better than I though it would.
This Phyllidia ocellata nudibranch makes a perfect subject for a cut out. The black background makes the absurd colours of this outlandish critter pop: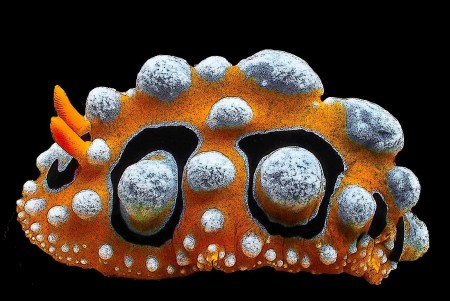 Nice design for a black t-shirt, eh? A touch of the Poster Edges filter gave the nudi an interesting texture.
Finally, I'll toss in another nice piece by Lindsay Smith. Take note that I do not include Lindsay's work in the fake art category. Lindsay actually sketches. Oh, that I had such talent: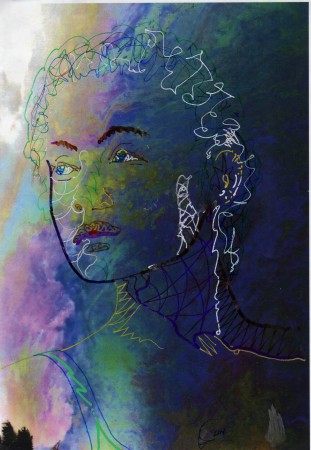 Lindsay sketched this lovely lady over a background of my image of an oil slick on the water in front of my house. I enjoy seeing such imaginative uses of my photographs.
Tags:
bougainvillia
,
fiji
,
lindsay smith
,
nadi
,
nudibranch
,
orchid
,
phyllidia ocellata