Posted in
On Tthe Road
on June 27th, 2010 by MadDog
Things are going nicely here in Fiji. I've found a bit of time to relax and read – almost as if I were on holiday. I have more leisure time now that I have been reminded by the magazines for which I write that the airline magazine does not fly to Fiji and the water sports magazine is interested only in PNG waters. There goes the idea of financing my trip by writing. I'm poorer, but less stressed by work. What I can't sell, I don't write. I may try my hand in some Australian magazines. I have never had a rejection slip. That means that I'm really good or I'm not submitting broadly enough. I suspect that the latter is true.
To celebrate the day evening before our forty-sixth wedding anniversary, we took a cab over to the Westin Hotel for some fire walking. The Westin is a classy joint: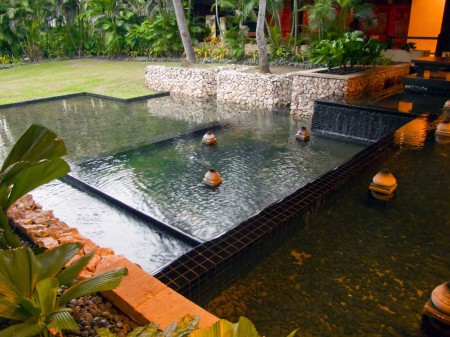 We were going to attend one of those "culture shows" which I generally dislike intensely. I don't want to sit around with a bunch of tourists and be entertained by a fake display of what the promoters know that the audience wants to see. I usually get much more information by wandering around and poking my nose into the daily affairs of people such as myself – those simply trying to get through life in one piece.
However, I have to say that the Westin Hotel in Nadi puts on the best of the cultural programs which I have seen. The Fijian culture is very rich in fascinating features. This show, in about three hours including dinner, hits the highlights in a very entertaining and informative manner.
What I first noticed when we arrived seemed to me to look as if someone had been careless with matches: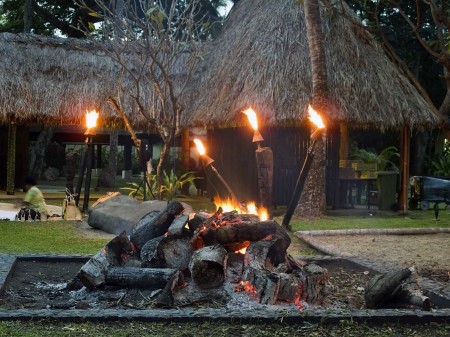 I soon discovered that is was the place where the fire walking would take place. At that point I decided that I had better begin paying a bit more attention to what was going on. Fierce warriors soon appeared: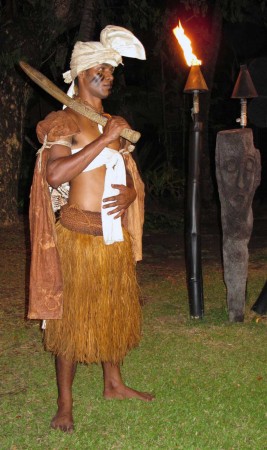 Of course, everybody wants to have a photo with one of them. This was, by far, the cutest: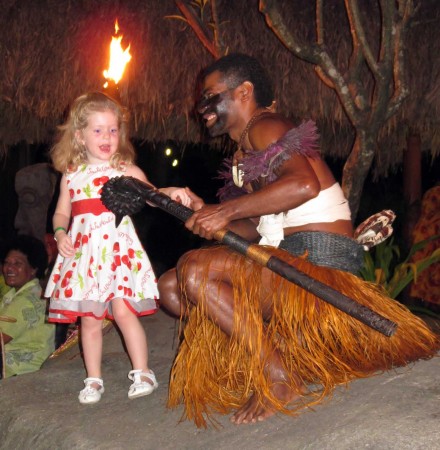 I've seldom seen a braver little girl.
Soon the preparations for the fire walking began in earnest: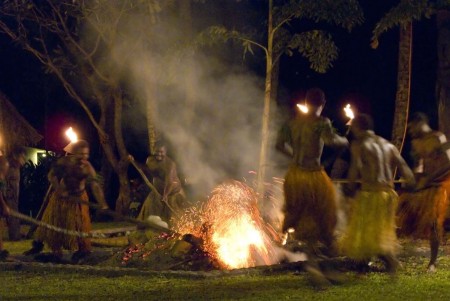 There was a great deal of yelling, singing, chanting and hot-footing around to avoid the sparks. It was at this point that I realised that Fijian fire walking is unlike any other that I've seen.
The fire walking that I have seen before seems mostly fakery to me. It usually involves a lot of pseudo-spiritual clap-trap about this or that followed by thirty seconds of actual instruction concerning the correct method (run like hell) which will insure that you receive no injury from the nearly dead coals. Impressed, I'm not.
This was a whole different thing. This is the Real Deal. These rocks were so hot that it was uncomfortable to stand near them. Techniques varied wildly. This guy was in a hurry and just wanted to get through it: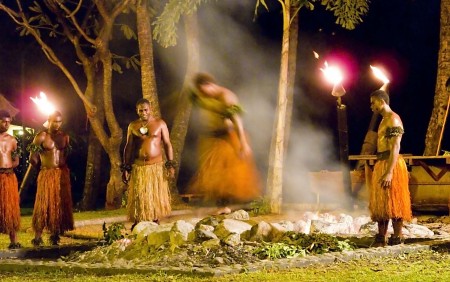 While this fellow showed his contempt for the heat: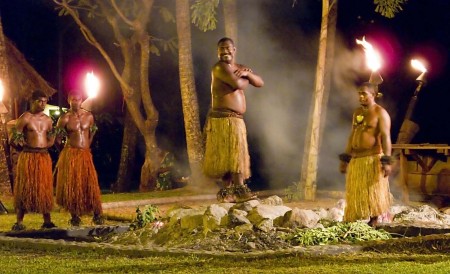 I suspect that he is much more practiced in the art.
I enjoyed the evening much more than I thought that I would. The meal was excellent with the exception of a horribly undercooked roast pig.
If you're in Fiji, you don't want to miss this attraction. It costs only 75 Fijian dollars, not including drinks.
PHOTOGRAPHER'S NOTE: This is about as far as you can push the Canon G11 and still get usable web-sized images. I shot most of these at ISO 800 or 1600 with shutter speeds ranging from 1/6 to 1/15 second at f 2.8. I braced against trees, rocks or anything I could find to reduce motion blur from camera movement. The subject motion blur sometimes added to the interest. I could have done a lot better if I had my NoiseNinja Pro filter installed on this laptop. It is superb at cleaning up digital noise. I had to use the noise filter in Photoshop, which is not nearly as good. However is still proves that the G11 is a usable camera in these difficult situations. You could spend ten times as much and not get better images for use on the web.
Tags:
fiji
,
fire walking