Posted in
Guest Shots
,
Mixed Nuts
on April 24th, 2010 by MadDog
I have some very amusing images from two dear friends who are guest shooters today and a couple of shots of my own. I very much enjoy featuring images from friends. I hope that I've given enough encouragement to readers to send me images which have spoken to them. If not, I'm issuing the invitation once again. I started this as a source of eclectic amusement and information. There is much here about Madang and our lives and interests. However, our many readers have much to contribute also. The more participation that we have, the more interesting Madang – Ples Bilong Mi will become.
Our first shot today comes from our Hamilton, Ontario friend, Ron Barrons. Ron said that his wife treated him to a visit to Niagara Falls recently. One can only speculate what prompted that generosity. Anyway, Ron captured this stunning image of the falls through the window of their hotel room: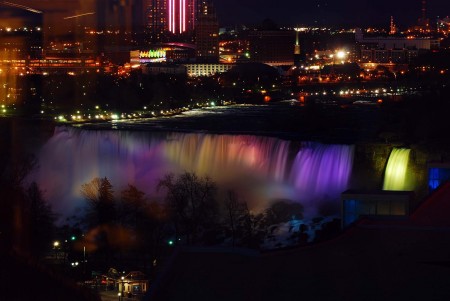 Now, I don't want to take anything away from the beauty of this picture. Great job, Ron. Makes me drool. However, I'm picturing Brenda's face as Ron fiddles with his tripod and his f-stops and his shutter speed while she re-thinks the whole idea. Ron, I can only pray that you did not ask her to carry your tripod. Women hate that! There's an old photographers' joke that goes like this:  A life-long English amateur photographer dies. At his funeral his wife is overheard to say, "Ah, well, it's a pity he's gone, but at least I don't have to carry his bloody tripod any more."
Here's a lovely shot from the lovely Tracey Lee. It's a waterspout shot at Honiara in 2006: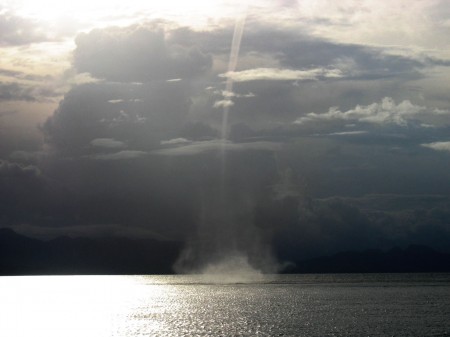 There's some pretty furious action there at the base. We had another waterspout from Trevor Hattersley just the other day. Nice one, Tracey!
And, now that we've disposed of the title of this post, we'll move on to this crisp shot of Old Fort Niagara again by Ron Barrons: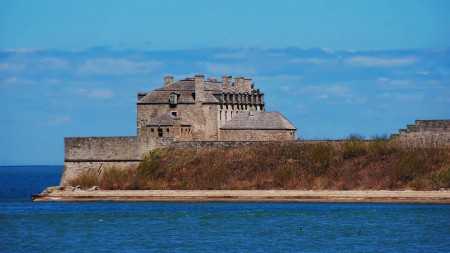 Fort Niagara is the oldest surviving building in the Great Lakes area, having been erected in 1726. It is also the oldest continuously occupied military site in North America. This looks like a long telephoto shot to me. I got images of parts of the fort area from the same spot with my Olympus SP-590UZ the last time I was up there. I nearly froze my bum off.
This morning the southern sky was wonderfully back lighting Kar Kar Island. I had to get up on the top of the roof of my truck to get this shot. It would have been better from the top of my house, but I was to wobbly at that time of the morning for ladders: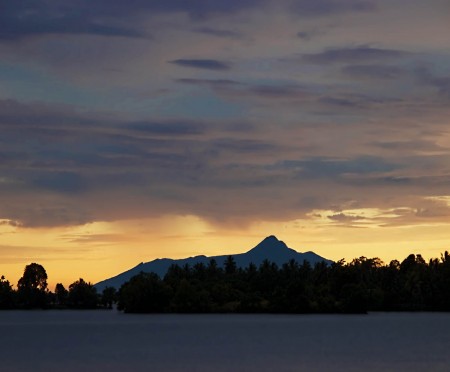 Whenever there is a lot of news about volcanoes, such as the current fracas in Iceland, we all cast wary eyes toward Kar Kar Island. It's listed as one of the most potentially dangerous volcanoes in the world and it by no means dormant. It rumbles and smoked regularly. There was a recent report that it has erupted, but that turned out to be a false alarm.
Last for today, but my no means least, are the Two Eunice Messersmiths: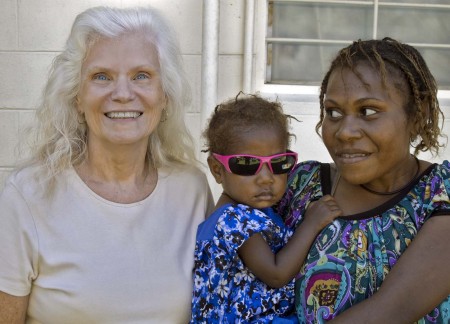 The larger model on the left is my gorgeous wife. The little one in the middle is also Eunice Messersmith. Her mom, Maureen, was raised in our house by her mom, Juli who has been our haus meri and general manager of the house for over twenty years. Juli is sort of like a daughter to us, so Little Eunice Messersmith is like a great-granddaughter. Juli came into the office to show us Little Eunice's birth certificate, a document which few Papua New Guineans even possess. It says right there that her name is Eunice Messersmith. Go figure!
I like her very stylish pink shades. She's gonna be trouble!
Tags:
eunice
,
fort niagara
,
kar kar island
,
niagara falls
,
ron barrons
,
sunrise
,
tracey lee
,
water spout