Posted in
Mixed Nuts
on April 7th, 2008 by MadDog
Those of you who know me well understand that odd synchronicities and weird spatial juxtapositions really get my juices flowing. We're in Brownsburg now (more on that later), but the images from Honolulu simply won't leave me alone. I'll probably be flashing back for another week or so.
I just can't let this one go. As I was waiting for Fran to finish laying hands on Eunie, my eye spotted a lovely lady in the hair salon next door to Fran's studio. As she was being ministered to by her stylist, a singing bird in a cage was dispensing harmony and blending pleasantly with the women's voices. I stood in the doorway and asked in as non-creepy a manner as I could manage if I could take a picture. To my surprise, they both agreed cheerfully. Here's the homey and comforting scene that I saw: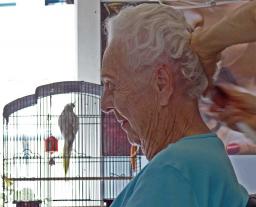 I thanked the ladies and made my way to the other side of Fran's place for a bit of Vietnamese lunch. As I passed the window of the restaurant my eyes were tempted by a little appetizer. In the window I saw the reflection of the advertisements for the hair salon. "Hmm . . . interesting", my eyes said. Then my focus changed and the posters blurred. A smiling Buddha appeared in the background. No, it wasn't a religious vision. I don't think my heart could take that. Here is what I saw: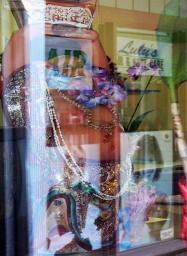 An easy and unpretentious multiculturalism is what has always snuggled Honolulu up to my heart. The Buddha smiling out the window at the kind ladies in the hair salon gave me existential goose bumps. I hope it does something for you. Aloha.
Tags:
aloha healing arts
,
buddha
,
fran rose
,
hairdo
,
honolulu
,
vietnamese