Posted in
Madang Happenings
on March 11th, 2009 by MadDog
It's been a long, long time coming, but it appears that Madang may enjoy some relief from the severe power shortages, at least for a while.
I won't go into the long history of complaints, excuses, arguments, whining, whingeing, general apathy, and outright incompetence that have preceded this happy day.
The old generators in the power station are nearly unrepairable. Parts are scarce or non-existent. Here is one of the giant old beasts: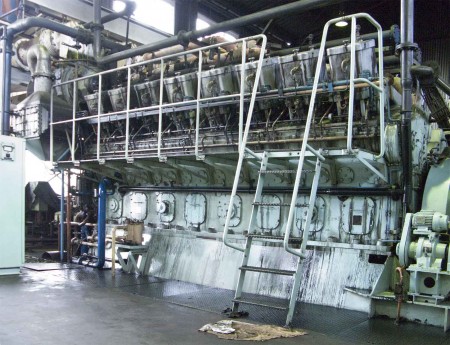 Here Matthew Mesmin leads a mob of dignitaries and hangers-on to the switch panel for the new generators: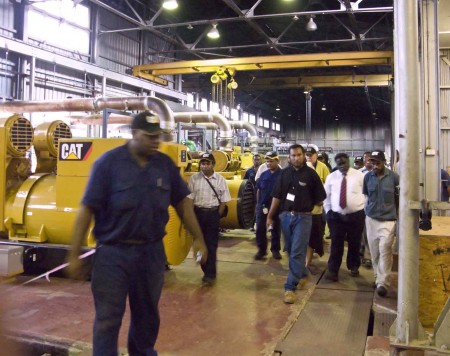 In this shot we have (left to right) Francis Irara, Director of Natural Resources; Bustin Joseph, Manager, PNG Power, Madang; Eunice Messersmith, Secretary/Treasurer, Madang Chamber of Commerce and Industry; and Matthew Mesmin, Project Manager: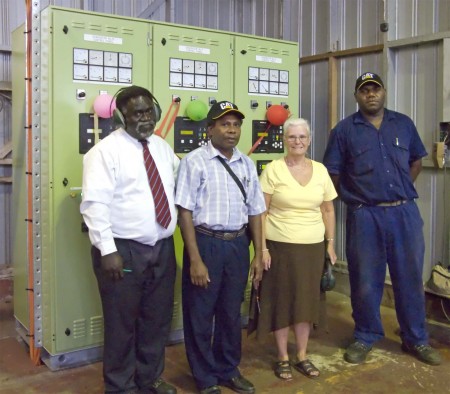 After the obligatory ribbon cutting ceremony, in the absence of Stotick Kayma, the President of the Madang Chamber of Commerce and Industry, Eunice was chosen to switch on one of the generators for the 'first time':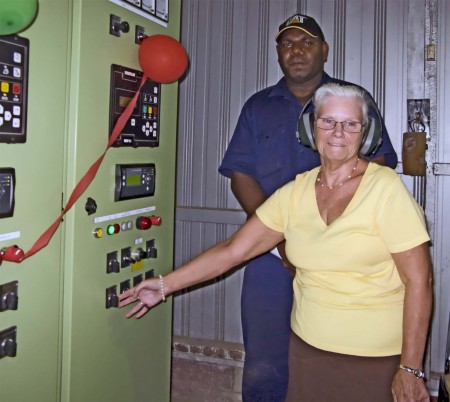 Honestly, it looks as if she's praying, "O plis Papa God, mekim dispela genset i pairup sitrong tru." (Oh, God, please let this thing start.) It did, to the relief of everyone present.
Phillip Lucas Peter Metzdorf, (Sorry, Peter. I got your name wrong in the first posting. See comments.) Project Engineer from Energy Power Systems in Australia is at the left in the yellow shirt. For a guy who has dealt with power problems and solutions for more than 28 years, he's pretty well-balanced and humorous. He had some very amusing stories: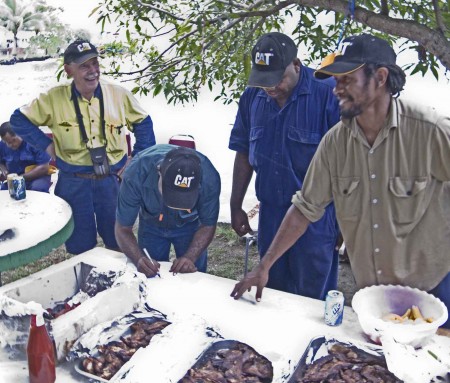 And here are the stars of the show – three spanking-new CAT 16-cylinder gensets: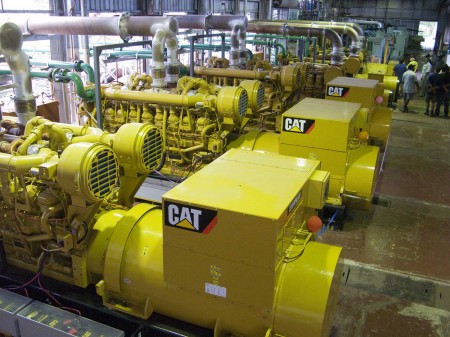 Peter Metzdorf said that it was a lucky break that we got these babies. With the two forever-wars going on, gensets like these are nearly impossible to obtain. Somebody in Moresby who was awake at the moment noticed the triplet coming up for grabs and grabbed them. Good on ya, mate!
We're not all the way out of the woods yet. It's my understanding that PNG Power can now supply all of the power that Madang needs at the present time as long as they don't need to send it to other centres and as long as big users (we all know who they are) are willing to pull their fuses and run on their own generators.
Anybody willing to face facts can understand that this is not the preferred solution. Though it is a big step in the right direction (and a minor miracle), it does not address the lack of capacity in other centres and it still leaves several major users being forced to pay more for their electricity because they have to go on gensets as soon as Yonki drops the load.
Hey, for now I'm willing to just be happy and stop complaining for a while.
Until the next blackout at my house in the middle of a shower.
Tags:
Bustin Joseph
,
Francis Irara
,
gensets
,
Matthew Mesmin
,
Peter Metzdorf
,
Phillip Lucas
,
png power
,
power problems