Posted in
Mixed Nuts
on February 3rd, 2009 by MadDog
This will be of special interest to PNG old-timers. Maureen Hill recently gave me a big box of old PNG publications. The bulk of it is old issues of Paradise Magazine, the in-flight rag of Air Niugini.
As I started going through them, I realized what a treasure I now have. I picture the pirate running his hands through the coins in his treasure chest murmuring, "Gold . . . Gold!"
The oldest issue that I could find is this one: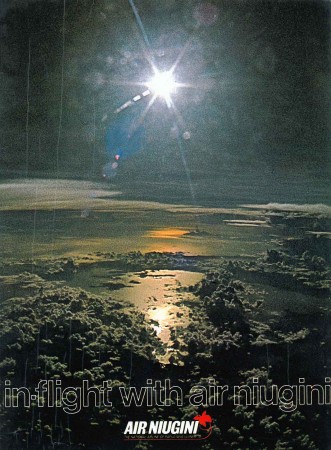 Try as I may, I can't figure out what when it was published. It appears that it is from the late 1970s, but there is no publication date to be found in its pages. I thought it might possibly be the first issue, but a little Googling turned up
this page
on Trevor Michie's blog that shows the first issue cover.
Among the amusing advertisements for dead companies, there is this interesting pattern matching spread: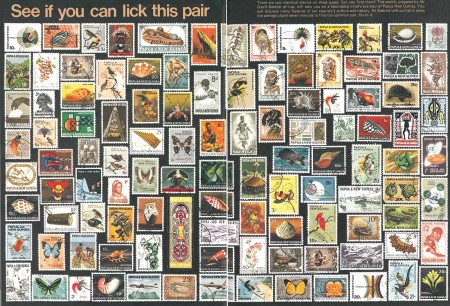 Click to enlarge to see if you can find the pair. I must admit that I gave up. Things like this make me nervous. Finally, I gave it to our long-suffering bookkeeper, Lois Bayyom-Nai. I'm always giving her improbable tasks. She came back in about two minutes with the match. I won't spoil if for you by pointing out the matching pair. I will say that there are two that look the same but the face amounts are different. They are not the matching pair. They are red herrings.
It's also interesting to note that the denominations of these stamps are all in pre-Kina currencies.
Another blast from the past is this article by Fr. Frank Mihalic, SVD. Old-timers will know his name well: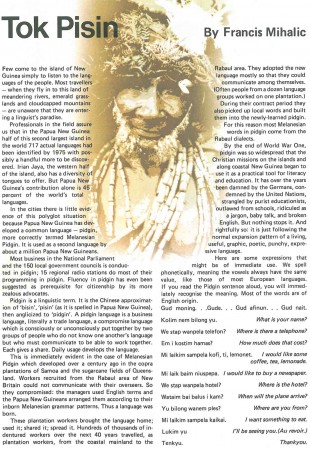 Father Mihalic authored one of the most important books in PNG history (my not-so-humble opinion, I admit). It was first published in 1971: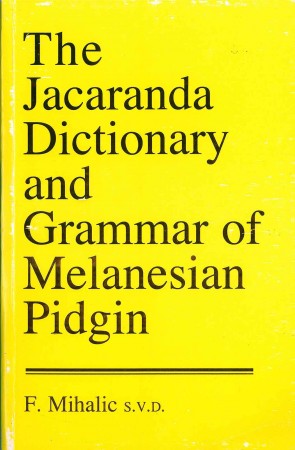 I can remember studying this book
when we came to PNG
for our training in 1981. If you have a copy of it, hang onto it, especially if it's an early edition. It may well be worth some money someday.
As I go through the old Paradise Magazines, I'll be posting more of this absolutely useless, but nevertheless amusing information.
Stay tuned.
Tags:
air niugini
,
francis mihalic
,
frank mihalic
,
jacaranda dictionary
,
maureen hill
,
paradise magazine
,
png stamps
,
tok pisin