Posted in
Mixed Nuts
,
Under the Sea
on April 26th, 2010 by MadDog
ANZAC Day has past now, and I'm into the work week with a fury. Well, a flutter, anyway. I'm so far behind that some things are simply getting put into the If I Ever Get Around To It tray. My situation report this morning will be terse, but I do have some nice snaps for your amusement.
I'll begin by showing you my distressingly flabby triceps. As I was shooting a very nice sunset on Trevor Hattersley's Lyin' Dog, I kept noticing flashes coming from behind me. I took little notice, since everybody was ohhhing and ahhhhing at the pretty colours. I assumed it was someone who did not know enough to turn their flash off. Little did I suspect that I was the subject and the cameraman knew exactly what he was doing. Witness the work of Lt. Colonel Simon Watts: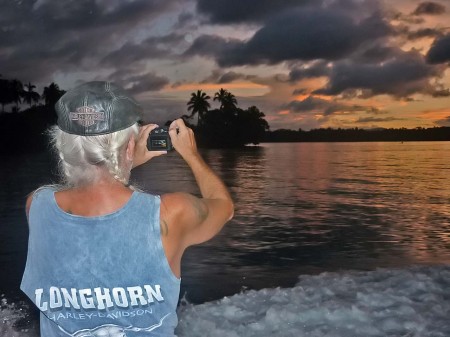 Thanks for sending that along, Simon. It will help me to get back to hitting the weights a couple of times a day.
Once in a great while, I get a shot that drops my jaw. So much is up to luck. You can do it perfectly ten times and only one will be good. A hundred times and maybe you'll say, "Oh, that's really nice." Give it a thousand times and you might get something like this: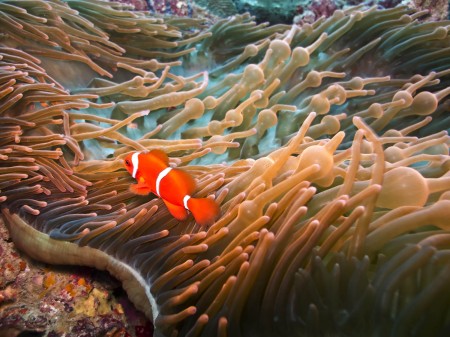 When the colours are so ethereal that it looks fake . . . no, painterly, then I feel as if I've been somehow blessed. It is, of course, a Spinecheek Anemonefish (Amphiprion biaculatus). There are presently two of them living in a Bulb Anemone (Entacmaea quadricolor) with incredible pigmentation at Planet Rock. I've been shooting this same anemone for at least fifteen years. I visit it every time I dive at Planet Rock. I've shown it to hundreds of divers. It' my anemone. I've made it the most famous Anemone in Madang, so it owes me.
Bulb Anemones, like some other anemones, can display an almost unreal range of colours as you can see from the one in this post.
This is what happens when you stack beauty on beauty. Kate and I were the only divers on Saturday, so we had Planet Rock all to ourselves. Here a lazy Blue Plastic Toy Starfish (Linckia laevigata) lounges atop an ancient coral bomie wearing a feather star for a cap while Kate provides the real eye candy: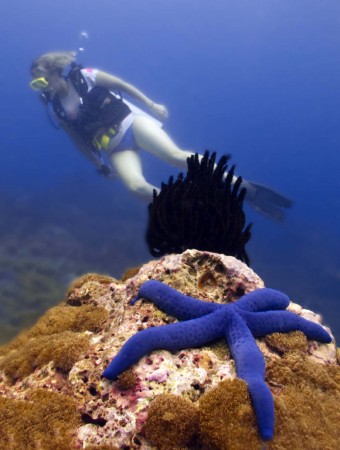 Lots of blue there.
Since I've gotten started with blue, we'll just keep that theme. Here's an unfortunately motion-blurred shot of a Pink Anemonefish (Amphiprion perideraion) in a Magnificent Anemone (Heteractis magnifica):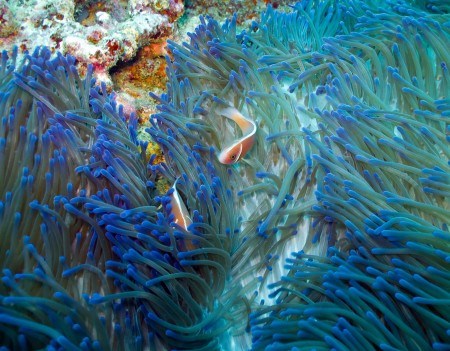 The tentacles of this anemone were absurdly blue. I don't think that I've seen one this bright, though there are several other colours which reach this level of saturation. Witness the wonderful green-tentacled Magnificent Anemone here.
What this shot lacks in quality, it makes up for in blueness. It's a school of Fusiliers of some kind racing past me: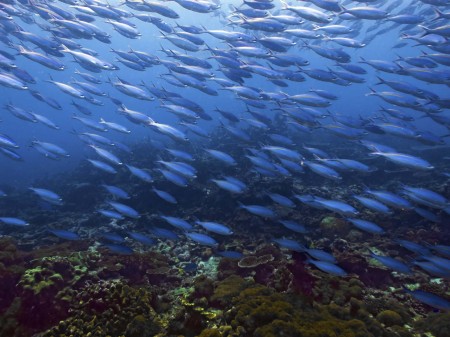 We like to say that diving in Madang is very much the same as diving in a huge aquarium. We seldom have to deal with fussy weather or big seas. The water is not always crystalline, but the quantity and the wonderful nearness of the sea life makes up for the less than perfect visibility.
Not even Paradise is perfect. We don't care. It's close enough for us.
Tags:
amphiprion biaculatus
,
blue starfish
,
Bulb Anemone
,
Entacmaea quadricolor
,
fuselier
,
kate
,
linckia laevigata
,
planet rock
,
simon watts
,
spinecheek anemonefish
,
starfish