Posted in
Under the Sea
on July 24th, 2010 by MadDog
No Saturday is genuinely ordinary. One never knows what to expect. This one started out with a cheery red sunrise. When I see colour coming in through our front windows I run for my camera. The one thing that I know, regardless of the quality of the colour, is that I'm looking at a brand-new sunrise which nobody else has ever seen before. That's a pretty cool way to start out the day. Here is a zoomed in shot of the sun rising over Madang town across the harbour from our house:

The close-up view is almost too intense.
Here is a shot of eleven frames stitched together. I covers about 180°:

From about 06:00 to 09:00 I usually work on my post for Saturday. So, after I did these sunrises, I went to work looking for some images. I ran out of time before I could put anything together which wasn't so discombobulated that it would make you nauseous. Therefore, between the image above and the next one, a half day of diving will have passed.
It is now much later, about 16:00. I'm tired, but before I take a nap, I'll show you some of our enjoyments of the day.
On the beach at Wongat Island there were a bunch of young boys collecting green coconuts and stripping off the husks. Since we were thirsty for the delicious, sweet fluid inside them, we offered to buy a few from them. While the rest of the boys were scampering up coconut trees to kick a few more down, one boy built a high-jump rig, which you can see at the water's edge. He repeatedly ran screaming down the beach and jumped over the pole into the water: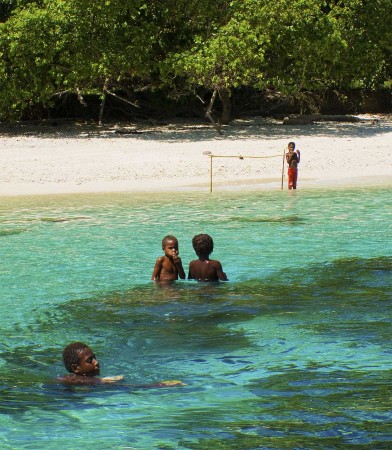 In the shot above, he has tired of this entertainment and three of the boys are bringing our kulau (green coconuts) to us.
Here you can see one of the boys handing up a kulau to George. We scrounged together seven Kina to give to the boys. They were extremely happy about that: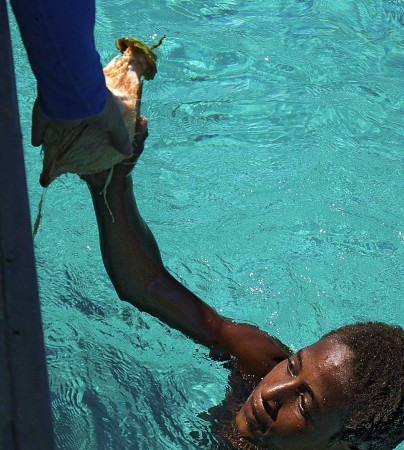 We did our dive on The Henry Leith, a 34 metre coastal freighter which started life as a steamer and ended up as a dive attraction. We have all enjoyed many wonderful dives there. You can find dozens of images by clicking on "henry leith" or "The Henry Leith" in the Tags section of the sidebar.
The visibility is never great at this site. Here is a shot which I have not cleaned up at all. I've corrected the colour, but have made no effort to remove all of the speckles which obscure visibility. It gives you a very realistic vision of exactly what you would see if you came down with us: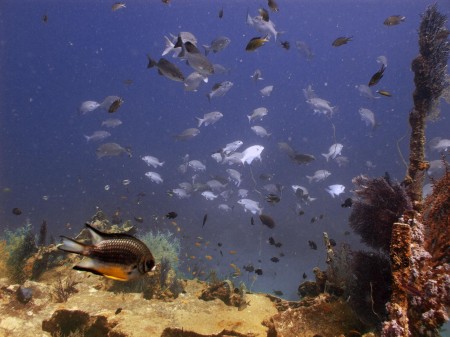 Anything made of iron attracts a lot of life, since the ocean is relatively iron poor. The presence of iron in the water stimulates life.
Speaking of life, this Divericate Tree Coral (Gendronephthya roxasia) is indeed alive, but it look more like an astonishingly beautiful glass artwork: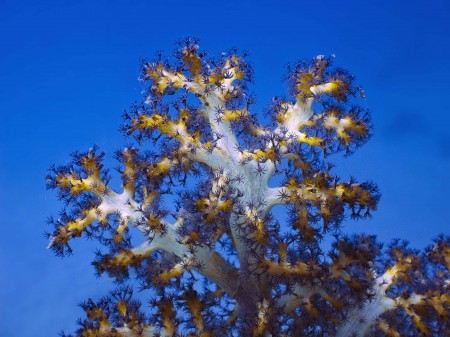 If you click to enlarge, you'll see what I mean. A glass artisan who could create something this delicate and beautiful would be world famous. I'd guess it would take years to to it.
Diving with me on Saturday were Geneviève Tremblay and Ushtana Antia. Here you can see Geneviève looking at me with Ush hovering in the background like a guardian angel bestowing a blessing: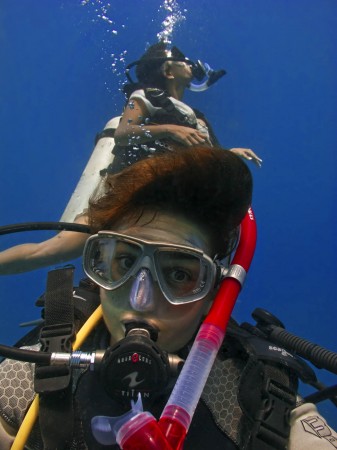 We enjoyed many more interesting sights today on The Henry Leith, but now it's time for a nap.
Tags:
divericate tree coral
,
gendronephthya roxasia
,
geneviève tremblay
,
henry leith
,
ush
,
wongat island