Posted in
On Tthe Road
on May 5th, 2009 by MadDog
Hamilton has the healthiest looking flying rats that I've ever seen: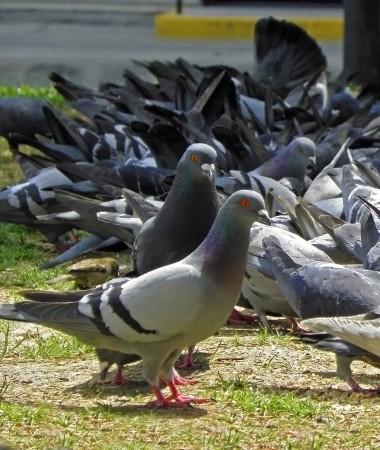 Eunie and I took a short stroll around the city centre on Sunday afternoon accompanied by my new
Olympus SP-590
. The 26x optical zoom on this baby is as sweet as candy. More about that later. We're staying at a place called
Staybridge Suites
for the next three weeks. I know it sounds swanky, but it's actually reasonably priced, especially since our kids offered to spring for half  the cost. We also get a sweet 'Seniors' discount. I think it was a mutual understanding that, while we all love each other, having grandma and grandpa living in the house for nearly a month might strain family relations a mite.
Anyway, back to the pigeons. My theory concerning their uncommon vitality is twofold. First, I think the winters are just so unkind to anything living that the sick ones simply don't make it. It's the survival of the fittest. Broken feather, forget it, you're dead. Twisty beak, a goner. A few cooties, sorry Cooie, you're frozen toast. The other thing is that, despite signs everywhere sternly warning, "Don't Feed the (######) Pigeons!", everybody and their brother feeds them. The image above was grabbed from about 20 metres at about half zoom. The little flock was pecking away furiously at a big pile of illicit grain.
A long zoom is just the ticket for candid shots. You are so far away that people don't have a clue that you are shooting them. It's a bit like hunting, except nobody gets holes punched in them. I like it much better that way. The holes are so messy. I fell in love with this shot the instant I punched the shutter release: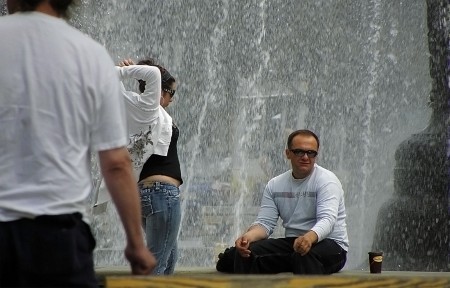 It's not National Geographic, but it's got a moodiness that I really dig. I love images that speak to me. Please take note of the Tim Hortons coffee cup. In honour of my recently initiated love affair with Canada, I'm going to attempt to include a Tim Horton product in one image of each day's post as long as I'm in Hamilton. It will be fun. You can play "Spot the Horton."
I really like Hamilton. It's chock-full of people who so obviously don't care what you think of the way they look. People dress as goofy as they like. It's a very in-your-face place. I feel very comfy in Hamilton. Nobody gives me strange looks. I walk down the street with my wild Cherokee hair flipping in the breeze under by black fedora and people just grin at me and wink. It's like I was born to be here. I shot this guy carrying a grandfather clock from about a city block away. Nobody even noticed him. It was like he just had an unusually large wristwatch: (Hey, dude, nice Rolex.)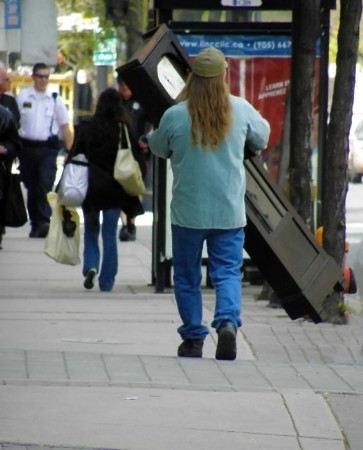 Hamilton is full of interesting signs. I'll be showing you some of the more amusing ones over the next few weeks. Here is today's interesting sign: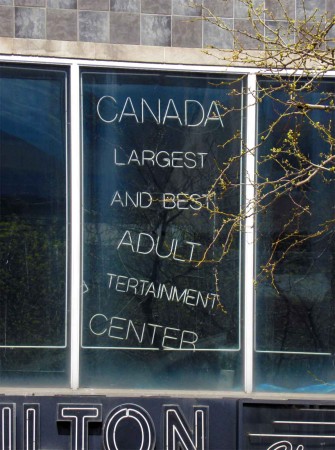 I see several problems with this sign. First, I can't imagine that this sleaze oozing joint is Canada Largest ANYTHING. What happened to Truth in Advertising? (Okay, okay, that's an oxymoron.) Next, where's the apostrophe? I hate this. It should be Canada's Largest and Best blah blah blah. Can't these porn people spell? Didn't they go to school? Finally, I think that if you are going to offer the largest and best TERTAINMENT to the public you should at least offer some explanation of what it is, as most of us probably are not familiar with the product.
Apparently, this of varitey of Tertainment is tailored to adults. Ah, Hamilton, you're a wild and crazy place.
Tags:
canada
,
grandfather clock
,
hamilton ontario
,
Olympus SP-590
,
pigeons
,
tim hortons