Posted in
Mixed Nuts
on July 28th, 2010 by MadDog
Of course, I don't mean that literally. The sun did come up this morning. The resulting light show was very subdued, but it had a power of its own, so it seemed worth capturing. Ordinarily, this gloomy display would urge me into a similar mood. I seem strangely unaffected by it today, though I know that Eunie will complain, "It reminds me of winter."

After yesterday's Marathon of babel, my word machine is in recovery mode. Today will be Madang – Ples Bilong Mi Lite. I ran through a few images from the last week and came up with these. 
As I was driving past the location of the Arcade fire some time ago I snapped this shot: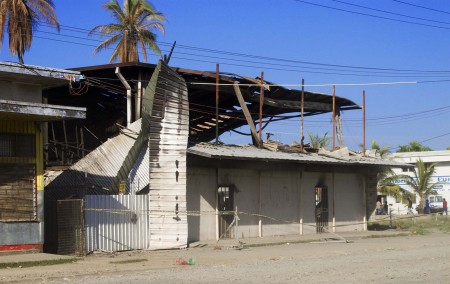 The remains of the building are gradually disappearing. If left long enough there will be no expense for removing it. Gradually, bit by bit, every scrap of it will be carried off.
If you look just to the right of the remains of the Arcade in the image above, you will see a vacant lot. That is the former location of the Chemcare pharmacy. After the fire, over a period of months, the lot was picked clean. Here is a shot of our old friend Greg O'Keefe looking a bit glum as his workplace goes up in smoke: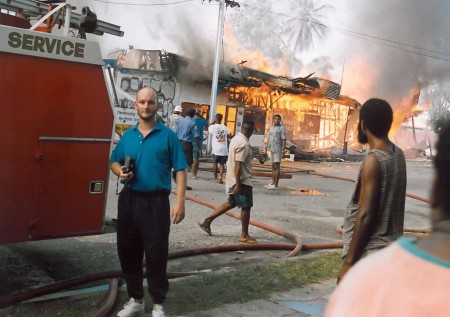 We'll see how long it takes to have two vacant lots in a row.
On Sunday morning I went over to the beautiful grounds of The Madang Lodge and Restaurant to shoot some family portraits for our friends Jimm and Heidi. They have been absent from Madang for a while, so I'm including this shot so that their friends can see that the family is well and enjoying a visit to Madang: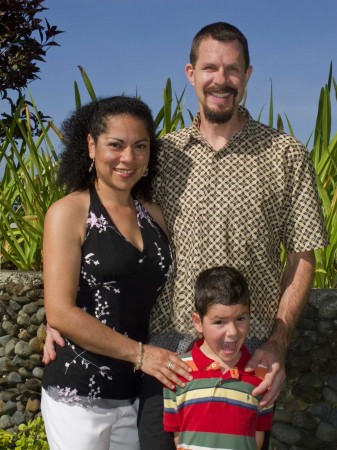 Getting Keyen to pose is not unlike herding cats. In principle it should work, but in practice . . .
While at The Lodge, I got this nice shot of the Finisterre Mountains across Astrolabe Bay with the swimming pool in the foreground: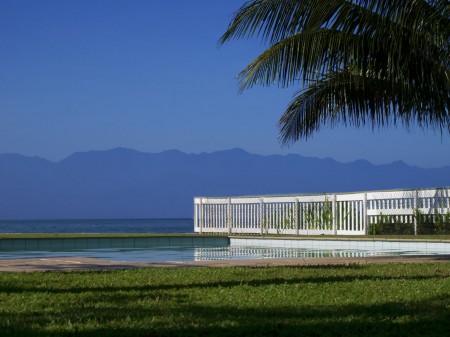 The Lodge is one of my favourite spots to get images of friends. The garden is immaculate and a riot of colours.
Tags:
arcasde
,
chemcare
,
finisterre mountains
,
fire
,
greg o'keefe
,
madang lodge
,
sunrise