Posted in
On Tthe Road
on July 3rd, 2009 by MadDog
When you visit a place that captures your imagination, it's not easy to let go. I need to make a quick trip back to Harlem to think about the things that I saw and the feelings they evoked. While I'm there, I'll show you a few more images that caught my interest.
Growing up in Indianapolis on the edge of a large black neighbourhood and having been born into a family (can't choose your family!) with a largely racist background made for an interesting childhood. It turned out to be a lucky thing, because it taught me that the practical solution to all the problems was to simply become colour blind. I took in all the turmoil, processed it, and then made up my own mind.
One figure that I remember vividly from my youth is Adam Clayton Powell, Jr. Powell was the first US Congressman to be elected from New York State and served from 1945 to 1971. I remember him as a man who was very troublesome to white folks of a certain persuasion. Being contrary by nature to almost anything that adults said or thought, I read the papers, listened to the radio and made up my own mind. I decided that he was a man of great courage, conviction, and ability. I secretly admired him.  I was very happy to discover this monument to him inscribed with his famous words, "Keep the faith!"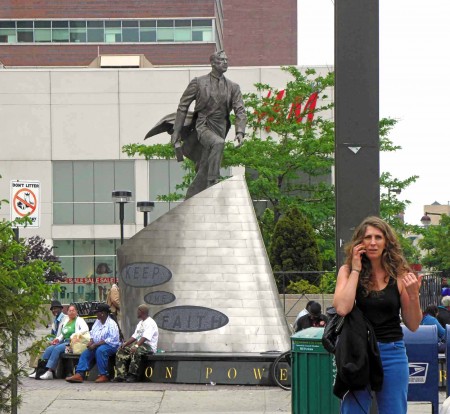 Harlem seems so alive to me. People are moving constantly. They move not with the grim determination of the suits, but with a rhythm and purpose that fits the relaxed nature of the neighbourhood, which is primarily residential. You find happy and purposeful street art around every corner: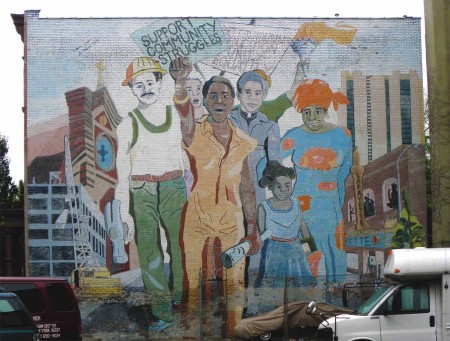 Everywhere you look are reminders of the cultural value of Harlem. Here Lenox Avenue, a street name spread across the pages of New York City history, becomes Malcolm X Boulevard: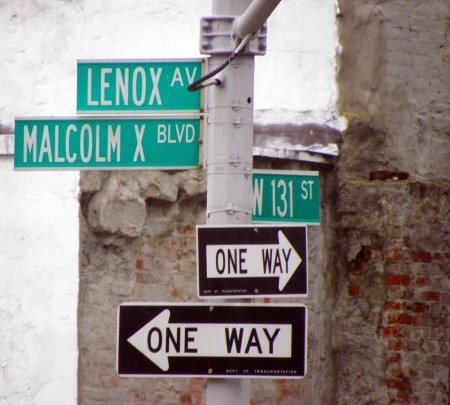 One block over, you'll find Dr. Martin Luther King, Jr. Boulevard.
Here is the nice little café where I took my breakfasts: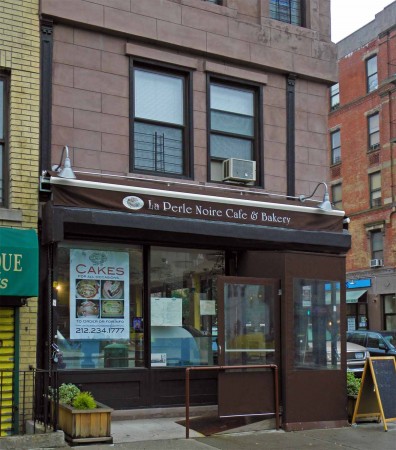 In case your French is as poor as mine, La Perle Noire means, The Black Pearl.
It was cloudy, dark and clammy most of the time that I stayed in Harlem. It made the place seem moody and tense until you start walking around. Then you realise that it's just the weather: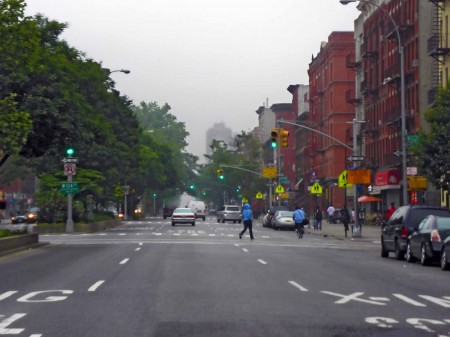 A grey day is not going to stop an impromptu basketball game: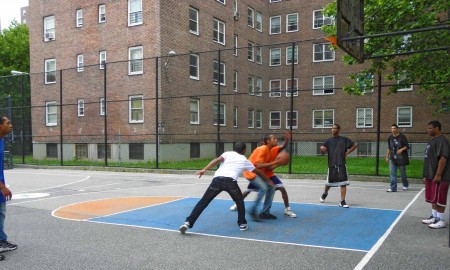 It was my intention to see other landmarks, particularly the Apollo Theater. However, my exhaustion at the end of a long stay in North America, and the hospitality of my hostess, Stephanie Calla at La Maison d'Art kept me off the streets a good deal of the time. I did manage to make it to the Alhambra Ballroom, another New York City landmark.
Here is a little gallery containing some of the above images and a few more:
I hope that the next time that I'm in North America, I get an opportunity to go back to Harlem with Eunie.
Tags:
adam clayton powell jr
,
basketball
,
harlem
,
la maison d'art
,
la perle noire
,
malcom x
,
martin luther king jr