Posted in
Humor
on June 20th, 2010 by MadDog
Today's post will be a brief one as far as the chatter is concerned. Eunie has gone off to Fiji to represent the Papua New Guinea Chamber of Commerce and Industry at some big Pacific Island international conference. I find this intensely amusing as, I am quite certain, this is the first time in history which someone who's primary work is being a missionary has ever been chosen to do this. This makes me proud of my wife, of course, but it is also satisfying that our constant guidance within our organisation that we should fully engage with all segments of society have paid off. The salt isn't much good for anything as long as it's in the shaker.
While moping around at the office last week moaning that I had to stay once again at home while Eunie went off to exotic places our receptionist, Elizabeth, said to me, with what seemed like a mocking tone, "Well, why don't you just GO!" So, in my Mars way, I began to tick off all of the reasons why I couldn't go. First on the list was:  I can't afford it. The second was: The IT operations will fall apart.
Eunie put me "on the carpet" in her corner office – the one with windows – and gave me my instructions. "You can write enough magazine articles about your trip to more than cover your expenses." That took care of reason number one. "You already have Mark coming in at least once a week to help out with the technical stuff. Just put him on notice that you'll be gone." Reason number two shot down like a rabid dog. Within an hour she had all the bookings done and had gotten me an Australian visa for my night in Cairns. Oh, how I love powerful women!
So, on Wednesday morning I'll be off to Fiji. I'll try to post daily while I'm travelling. I would have gone on Friday with Eunie, but, of course, Air Niugini was by then booked up for days with long waiting lists. For a country which depends on air travel exclusively for internal commerce, we have a pretty sorry example of a national airline. Anybody want to argue that point? And don't use "they are doing the best that they can" as an argument.
Well, I said that I wasn't going to chatter. So much for promises. The cat being away, the mouse played yesterday. I took a long, fairly fruitless ride up the North Coast Road with Ush to a place which we heard about from the Marshalls at a party at Lockland's house on Saturday night. It was Marleen's last party before departure and Ush's birthday. I severely abused a bottle of Chardonnay and danced and kakaoked until 01:30 when Monty and Meri Armstrong finally herded me to their car and deposited me back at our house. Chattering again . . .
Anyway, 108 kliks up a road which is the Swiss cheese of highways you will find a place with a promising name: The Tapira Surf Club: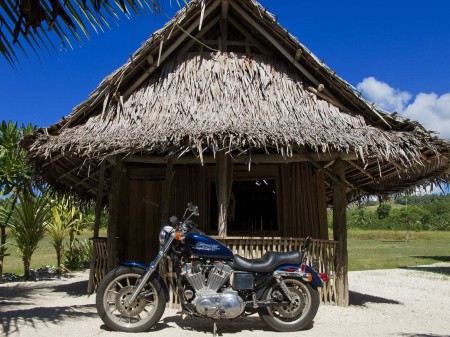 That's the Harley sitting there in front of a little bar shack just to prove that we actually went up there.
It looks considerably better with Ush decorating it: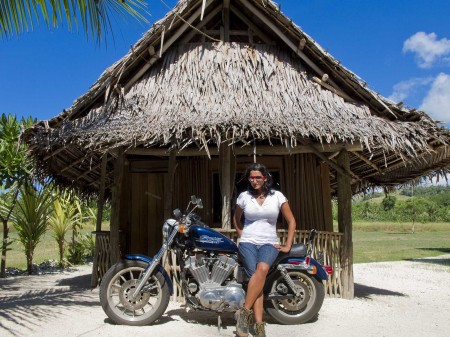 It was an exhausting ride up there. On three separate occasions I had both wheels locked up with Ush slammed up against my back to get the beast slowed down quickly enough to avoid Harley-eating potholes which stretched across the road.
I had decided already that I would have one beer only and smoke a nice Cohiba which Pascal Michon gave me on Saturday. It turned out to be a bit of a wasted trip. There was no surf, nobody home and only a toasty warm beer: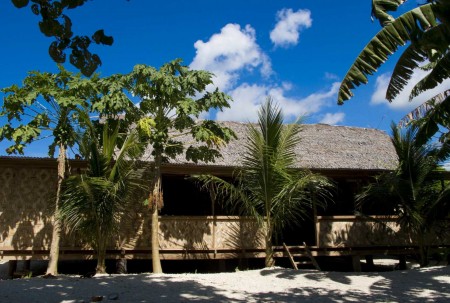 Nevertheless, Ush and I had a nice time chatting in the club house or whatever they call it. We asked when the surf was up. The answer was "October". Go figure.
I'll finish up with a rather remarkable image which I shot on The Henry Leith on Saturday.
On the left side of a fan coral which you are seeing side-on is the rather rare Longnose Hawkfish (Oxycirrhites typus). On the right is a Black-Saddled Toby (Canthigaster valentini). They are both nibbling bits off of the fan coral. In the background is the extremely rare Rozas savagica bearing the common name of Roz Savage.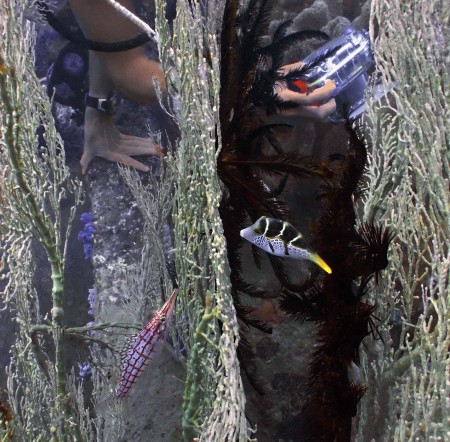 I feel quite smug about this shot.
Tags:
black saddled toby
,
canthigaster valentini
,
harley davidson
,
Longnose Hawkfish
,
Oxycirrhites typus
,
richard jones
,
roz savage
,
tapira surf club
,
The Henry Leith
,
ush
,
wongat island